Paralympian Dennis Ogbe takes his best shot at eradicating polio
By Ryan Hyland Produced by Kate Benzschawel
Growing up, Dennis Ogbe longed to play sports with other kids near his home in rural Nigeria. He would ask to play soccer, but the children would ignore him. Some would taunt and make fun of him.
Earlier, at age three, Ogbe became infected with the poliovirus while being treated for malaria. Initially, the virus left him paralyzed from the waist down.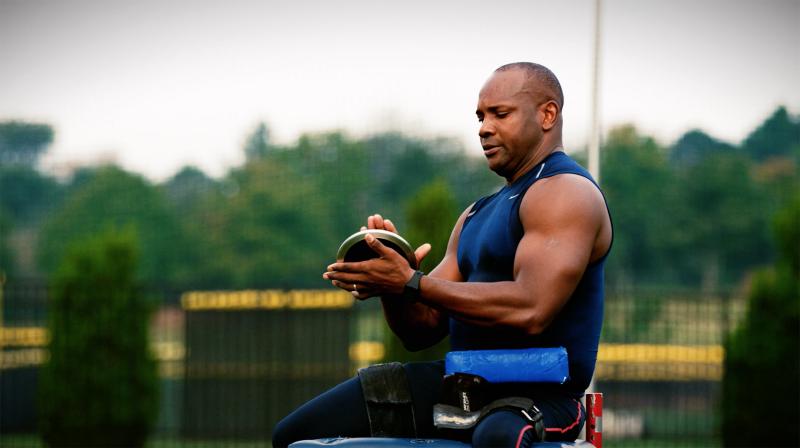 But the taunts from his childhood, Ogbe says, actually fueled his physical rehabilitation. Children would take away his crutches and dare him to take several steps forward before he could play soccer with them. Eventually, those steps and his sheer determination strengthened his right leg enough that he could walk without a wheelchair or crutches, even though his left leg remained partially paralyzed.
Ogbe took advantage his physical rebirth, playing almost any sport he could. But the only organized sports for people with disabilities in Nigeria, he says, were track and field events including shot put, javelin, and powerlifting. He excelled at all of them. Ogbe qualified for Nigeria's national Paralympic team and competed at the 2000 Paralympic Games in Sydney.
A U.S. track-and-field coach noticed Ogbe's talent and gave him an opportunity to study in the United States and compete in the Paralympics there. He received a scholarship to Bellarmine University in Louisville, Kentucky, where he earned a bachelor's degree and an MBA.
Ogbe, now a U.S. citizen, has made a name for himself in the international Paralympic community and holds American records for discus and shot put.
Today, he advocates for polio eradication and is an ambassador for the United Nations Foundation's Shot@Life campaign to promote immunizations. He was featured in a video at last year's World Polio Day event in Atlanta, Georgia, co-hosted by Rotary International and the U.S. Centers for Disease Control and Prevention.