Our world: A place where everyone can play
For families of children with special needs, finding fun, low-cost activities isn't exactly a walk in the park.
"We have therapeutic horseback riding in the area, which has a long waiting list," says Stephen Parlett, whose 15-year-old son, Adam, is nonverbal and uses a wheelchair. "And we have adaptive baseball within Little League. But it's nice to have something unscheduled to do, so you can just go out on a nice sunny Sunday and play."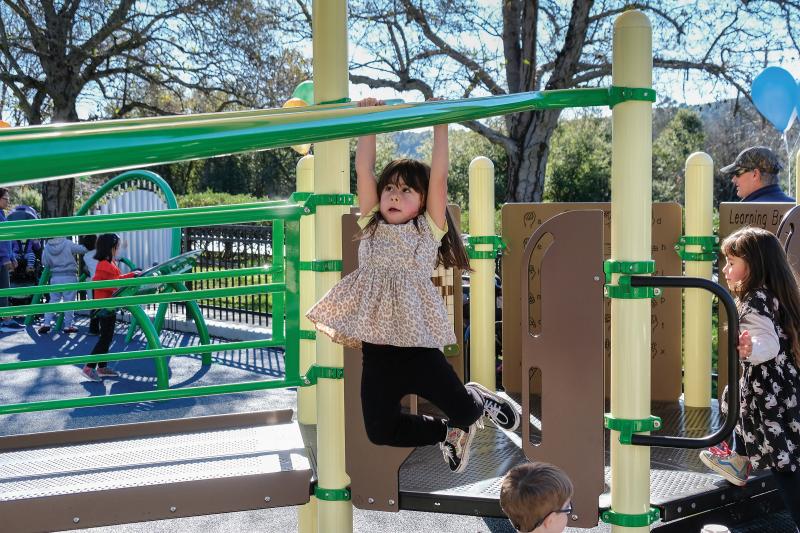 That's why the Parletts, along with many others in the Moraga, California, US, area, are thrilled to have the new Lamorinda All-Access Playground. The 5,000-square-foot play area features two dozen pieces of equipment – including swings, slides, a seesaw, merry-go-rounds, a glider, and a sandbox – that are designed to be accessible for all children.
The playground, which opened in January, is the brainchild of the Rotary Club of Moraga. "Last year was the 50th anniversary of our club, and we wanted to do something a little out of the ordinary. But we're not a large club," says Moraga Rotarian Gary Irwin. "We thought maybe we could do a playground with a budget of $30,000, something like that."
That was before club member and 1992-93 RI President Cliff Dochterman got involved. Dochterman, who was a key figure in making polio eradication a Rotary priority, is not known for thinking small. He urged his fellow club members to do something on a much larger scale.
The original plan was to build a playground specifically for children with special needs. "Members of our club met with parents of special-needs kids," recalls Irwin. "Their advice was to build a playground that would be accessible not just for kids with special needs, but for their siblings and friends, so they could all play together."
The Moraga Rotarians committed to raising at least $350,000, which they did with the aid of a district grant from The Rotary Foundation as well as donations from neighboring Rotary clubs and other community service groups, the town of Moraga, and local foundations, businesses, and individuals.
The Rotarians and their supporters did more than raise money. Several dozen volunteers, including local Boy Scouts, assembled and installed the playground equipment themselves.
The playground is already getting quite a bit of use. The Parlett family visits nearly every weekend. "Adam just loves it," his father says. "Each time we go there, he recognizes where we are and he wheels toward something he wants to do."
– Anne Ford
• Read more stories from The Rotarian