Our clubs
Warm welcomes
Rotary Club of Whistler Millennium, British Columbia
We're dangling 1,400 feet above a forested valley. It's a sea of green: no cars, no buildings, just uninterrupted forest bordered by snowcapped mountains. It's a breathtaking view, and to get it, we've boarded a gondola that glides between the peaks of Whistler and Blackcomb mountains. The Peak 2 Peak gondola, the first lift to join two side-by-side mountains, holds two Guinness World Records, for height and for length between spans.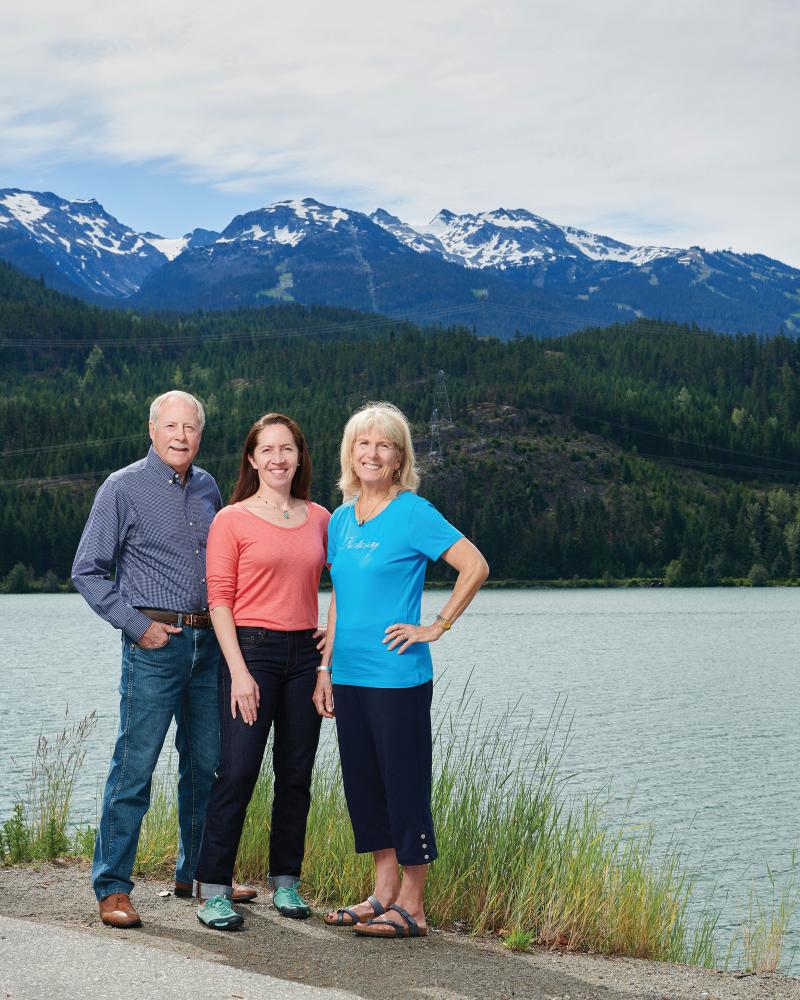 Whistler Blackcomb offers more skiable acres than any other resort in North America. The terrain is vast and varied – though much of it is steep – and the snow is reliable. Since its construction in the 1960s, the resort has attracted skiers and snowboarders from around the world; in 2010, it hosted the Winter Olympics. In the summer, more visitors arrive to hike, bike, kayak, fish, and rock climb.
"This is our backyard," says Shannon Kirkwood.
Kirkwood is president of the Rotary Club of Whistler Millennium. The club was founded in 2000 when a few members of the Rotary Club of Whistler, which meets at 7:15 a.m., decided to start a lunch club. Kirkwood, one of 13 women in the 23-member club, says she joined for a sense of community in a town where not only the tourists but many of the residents are transient. Many live and work in Whistler for a season, then move on. Only about 12,000 people actually call Whistler home.
Seasonal work brought club member Liz Peacock to Whistler from Newcastle, England, in 2010. Like many others, she and her husband planned to stay and work for a year. But Whistler felt like home. Peacock has put her degree in art history to work managing the art gallery at the Fairmont Hotel; her husband found work first as a chef and later as a carpenter. Their one-year-old son, Larry, is a bona fide Whistler native. He's also a born Rotarian, regularly attending meetings with his mom.
The club meets at the Pan Pacific Whistler Mountainside hotel at 12:15 p.m. Thursdays. Larry, who has just learned to walk, toddles down the hall toward the members as they arrive. Peacock patiently chases after him again and again. "He's the greeter," she says with a smile.
Today, 10 people are on hand for a talk by Tom Smith, the District 5040 membership chair. He's there to help them assess their club and offer ideas on increasing membership. He notes that the club has an impressive age range: There are as many members in their 30s as in their 70s. Given the club's small size and baby Larry running around, the meeting feels almost like a family gathering.
The setting is so idyllic, even the view from the conference room window is impressive. A visitor might wonder, what kind of service project could a luxury resort town like Whistler possibly need from Rotary?
Member Patrick McCurdy says one of the club's most important projects is to help the town's seasonal workers acclimate to a new and unfamiliar country. The club hosts a pancake breakfast every November, when new seasonal workers arrive, as part of the Whistler Community Services Society's "Welcome Week." Everyone gathers at the local fire station to learn about the area, their rights as tenants, local laws, and how to get help if needed. "Many seasonal workers are young people from other countries," McCurdy says. "This might be their first time abroad." The workshops help prepare them for life in Canada and give them tools to stay safe.
Club members also work to keep the area beautiful, doing things like clearing underbrush to prevent forest fires. "We don't have a lot of money, but we like to get our hands dirty," says club member Mary Ann Collishaw.
With the wonders of the natural world at their doorstep, club members make outdoor sports a part of daily life. A quick survey reveals that they enjoy everything from sailing to snowboarding. So it makes sense that their annual fundraiser is a 10-kilometer run/walk called the Brandywine Boogie. Kirkwood says that last year they raised about $6,000, which they used to sponsor a Youth Exchange student and to support a local cycling association that builds and maintains the trails used for the run. The club also supports the Rotary Youth Leadership Awards, and it recently sent three students to a weekend RYLA event.
As members finish their lunch (either a Cobb salad or a ham and cheese sandwich), a piggy bank makes the rounds. This being Canada, the bank is actually in the shape of a bear. Each person adds a dollar or more and shares a bit of news. A visiting Rotarian, Roz, from Guernsey thanks the club for welcoming her. And member Jens Ronneberger highlights one of the simple joys of living here: "I went skiing on Monday," he says. –Vanessa Glavinskas
• Read more stories from The Rotarian