New Rotary Foundation grant supports scaling proven malaria program in Zambia
The $2 million grant goes toward Rotary club-led Partners for a Malaria-Free Zambia program; an additional $4 million contributed by partners the Bill & Melinda Gates Foundation and World Vision USA
by Ryan Hyland Illustrations by Gwen Keraval
The Rotary Foundation is giving a significant boost to the fight against malaria in Zambia with a new $2 million Programs of Scale grant that will scale an already successful program model. Partners for a Malaria-Free Zambia is a Rotarian-led effort that will use a community health worker model proven to effectively respond to cases of malaria and prevent transmission. The program aims to help reduce malaria cases over time by 90% in 10 target districts in two of the country's provinces.
Malaria, a preventable disease caused by a parasite spread through the bites of infected mosquitoes, continues to be one of Zambia's leading causes of illness and death, especially infant and maternal deaths.
The grant will allow Partners for a Malaria-Free Zambia to strengthen the country's health system by working with Zambian health officials at all levels and training 380 health facility staff members, as well as training and equipping more than 2,500 new community health workers. This will increase access to malaria diagnosis and treatment for the more than 1.3 million people in heavily affected areas in the Central and Muchinga provinces and greatly contribute to the national effort to eliminate the deadly disease.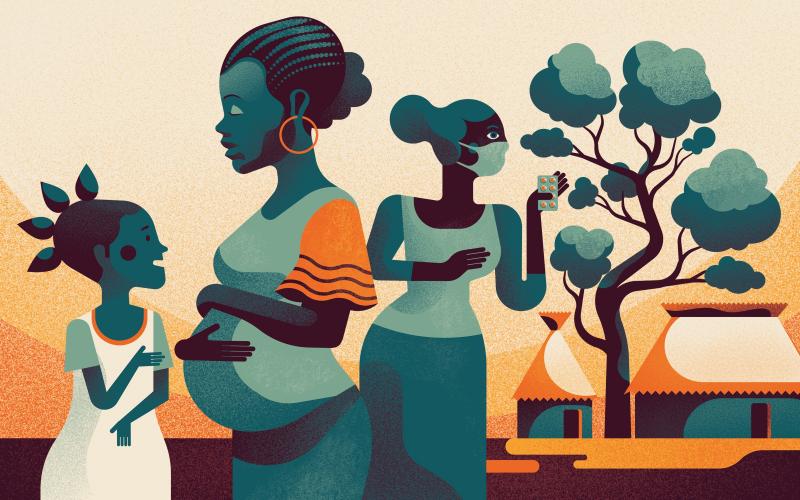 Sponsored by the Rotary Club of Federal Way, Washington, USA, the program brings together local Rotary members and partner organizations who share a goal to combat malaria in Zambia. In addition, the Bill & Melinda Gates Foundation and World Vision USA will co-fund the program with $2 million each, bringing total funding to $6 million.
"This project complements and builds upon the leadership of the government of Zambia in working to eliminate malaria from the country," says Philip Welkhoff, director of the Malaria Program at the Bill & Melinda Gates Foundation. "We are thrilled to expand on our longstanding partnerships with Rotary and World Vision to advance progress in hard-to-reach communities and to realize the goal of ending malaria for good."
To diagnose and treat community members, health workers will be supplied with rapid diagnostic test kits, anti-malaria medicine, lancets for finger pricks, and educational materials. They'll also receive bicycles and mobile phones, allowing them to reach communities and regularly report cases and share malaria data within the national health system. Making sure local and national information is integrated and providing ongoing support for the community health worker network are essential to the program's goal of strengthening provincial health services for long-term success fighting malaria.
By empowering these volunteers, who are selected by their fellow community members, the project connects people in areas with limited access to health care with trusted members of their community, says Bill Feldt, a member of the Federal Way club.
This proven health care delivery model is effective and financially sustainable and will bring lasting protection by reducing and eliminating this disease at the local level.

— Bill Feldt, member of the Rotary Club of Federal Way

"This proven health care delivery model is effective and financially sustainable and will bring lasting protection by reducing and eliminating this disease at the local level," says Feldt, who has been involved in Rotary's efforts to control malaria in sub-Saharan Africa for more than 10 years.
John Hasse, World Vision's national director in Zambia, says it's leveraging the strength of local community health workers that's most appealing about the program.
"We've learned from our experience the importance of bringing healthcare closer to those who need it," says Hasse.
Hasse adds, "Such an effective, proven and local strategy is exactly what is needed to reduce the dreaded disease of malaria and move us closer to malaria elimination in Zambia."
With COVID-19 still a health threat around the world, the program's leaders are prepared to ensure a safe environment for health workers and community members. Training of community health workers will follow COVID-19 protocols, including social distancing. Training class sizes will be limited according to guidelines from the World Health Organization and Zambian government. Personal protective equipment will also be provided. And when a COVID-19 vaccine becomes available in Zambia, community health workers will be well-positioned to mobilize communities to receive the vaccine.
Scaling proven methods
Partners for a Malaria-Free Zambia is the first recipient of the Foundation's Programs of Scale grant. Programs of Scale will award $2 million annually to expand a well-developed service program that is led by a Rotary club or district and has demonstrated success in effecting change. The funding enables evidence-based programs that align with one of Rotary's areas of focus to scale over three to five years to help larger populations of people and foster policy development to increase sustainability. Programs of Scale will expand Rotary members' ability to implement large-scale, high-quality programs with experienced partners — and share their program knowledge and results with other Rotary clubs.
"Rotary's Programs of Scale is encouraging our members to think big and to work with other organizations to find comprehensive solutions to large-scale issues," Rotary Foundation Trustee Chair K.R. Ravindran says. "The power of Rotary is greatly magnified when we partner with like-minded organizations."
Fighting malaria has long been a priority for the Federal Way club. For more than 10 years, club members have been building relationships and working with international partners, including Zambian Rotary clubs, Malaria Partners Zambia, Malaria Partners International, PATH's MACEPA project (Malaria Control and Elimination Partnership in Africa), the Ministry of Health's National Malaria Elimination Centre, provincial health leaders, World Vision, the Bill & Melinda Gates Foundation, and other nongovernmental organizations.
Since 2011, the Federal Way club has worked with its partners and several Rotary clubs to distribute tens of thousands of mosquito bed nets, drug treatments, and testing kits across Zambia's Copperbelt province. In recent years, clubs in the U.S. and Zambia used Rotary Foundation global grants to train and deploy more than 1,500 community health workers in target Copperbelt districts, after seeing this model help reduce malaria cases in Zambia's Southern province.
Building on this evidence and their experience and commitment, Federal Way members saw Programs of Scale as an opportunity to work with The Rotary Foundation to make an even greater impact in Zambia. Using the latest research in malaria and combining the strengths and resources of each partner organization, they developed Partners for a Malaria-Free Zambia to bring lifesaving care to more communities.
Martha Lungu, a member of the Rotary Club of Ndola, Zambia, and executive director for Malaria Partners Zambia, says volunteer community health workers are paid small stipends and work long hours. The driving force behind their dedication is knowing that they are making a difference.
"They are well-respected in their community," Lungu says. "It's prestigious to be trained. If you ask them why they really stay on, they talk about the people they're helping, the mothers and children. They are looked up to by their community."
She thanks her fellow Rotary members for their commitment to the program and role in facilitating trainings and building relationships with rural health centers and government leaders.
"Every day I witness firsthand the effects of malaria," says Lungu. "This program demonstrates that Rotary members are true partners in our communities and focused on supporting community health workers to help loosen the grip malaria has on the Zambian people."