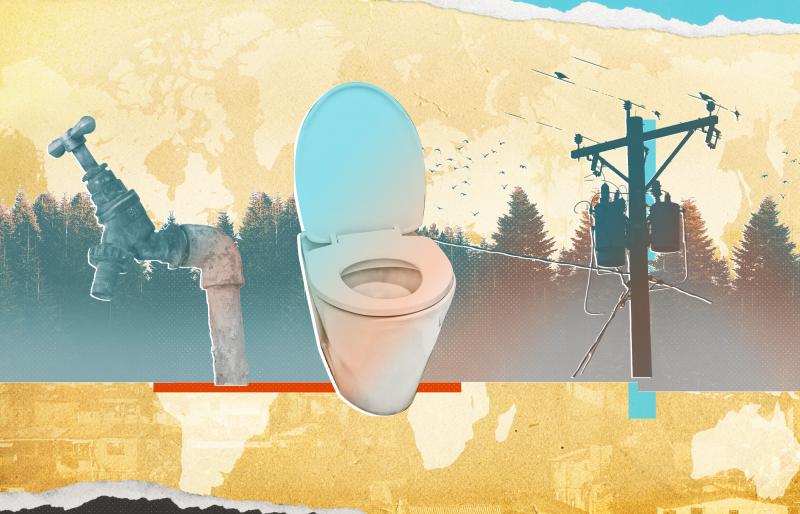 Lack of sanitation: where you least expect it
Water and sanitation are both vital for reducing disease, improving health, increasing literacy, and growing local economies around the world. Governments have been making progress on increasing access to safe drinking water, but progress on sanitation lags behind.
The problem is not limited to less developed countries and exists in places you might not expect.
300000.00

Number of people who still practice open defecation in Europe
800000.00

Number of private septic systems in Alabama, USA
18000.00

Liters of untreated sewage that flow into Guanabara Bay in Rio de Janeiro every second
Europe
More than 300,000 people still practice open defecation, and 31 million lack access to basic sanitation in Europe, according to the WHO regional office for Europe. Inadequate facilities are blamed for 14 deaths by diarrhea a day in the region.
In Ireland, about 1.3 million people in the countryside cannot use safely managed sanitation and need to treat their wastewater on site.
USA
Navaho Nation: Roughly 70,000 households in Navajo Nation, covering Arizona, Utah, and New Mexico, USA, lack running tap water and toilets in their homes. With no electricity, water is delivered into above ground 50 gallon holding barrels by water truck and carried inside in small containers.
Alabama: The state of Alabama has more than 800,000 private septic systems, but about a quarter of them are failing. Poor households that lack money for sophisticated solutions resort to straight piping which dumps untreated waste into the grass outside. Floods carry sewage across lawns and into living areas bringing with it risk of viruses, bacteria, and parasites.
Asia
The proportion of people with access to improved sanitation has actually been growing faster in some rural areas in Asia than urban ones since 2000, largely because urban governments are having trouble developing the infrastructure to keep up with urban growth.
Latin America
Even in modern cities like Rio de Janeiro where access to sanitation is widespread, only 37% of residents have sewage collection, including in wealthier parts. An estimated 18,000 liters of untreated sewage per second flow into its famous Guanabara Bay. In addition to the political reluctance to invest in sanitation, the uncontrolled urban expansion is a problem with over 24% of the city's inhabitants living in informal settlements - favelas - that lack basic sanitation.
Refugee settlements
The United Nations High Commissioner for Refugees (UNHCR) and its partners manage over 220 camps and settlements globally. According to data from 175 of these sites in September 2020, only 32% of households in the camps used basic sanitation services such as toilets or latrines.
---
Related content
What it takes to have a sustainable WASH project
In communities with no services, incremental steps can go a long way