Canada a champion in polio eradication
Prime Minister Justin Trudeau accepts award for polio eradication
By Teresa Schmedding and Arnold Grahl Photos by Alyce Henson
Justin Trudeau, prime minister of Canada, was presented with Rotary's Polio Eradication Champion Award in recognition of Canada's contributions to polio eradication.
Trudeau accepted the award at the Rotary International Convention in Toronto, Ontario, Canada.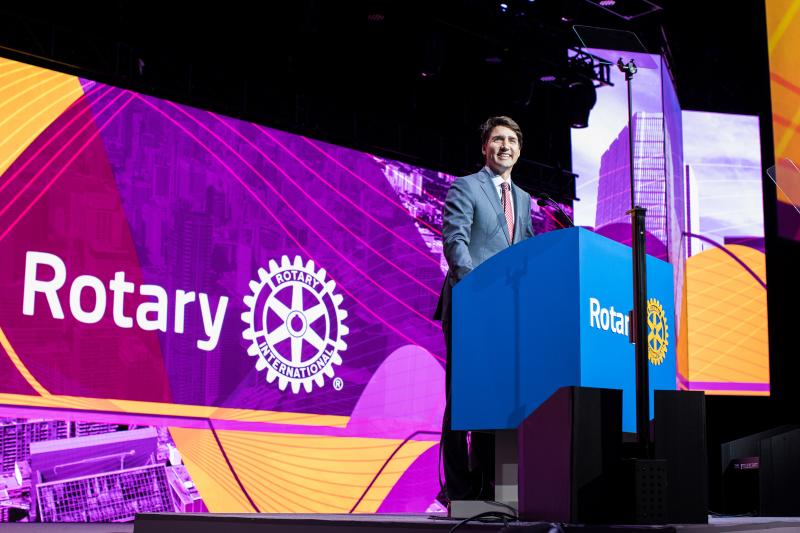 "Let there be no doubt we are winning the battle against polio," Trudeau said. "I want my children to grow up in a world without polio. Together I know we will make that happen."
Canada has been a strong contributor to polio eradication efforts for decades.
In 2017, Canada pledged US$75 million to help eradicate polio, bringing its total contributions to roughly $640 million.
"Prime Minister Trudeau has committed Canada to remain a strong partner until polio is completely eradicated," said RI President Ian H.S. Riseley. "With the unwavering support of the Prime Minister and the Canadian government and their strong assistance with continued vaccination efforts, I'm confident we will rid the world of polio."
Canadian Rotary members have also contributed more than US$38 million.
"Canada's long-standing political and financial commitment helps our dedicated health workers, mostly women, go the extra mile and vaccinate every child to build a polio-free world," Akhil Iyer, director of the Polio Eradication Programme at UNICEF, previously said.
Rotary established the Polio Eradication Champion Award in 1995 to recognize heads of state, health agency leaders, and others who have made a significant contribution to polio eradication.
Trudeau is the third Canadian prime minister to receive the award, along with Jean Chrétien and Stephen Harper. Past recipients also include Shinzo Abe, prime minister of Japan; Angela Merkel, chancellor of Germany; Xavier Bettel, prime minister of Luxembourg; Muhammadu Buhari, president of Nigeria; Neven Mimica, European commissioner for international cooperation and development; and Ban Ki-moon, former UN secretary-general.