Job training program brews confidence in youth with autism
by Seoha Lee Photos by Monika Lozinska/Rotary International
Nathan Kim gets up early on Mondays and Wednesdays and dresses in his favorite clothes — his work uniform.
The 20-year-old arrives at the YMCA in Northbrook, a suburb of Chicago, Illinois, USA, where he clocks in, puts on an apron, and sets up chairs and tables at Café Voca, a coffee shop in the lobby.
He and his colleague Daniel prepare the coffee machine and then they're ready to open, greeting guests as they arrive.
"I enjoy working at Café Voca," Kim says, adding, "I make coffee and hot chocolate." After serving customers, he says, he tells them, "Thank you, and have a nice day."
Kim is taking part in a job training program for people with developmental and intellectual disabilities — a group that is employed at a significantly lower rate than the labor force as a whole. At Café Voca, which is a project of the Rotary Club of Chicagoland Korean-Northbrook, he and three other autistic youths have been learning to handle the responsibilities and developing the social skills that they'll need for other jobs.
In putting the project together, club members looked at statistics from the U.S. Labor Department, which show that in 2019, about 20 percent of people with a disability were employed, as compared with more than 60 percent of people without a disability (employment rates for both groups fell during the COVID-19 pandemic). The Rotary members also learned that people with autism often face additional challenges finding work because of behavioral effects that can be associated with autism.
In the United States, many high schools offer transitional programs that include life skills and job training for students with disabilities after they graduate. But for immigrants — who may have language barriers, limited social circles, or what Kim's mother, Hyeok Choi, calls a "cultural tendency to cope passively" with a child's disability — finding information about such programs can be a challenge.
Choi and her son left Korea in 2001 to live with her husband, who was studying in the United States. She says that Kim, who was diagnosed with autism at age three and has a combination of emotional and behavioral disorders, faced a dearth of job opportunities when he finished high school.
She heard about the Café Voca project in 2019 and thought it was a fortunate opportunity, because the YMCA is not far from the family's home. She inquired about the program, and Kim started in September 2021 as part of the first group of trainees.
At the coffee shop, a trained job coach guides Kim and his three coworkers in how to interact with customers, including how to make small talk with them. The job coach empathizes with the trainees and tailors the lessons to their needs. The coffee and other beverages are free, but customers can leave tips and donations.
At just two months into the program, Choi says, she had already noticed changes in her son.
"Nathan is more social, more accountable, and has increased self-esteem and self-confidence now," Choi says. When he gets home from work, he recaps his day, telling her how many customers he served and what they drank.
"Nathan never talks to strangers," she says. "But he never ran away or hid from the strangers in the Café Voca. That's probably because of the pride and sense of responsibility he has in working there."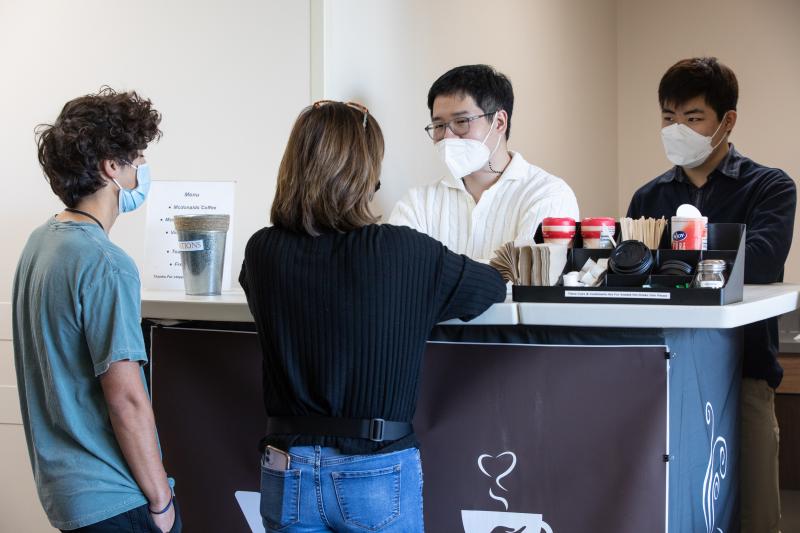 The idea for the project came after members of the Rotary club, which was chartered in 2008 by members of the Korean community who live in the Northbrook area, heard a presentation by the Wheat Mission, an organization that serves Korean-American people with disabilities.
They learned about the lack of job opportunities that keeps many disabled adults at home. They also learned about a YMCA program for people with disabilities and decided to collaborate with the organization to develop Café Voca.
The project trains four young people at a time, with new groups starting three times a year. Club members want to expand the program as additional funding becomes available.
The Wheat Mission and the YMCA helped recruit the first group of trainees. A nonprofit organization called Autism Workforce provided trainers and planned the training, which includes job search and interview skills. The YMCA set up the cafe space and manages the facilities. The Rotary club brings all the partners together to plan and run the project.
"With the right training, the possibilities are endless," says John Kim, the chair of the club's service project committee.
The project is supported by a Rotary Foundation global grant and funding from the Rotary Club of Yeongju Moran in Korea, as well as by District 3630 in Korea and District 6440 in Illinois, which have collectively raised more than $60,000.
Café Voca launched in September 2021, a year later than planned because of the pandemic. At the grand opening celebration, representatives from a local grocery chain and a banking group pledged to offer job opportunities to graduates of the program.
Choi hopes more young people will be able to take advantage of the opportunities this project provides.
"If you work, you can continue to connect with people," she says. "The biggest breakthrough in an autistic child's life is vocational training. I want Nathan to be able to get a job and live his life through the program, and I want other kids to benefit from the program and live happier, too."