Gold mettle
Life dealt Samantha Kinghorn a devastating blow. She fought back. Now she makes winning a habit.
By Hank Sartin Photos by Frank Ishman
Samantha Kinghorn had a clear goal for the 2017 Chicago Marathon: finish in 2 hours, 5 minutes. For a seasoned wheelchair marathoner, that's a leisurely time. But Kinghorn, an accomplished 22-year-old wheelchair racer, had never competed in a marathon. In fact, she'd never even wheeled 26.2 miles in one go.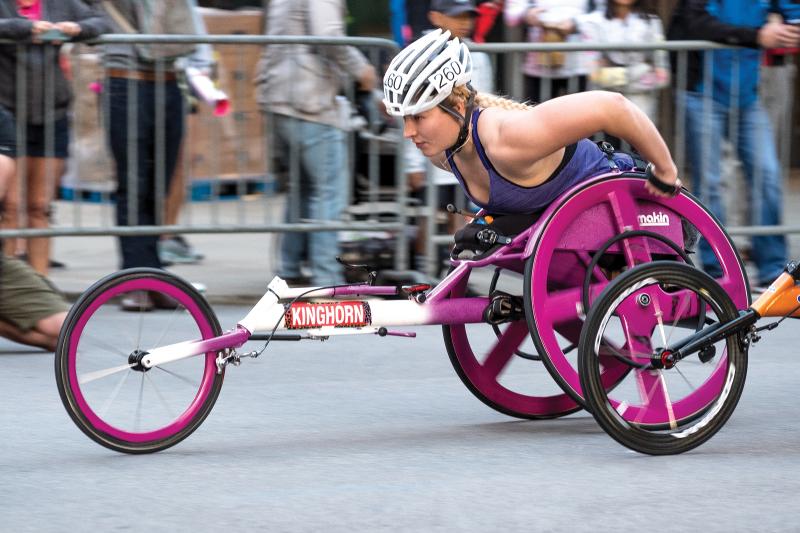 But to qualify for the 2018 Commonwealth Games, the quad-rennial multisport event for members of the Commonwealth of Nations (formerly known as the British Commonwealth), Kinghorn needed that 2:05 in Chicago. A Scot, and an honorary member of the Rotary E-Club of Southern Scotland, Kinghorn specializes in shorter distances – and specializes is an understatement. A relative newcomer to the sport, she holds a world record for the 200-meter sprint and European records for the 100-, 400-, and 800-meters.
But the Commonwealth Games feature a limited schedule of events for para-athletes, and for the 2018 games, officials in host country Australia hadn't slated shorter distances for wheelchair racers. That meant Kinghorn's options were 1,500 meters and the marathon. She'd rarely competed at 1,500 meters and never even contemplated a marathon.
Nonetheless, Kinghorn chose to travel to Chicago and go after the qualifying time for the marathon. To some, that might seem an impossible challenge. To Sammi Kinghorn, it's business as usual.
Kinghorn's ascent to the top ranks of world-class wheelchair athletes began with a terrible accident. In 2010, during an unusually snowy winter, she was helping her father, Neill, with chores at the family farm in southeastern Scotland. Neill was driving a forklift with a snow-clearing attachment. Sammi was walking in front of the forklift. She mischievously jumped onto the front of the forklift, assuming Neill could see her. He couldn't.
"He started to lower the beam down to shovel up snow and I got crushed," she recalls, her normally cheery voice going very quiet. "I didn't pass out at all. I remember feeling like my heart was beating inside my head. I was thinking, I'm going to die and my dad's going to think he killed me. The guilt was the biggest thing I felt. I was thinking, I can't believe I've made this stupid mistake."
An ambulance rushed Kinghorn to the local hospital; from there she was airlifted to Southern General Hospital in Glasgow. Doctors determined that she had an irreparable spinal cord injury, which immobilized her from the waist down.
Restless and frustrated, Kinghorn spent the next six months in rehab. "I was a 14-year-old girl," she says. "It's a tough time for any teenager to be going through, never mind having an accident at the same time. I was fiercely independent going in, so I wanted to come out fiercely independent."
Kinghorn's physiotherapist encouraged her to attend an annual event where patients from spinal cord injury units around the United Kingdom can try a variety of sports. Sammi tried fencing and rugby and basketball, but it was wheelchair racing that stuck. "I watched a girl going around the track, and she was faster than the runners. I thought, I want to be better than I was before. It attracted me because it didn't look like a major disability staring me in the face."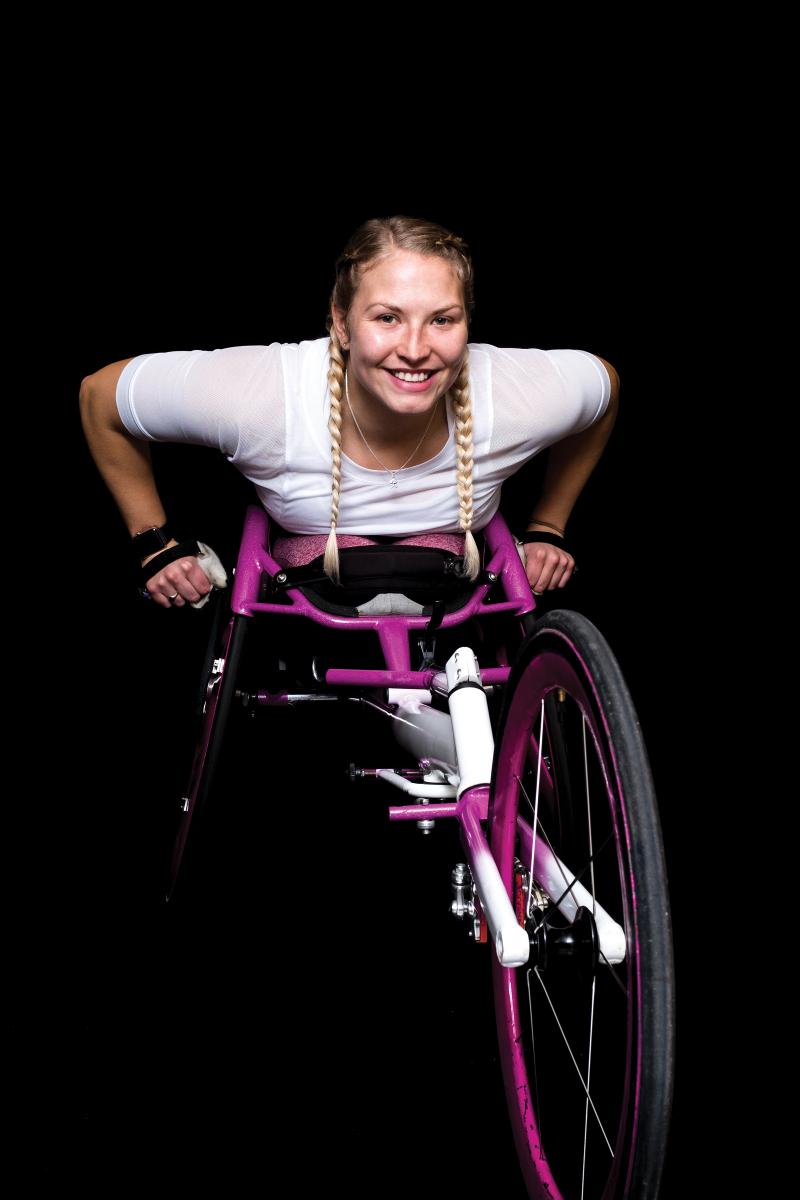 Next step: a custom-made racing chair. While Kinghorn started out racing in an "off-the-shelf" model, serious racers use customized chairs. Kinghorn's chair cost more than $4,000. "I was raising money – and speaking very nicely to my mum and dad," she says with a laugh.
Further upping her game, she started training with Ian Mirfin at the Red Star Athletics Club in Glasgow. A para-athlete coach for 30 years, Mirfin recognized Kinghorn's potential. "Within a year I realized that Sammi was progressing quickly. To be on top of the world, as she is, after barely five years in the sport is phenomenal and shows her talent, determination, and capacity for hard work."
Mirfin wasn't alone in his admiration for the young athlete. With her mix of cheerfulness and intense focus, Kinghorn naturally inspires people. "I interviewed Sammi for an article for our district magazine three years ago, " recalls Joy Chatters, of the Rotary Club of Lytham, England. "I was so impressed with her positivity and general zest for life."
Shortly after Chatters' interview, Kinghorn was a guest speaker at the Rotary E-Club of Southern Scotland, an event viewed online by visitors from all over the world. She made such an impression that the club made her an honorary member. "It's an honor to have her," says Nii Boi-Dsane, the club's president. "A young woman showing grit and determination to overcome tragedy – to become a champion, all the while exuding joy."
With Mirfin in her corner and riding her custom-made pink-wheeled chair, Kinghorn spent 2012 training and competing in a few local races in Scotland. In 2013, she underwent a series of tests that evaluated her bench strength, mobility, and trunk function and determined the class in which she could compete. (It's complicated, but Kinghorn fell into the T53 classification.) After that, it was off to the races.
Though only 17, Kinghorn instantly made her presence felt. In 2013 she took home two gold medals at the UK School Games. In 2014 she competed at the Commonwealth Games in Glasgow, and the same year, at the European Championship in Swansea, Wales, she won three gold medals. In 2015 she won bronze in the 200-meter at the World Para Athletics Championships in Doha, Qatar. In 2016 she competed for Team Great Britain in the Paralympic Games in Rio de Janeiro. But despite reaching the finals in the 100-, 400-, and 800-meter races, she didn't medal.
In May 2017, however, at the Desert Challenge Games in Arizona, Kinghorn broke the world record for T53 class athletes for 200 meters. In July, she broke her own record at the World Para Athletics Championships in London, earning gold. She also took gold in the 100-meter and bronze in the 400-meter. In late September, she was named Scottish Sportsperson of the Year at the Team Scotland Scottish Sports Awards, the first para-athlete to receive the award. By then she had set her sights on the marathon in Chicago, scheduled for 8 October, a mere 16 days away.
Kinghorn had begun preparing for Chicago right after her triumphs in London. With Mirfin, she worked on a compressed program of marathon training, doing long (up to 15-mile) road sessions in the rural, rolling country of the Scottish Borders. Training twice a day, six days a week, she mixed in shorter track sessions and time in the gym on a wheelchair treadmill that recorded speed variations and mimicked hills and various other real-world terrain.
The mechanics of a wheelchair racer's stroke are complex. "We're not gripping and pushing like we do in a day chair," explains Kinghorn. "We punch the push rim, and we have to make sure that we punch it correctly. It's all about getting the right stroke. You can tire yourself out very quickly if you're doing the wrong strokes for the distances."
An added complication is steering. Three-wheeled racing wheelchairs – one wheel at the fore and two at the rear – have a device called a compensator, an A-frame connected to the front fork of the chair. To steer the chair into a turn, a racer interrupts her stroke to tap one side of the compensator, which turns the front wheel slightly. But every tap to steer the chair breaks the rhythm of a racer's strokes, so timing is essential.
To be on top of the world after barely five years in the sport shows her talent, determination, and capacity for hard work.

Ian Mirfin
para-athlete coach
As with any sport, wheelchair racing involves innumerable tactical choices. "It's all about the contact to the wheels," explains Kinghorn. "For 100 meters you want to get as many contacts as possible, whereas in the longer distances it's all about big, powerful strokes, and you don't do as many."
Kinghorn's technique, with powerful strokes and longer contact with the push rim, is unusual among racers in the sprint distances. "Her arm speed is tremendous for sprinting," notes Mirfin, "but equally she has a longer push which is more economical and better for distance, making her adaptable."
"Sammi's contact angle is longer than some of her competitors, so she generates more force per stroke," adds Adam Bleakney, the head coach of the wheelchair track team at the University of Illinois at Urbana-Champaign, one of the most highly regarded wheelchair athletics programs in the United States.
I catch up with Kinghorn at the U. of I. gym three days before the marathon. She and Mirfin have come there for the final week of training. The atmosphere is convivial, with other athletes and coaches stopping by to chat. Everyone is talking about the marathon: Who will be racing? What will the weather be like?
While in Champaign, Kinghorn even stays with two fellow wheelchair athletes, Susannah Scaroni and Arielle Rausin, who share a house there. "They didn't have to give me a place to stay. They don't have to be my friends," says Kinghorn. "We're competitors. We're on the track to win a medal, and people are going to fight for it. But when you get off the track, you forget about it."
The morning of the Chicago Marathon, some 40,000 racers crowd near Lake Michigan in Grant Park, where the race starts and finishes. The circuitous course, which winds through Chicago's vibrantly distinct neighborhoods, traverses the city's prairie-flat terrain, a factor in the race's fast finishes. What's more, though the marathon, in early October, typically occurs in warm weather, the temperatures this early morning – in the high 50s – forecast unexpectedly ideal conditions for the racers.
Before the race, Kinghorn has on her headphones. "I like listening to Tina Turner singing '(Simply) the Best,' " she says. "I can remember my mom singing it while vacuuming around the house when I was a child. The music's a distraction. I don't like to think about what I'm about to do until I'm on the start line, because I get extremely nervous."
Despite all the careful planning, Kinghorn discovers a last-minute problem: For some reason – maybe a minor mishap in transit – the left rear wheel of her chair is rubbing against the frame. Whatever the cause, Kinghorn settles on a simple solution: She inserts an extra washer on the axle to push the wheel out slightly.
Once the race starts, however, Kinghorn realizes that her small adjustment means the wheel now rubs against the inside of her left arm. A layer of skin soon peels off, and for much of the race her arm bleeds. "Coaches always worry about what might go wrong in a race," says Mirfin. "When the race starts, there's nothing you can do but wait."
Kinghorn, Scaroni, and another competitor, Sandra Graf, stick together. Before the race, Kinghorn worried about maintaining her pace over such a long distance, so this was a strategic decision to help maintain her focus. Along the course, she sings, rations out her water, and concentrates on meeting the speed goals she has set for certain segments of the race.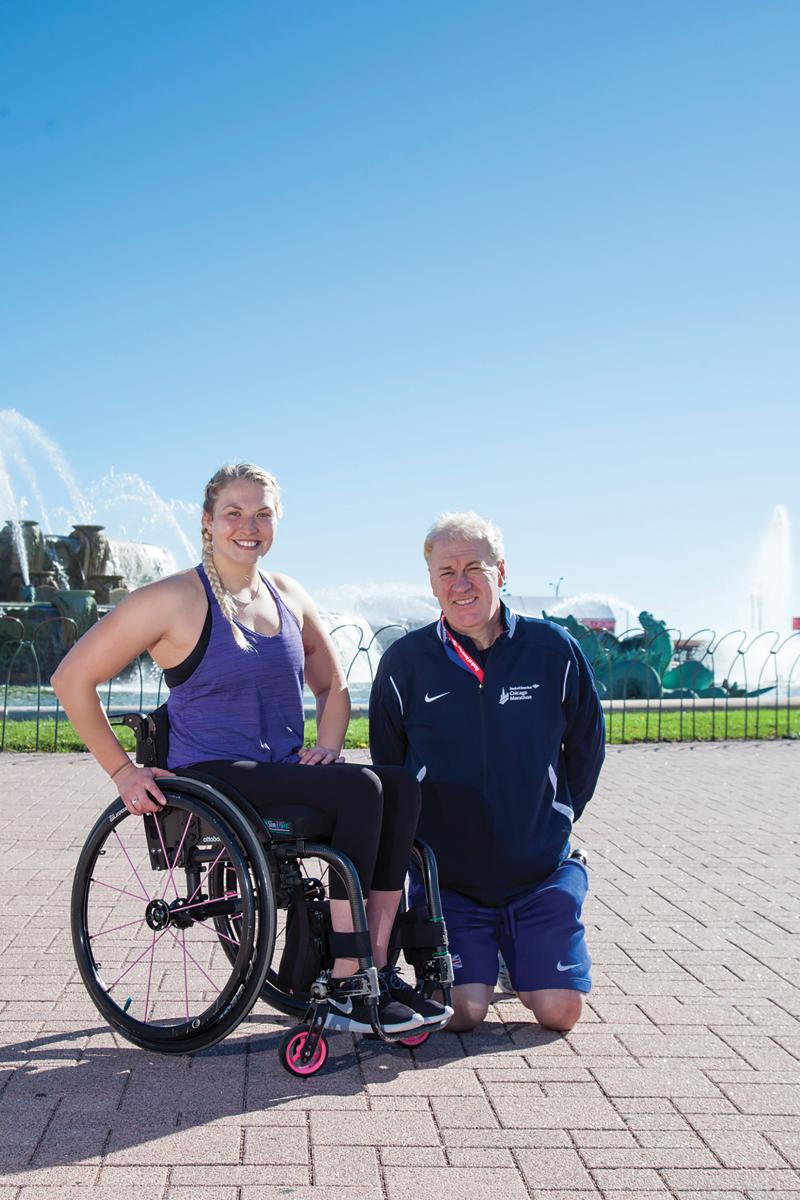 Those tactics work. To qualify for the Commonwealth Games, Kinghorn needed to finish at 2:05:00. She rolls across the finish line at 1:43:52. Less than five minutes behind the women's wheelchair division winner, Sammi takes fifth place. She sends off a terse victory tweet: "Everything hurts."
With the Chicago race behind her, Kinghorn's attention now centers on April's Commonwealth Games in Australia. After the marathon there, she hopes the orchestra plays "Flower of Scotland." She says, "I love to pull on the vest and race for a chance to hear my national anthem."
That marathon, she says, will definitely be her last. "I'll do one at the Commonwealth Games, and then never again. I like to see the finish line, so the idea of enduring 26 miles to see it kills me."
Kinghorn can't make a long-term career out of wheelchair racing. For now, Sky Sports, a network of sports channels in the UK and Ireland, has selected her as a Sky Sports Scholar. She will receive funding through 2020, as well as media training and athletic and business mentoring.
Eventually Kinghorn plans to make the shift from athletics to academics. "In Britain," she explains, "we don't really have a great collegiate wheelchair sports facility. Going to school while competing would require going to university and then driving somewhere else for training. I don't think I would handle it very well, so for now I'm concentrating on my training. But eventually I'm going to have to decide what I'm going to do when I have to get a real job. And that's a bit scary." Challenge accepted.