'Gladiator' stars reunite at End Polio Now event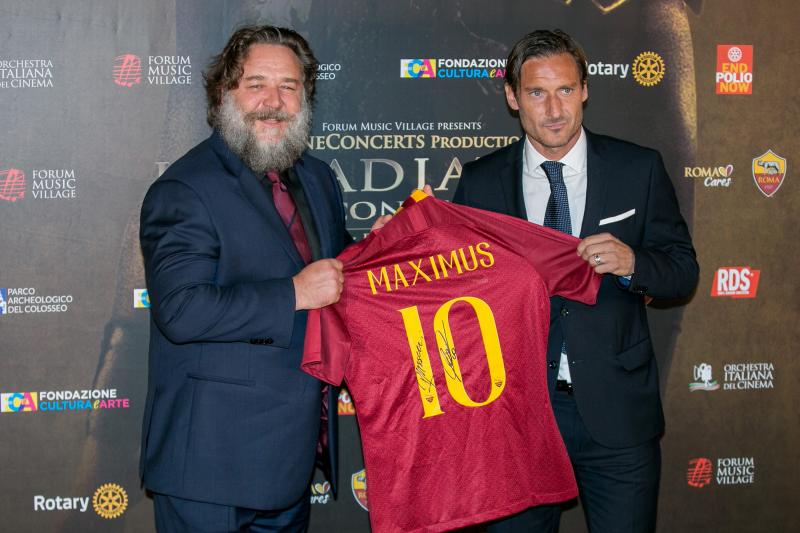 Actor Russell Crowe and co-stars of the Oscar-winning movie "Gladiator" gathered 6 June for a special End Polio Now fundraising event inside the Colosseum in Rome, Italy.
Produced by CineConcerts and presented by Forum Music Village, Gladiator in Concert: Live at the Colosseum, showed the 2000 movie on a 65-foot HD screen to more than 300 people.
During the screening, conductor Justin Freer led the Italian Cinema Orchestra with vocal soloist and co-composer Lisa Gerrard in performing the entire soundtrack live to picture with the images, dialogue, and special effects preserved. Guests included, Italian actress and Rotary polio ambassador Maria Grazia Cucinotta, celebrity chef Cristina Bowerman, local Rotary members, Italian dignitaries, and "Gladiator" fans who purchased tickets to support Rotary's End Polio Now campaign. The event was spearheaded by Rotarian Alberto Cecchini, a member of the Rotary Club of Roma Nord-Est, Italy.
More than $500,000 was raised for polio eradication efforts.
Crowe, who won an Academy Award for his performance, was joined by fellow castmates Connie Nielsen and Tomas Arana. Italian soccer star Francesco Totti and some of his AS Roma teammates attended the event and signed jerseys that were auctioned off.
"The event is not just about reuniting with Russell and other cast members … but also to raise awareness about Rotary International's work in ending polio forever," Nielsen said during the event. "I believe we all have the collective power and responsibility to help empower those around the world, and promoting health care is essential."