Former aviator mentors next generation of scientists
This U.S. Rotarian has worked with young people from urban neighborhoods for two decades. Many of them now work in science, technology, and engineering jobs.
By Arnold R. Grahl
JonDarr Bradshaw, a former military aviator and contractor for the U.S. space agency, has a different kind of mission now: mentoring the next generation of scientists and engineers, especially youth from underserved neighborhoods.
Bradshaw grew up fascinated by science and technology through watching his father, an air traffic controller, and his mother, a biology teacher. Bradshaw's father was one of the few nonwhite people in his profession, and Bradshaw found himself in the same situation early in his own career at the National Aeronautics and Space Administration.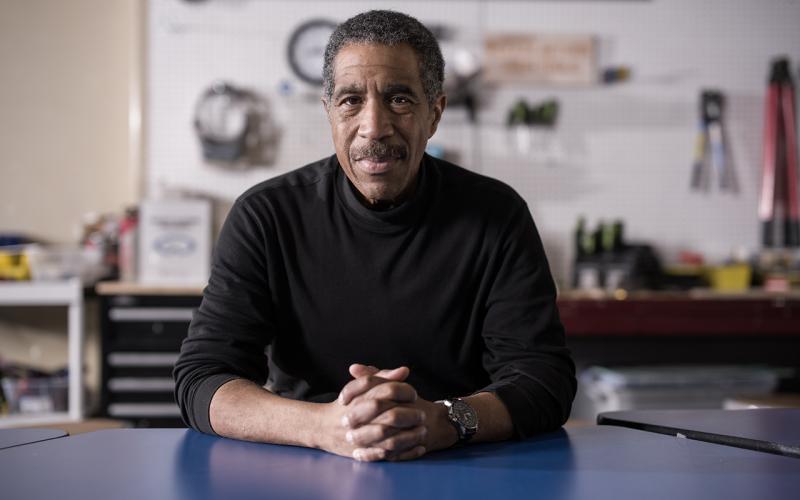 "But NASA has worked very hard to change that," says Bradshaw, a member of the Rotary E-Club of World Peace, D5330. "They have been in the forefront in regard to integration."
Helping NASA continue that has been a big part of Bradshaw's work for more than two decades, as he finds young people from backgrounds that have been traditionally underrepresented in science and engineering and gotten them interested in those topics. His bosses at NASA were partly motivated by the desire to increase diversity, but also to overcome what they perceived as a shrinking pool of qualified candidates to carry on the agency's mission.
Bradshaw also helped popularize science for the masses, appearing on U.S. television programs such as "Space Age" to talk about Mars and as the Science Guy on "Nashville Tonight."
His career trajectory took him through roles at various science centers before he landed at the Great Lakes Science Center in Cleveland, Ohio, USA, where he's the community engagement coordinator and leads aerospace education programming. He visits schools, libraries, and community centers throughout the area to get young people excited about science, technology, engineering, and math (STEM).
"You start by having somebody who looks like them who is doing science and engineering and doing it in a fun way, who can engage kids while they are young," Bradshaw says. "Because if you can engage them while they are young and ignite the flame early, that flame will burn long after I am gone."
Robotics for teens
His education work for NASA introduced him to the FIRST robotics competition, where he is a volunteer. The Science Center also has a robotics program for high school students, in partnership with the Cleveland Metropolitan School District. Bradshaw and two other retired scientists mentor more than 60 students from economically underserved neighborhoods. Four teams design and build industrial-sized robots to compete in national competitions while developing skills that expand their job opportunities.
"I'm celebrating 21 years as a FIRST volunteer working with young people," Bradshaw says. "Most of those are in STEM fields and many of them are working in aerospace. And that is pretty cool."
Last year, Bradshaw's teams did well in a regional match against teams from six states, many from much more affluent school districts. After the competition, he issued a challenge to the students: Now that you've learned a bit, how will you use your skills to make your community and the world a better place?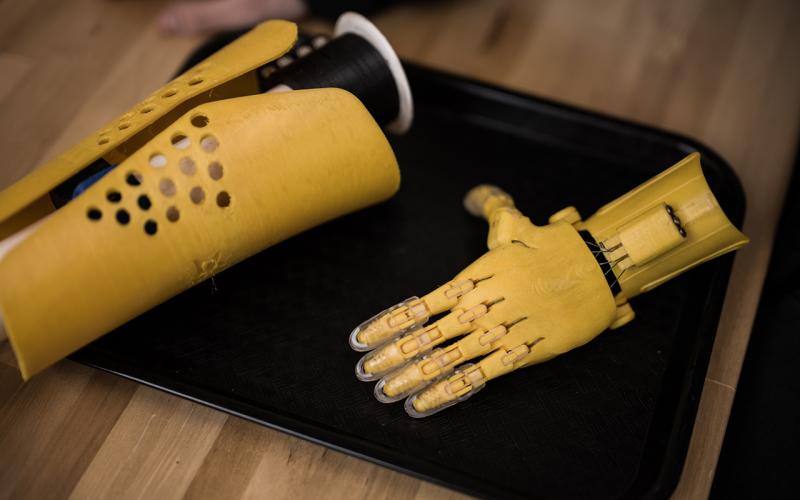 From robotics to prosthetics
An answer came quickly. After Bradshaw offered a few examples of what other schools had done, the students decided on a new goal: using 3D printers and computer-aided design software to make affordable prosthetics for children.
Bradshaw learned about a candidate during a presentation to his Rotary club by representatives from the group IMAHelps, who talked about their trips to provide health care to more than 100,000 people in nine countries.
The group's cofounder, Ines Allen, and communication director, Jeff Crider, mentioned meeting the father of a 12-year-old who'd been injured in a bus crash in Ecuador. Samantha had lost her left arm and could no longer use her right arm. Samantha's father hoped that the team could fit her for an arm. But IMAHelps couldn't do so because of Samantha's young age and the difficulty of customizing devices for hands and arms.
As is often the case in Rotary, people connected over an opportunity to help. Bradshaw told Allen and Crider about the work his students had been doing, and they discussed collaborating to design a simple device that could fit onto Samantha's arm and allow her to write again. The idea strongly resonated with one student, whose family had emigrated from Guayaquil, Ecuador.
"She convinced not only the kids on her team, but the other three teams we mentor, that this was something they needed to do," Bradshaw says. The students used photos and information from Allen and Crider to design the device, which IMAHelps volunteers delivered to Samantha in October. After some adjustments, Samantha was able to write and hold items, and says she wants to pay it forward and help others by being a doctor.
The students are currently working on a new and updated version of the prosthesis for Samantha and continue to work with IMAHelps to identify other children they can help. Bradshaw has begun a fundraiser to allow some of his students to join an IMAHelps mission trip to Ecuador.
These kinds of opportunities to do good are part of what Bradshaw enjoys about Rotary. His wife, Julie Boswell, is a member of the same Rotary club. Her father was a Rotarian, and their family often hosted exchange students. Boswell's sister was a Rotary Youth Exchange student to Demark, and Boswell was an exchange student to what was then West Germany.
Someday is now
Recent events have given Bradshaw and Boswell a renewed zest for giving back. Bradshaw was diagnosed with throat cancer seven years ago and wondered if he would see his first grandchild. He's presently cancer-free and happy to spend time with both his grandkids. More recently, Boswell also had health issues. Bradshaw says they both feel that the time to make change is now.
"How can we help, how can we make the world a better place?" Bradshaw says. "Now we are trying to share that idea with a whole new generation. They are getting it."
2 May 2023