Our Clubs
Ear, ear!
Rotary Club of Lake Buena Vista, Florida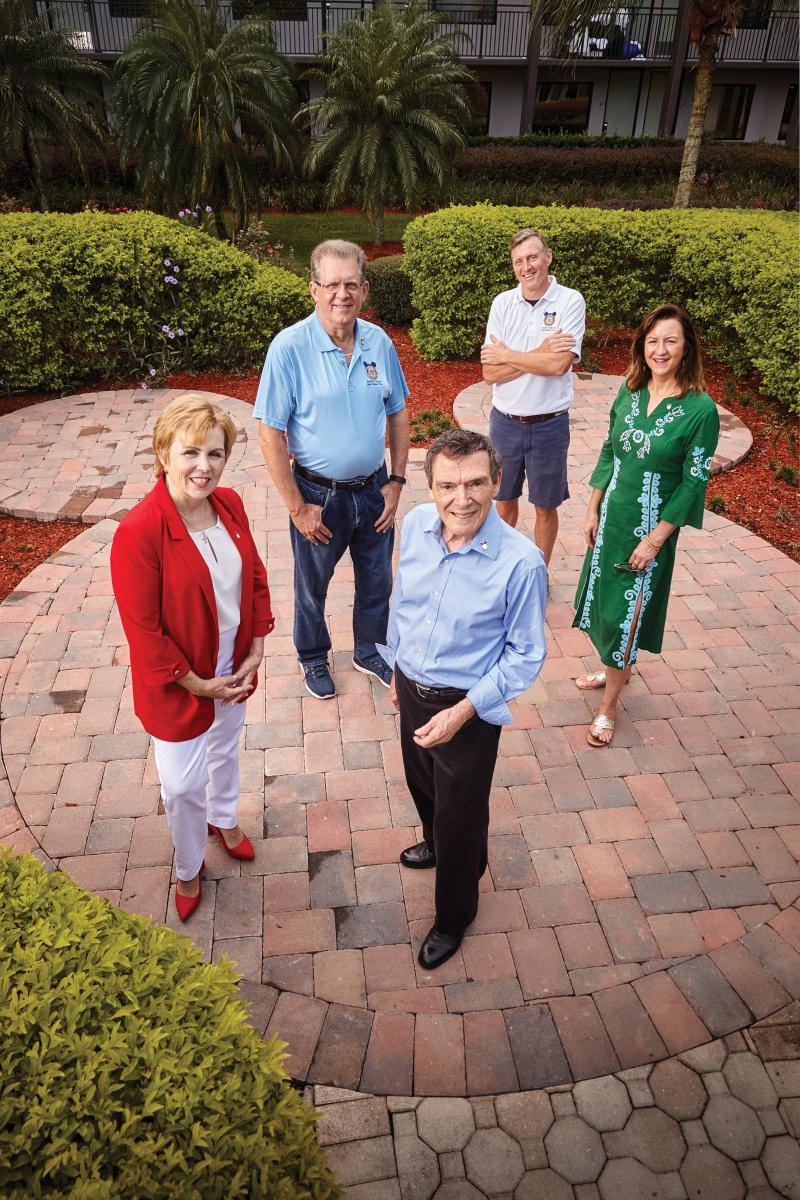 A family trip to Walt Disney World may be perfectly magical, but at some point you'll be ready to take off the Mickey Mouse ears and hang out with your Rotary family for an hour. You won't have to go far: The Rotary Club of Lake Buena Vista, the only service club that meets on Disney property, has been welcoming visiting Rotarians for decades.
In the entryway to the club's meeting room at the Wyndham hotel in the Disney Springs entertainment complex, a world map is covered with pins marking the hometowns of visitors from the United States and Canada, as well as countries including Denmark, Egypt, Indonesia, Nigeria, Paraguay, South Africa, and Ukraine. "We're the make-up Rotary club for the rest of the world," says Augustine Campana, club president and a writer who has researched the club's history. In a Rotary version of "It's a Small World," a slideshow near the podium rotates through the banners in the club's collection.
Rotarians can serve themselves waffles in the shape of the iconic mouse ears and get a selfie with Pluto or Minnie Mouse — the hotel's restaurant hosts a "character breakfast" at the same time as the Rotary meeting — before they head in. "My grandkids beg to come to the Rotary meeting for breakfast," says Anne Peach, a health care consultant.
The hospitable atmosphere is what drew Cornelia Jung, senior director of events for Hyatt Regency Orlando, to the club. "You walk in and you feel a vibe," says Jung. "I love the openness, the warmness, and the dedication to giving back at this club."
The club was chartered in February 1972, just four months after Walt Disney World Resort opened. (Walt Disney, who died in 1966, was an honorary member of the Rotary Club of Palm Springs, California.) At the time, the club met at Disney's Polynesian Village Resort, one of the two original Disney hotels located right outside the Magic Kingdom. "You could look out the window and see the [Cinderella] castle," Campana says. Many of the club's 15 charter members were involved with Disney World in some way, including Garth Walker, a consultant who helped set up the resort's employee medical plans and who is still a member of the club.
Several club members — including Campana and his wife, Jean — moved here just to be close to Disney World. He says that after a belated honeymoon trip to the resort in 1989, "we said, 'Wow, we should live here.' We even considered being cast members," as employees of Disney are known.
Other club members are involved with the Reedy Creek Improvement District, the political jurisdiction outside Orlando that encompasses the 25,000-acre Disney property and is responsible for things such as building codes, sewer and water infrastructure, and fire protection. The two Disney-run cities in the district, Bay Lake and Lake Buena Vista, have full-time populations of 47 and 10, respectively. All that means that the service aspect of the Rotary Club of Lake Buena Vista is a little different from that of most other clubs.
"My grandkids beg to come to the Rotary meeting for breakfast."
"We're not part of a community. That's unusual," says Greg Gorski, who joined after moving to Florida in 2014. "When I lived in New Hampshire, I owned a grocery store; it was easy to know where the need was. Here, there's no school or local food bank or those kinds of things you'd typically reach out to in a Rotary club."
The club's service activities include financially supporting and volunteering with the WOW Legacy Group, a nonprofit that was founded by Lake Buena Vista Rotarian Secily Wilson to help women who have fallen on hard times get back on their feet. The club also is sponsoring TShane Johnson, a Lake Buena Vista Rotarian who is hiking across the United States to raise money for the Gary Sinise Foundation, which builds smart homes for wounded soldiers.
The club's location also influences its programs for young people, says Jeff Smith, a semiretired Disney employee ("I visited Disneyland when I was nine and I decided then that's what I wanted to do when I grew up," he says) who is the club's New Generations chair. Because the Disney property has no schools, there's no obvious place to start an Interact or Rotaract club. But the club supports young people in other ways, including by sponsoring students to attend Rotary Youth Leadership Awards events every year, sponsoring and supporting both outbound and inbound Rotary Youth Exchange students, and awarding scholarships to local high school students. Club members also teach classes and mentor students at RYLA events.
After a recitation of The Four-Way Test — with a Disney-appropriate fifth question, "Is it fun?" — meetings adjourn at 8:30 a.m. You'll be back at your hotel before your family is even out of their pajamas.
— DIANA SCHOBERG
• This story originally appeared in the October 2019 issue of The Rotarian magazine.