Courage courtesy of Rotary
by Mariko Noguchi
Mariko Noguchi
Rotary Ambassadorial Scholar, 2002-03
BA in literature, Kobe College, Japan, 2002
Deaf since birth, she is an accomplished lip reader.
Won Diamond Award at 2020 Mrs./Ms. Earth Japan pageant
My first trip as a Rotary Scholar took me to Frankfurt, Germany. I was 22 years old and had just graduated university.
Although I grew up in Japan, I was born in the Netherlands, and I lived there until I was 2 years old. Perhaps that is the reason I always felt a connection to foreign cultures. My dream was to study overseas. I wanted the chance to go out and see the world.
I was born deaf. It's a congenital condition that was the result of my mother contracting rubella while she was carrying me. I can speak, but it is with a distinct pronunciation. I wondered if I would be able to make it in Germany. In August 2002, when I flew from Osaka to Frankfurt, I was filled with anxiety. I was perhaps the first deaf student from Japan to become a Rotary Scholar. I knew many people were worried about me, but I was offered incredible support from the members of Rotary in Osaka and Sakai.
When I first arrived in Germany, making myself understood in conversation was not easy. It was sometimes easier to communicate with pen and paper. I even kept a journal, which I shared with Andreas Goetz, the father of my host family. My host brothers and sisters were much more than family; they were teachers. They never gave up trying to communicate with me, even when it was difficult.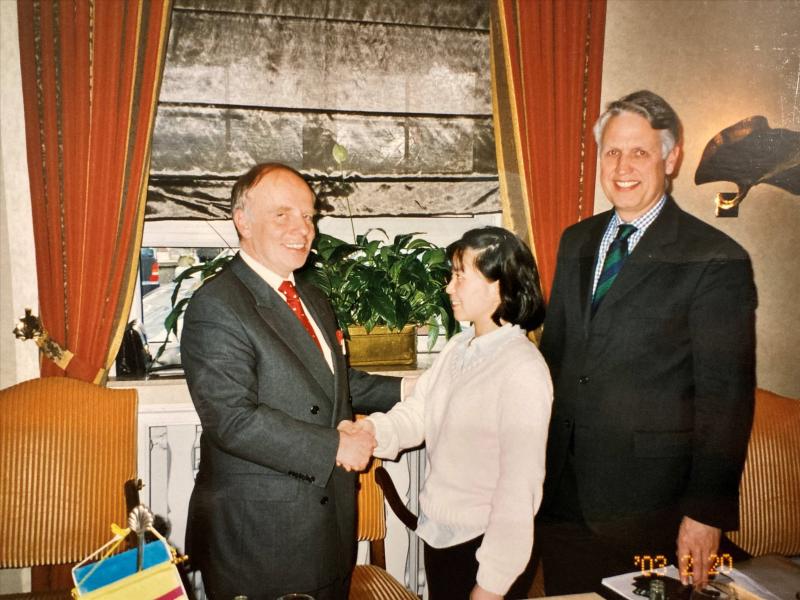 Before returning to Japan, I gave a speech in German to members of District 1820 (Germany). I wanted to express my heartfelt thanks to the Rotary clubs of Frankfurt and Osaka, as well as to the Goetz family.
By that point, I had been studying for six months. In German, I began, "I have enjoyed Germany very much. I would like to thank everyone." At first, my host father repeated each line of my speech, in case my pronunciation wasn't clear. As I went along, the echo faded away and I was the only one speaking. The audience of 40 or so people listened patiently and then, as I finished, rose to give me a standing ovation. Tears ran down my face.
In 2003, after returning to Japan, I got a job with the pharmaceuticals company Shionogi, which was founded in 1878 and is headquartered in Doshomachi, a district in Osaka with a centuries-old association with medicine. I believe the fact that my grandfather was a physician played some role in my choice of careers. At Shionogi, I worked in the international business, licensing, and business development departments, but I found myself drawn to the company's department for corporate social responsibility. I made a career for myself, but I also met my husband at work. We now have two daughters.
Whether I was studying in Germany or working in Osaka, my dream has always been the same: I want to create a society that is free of barriers to the hearing-impaired. I will never forget a question that a pastor once posed to me: "Are you truly alive, or are you just breathing?" Everyone has a mission, and mine is to make my dream of a society open to the hearing-impaired come true.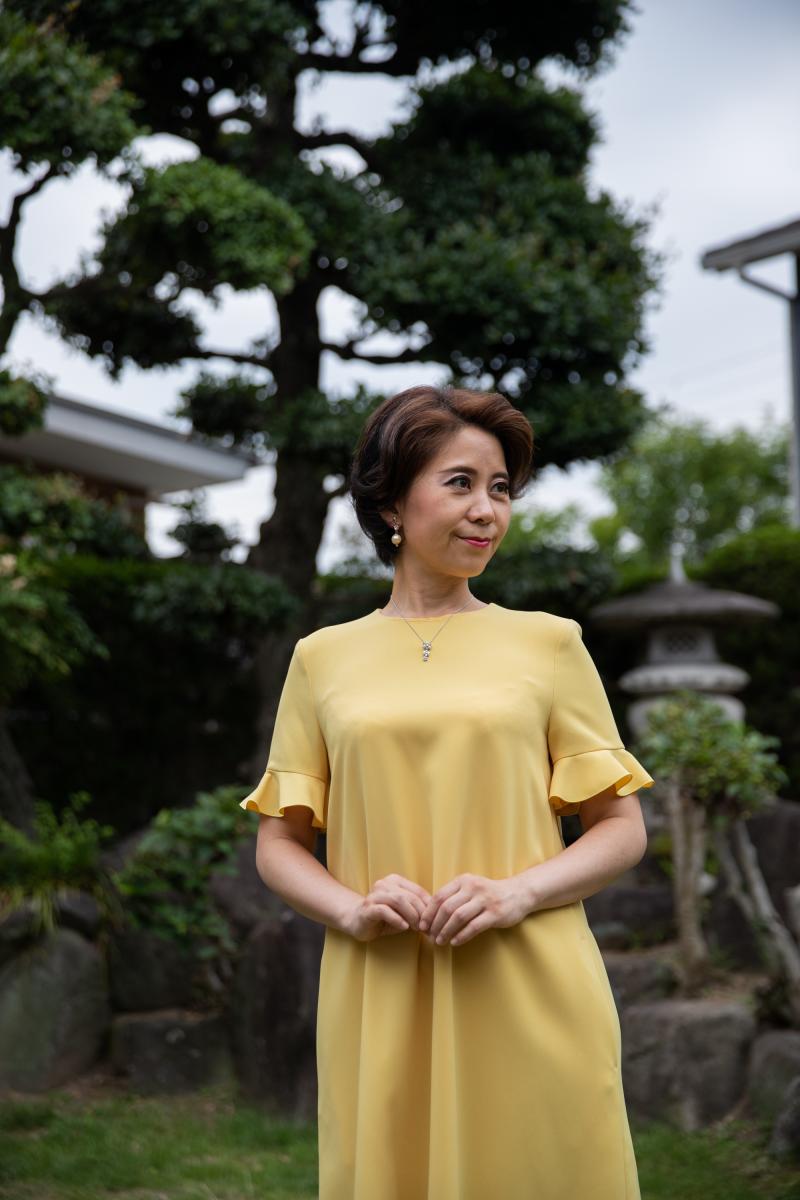 In 2016, I started a project in my workplace to raise awareness of hearing impairment. At first, there was some skepticism. People couldn't see the value of making a pharmaceutical company barrier-free. As I saw it, if we are talking about removing barriers for people with disabilities, there's no reason it should not be universal. But there were also unique reasons why it made sense in the pharmaceutical industry. After all, some of our customers were hearing-impaired. We needed to take their experiences into account.
The project quickly expanded. We held an event at a local hospital, and we passed out cards there to many patients, who could use them to signal that they were hearing-impaired. The president and CEO of our company appeared on video addressing barrier-free inclusivity — and he delivered his statement using sign language. The project started with volunteers, but it has now become a companywide effort. I recently headed a series of online seminars directed at medical professionals trying to learn about communication with hearing-impaired patients.
Our work wasn't limited to people with hearing impairments. We also took part in the design process for new over-the-counter drug packaging. Our goal was to make packaging easier for people with vision impairment and blindness. It ended up winning a 2021 Good Design Award in Japan.
Everyone has a mission, and mine is to make my dream of a society open to the hearing-impaired come true.

Mariko Noguchi

In the past, hearing aids only came in flesh color, but they are now fashion items. That's the attitude I hoped to project when I entered the Mrs./Ms. Earth Japan pageant in 2020. I wanted to demonstrate that people with disabilities could be just as glamorous as anyone else. I wasn't quite as successful as Heather White-stone, who in 1994 became the first deaf Miss America, but I did win the Diamond Award. I was proud of myself.
My life has been a series of challenges, some that I didn't choose and others that I chose to test myself. The day I saw the recruitment poster for the Rotary International scholarship, I knew it was a challenge I wanted to take on. I am forever indebted to Rotary because my experience in Germany gave me the courage to take on new challenges. When the pastor's question comes to mind, I can answer confidently: "I am truly alive, not just breathing."
My next challenge is an international online graduate program. I am going to examine case studies of business leaders with disabilities. I want to pave the way for future generations of hearing-impaired people to assume leadership roles.
This story originally appeared in the August 2022 issue of Rotary magazine.
---
Related stories
Why Rotarians should engage program alumni
The Conversation: Former Rotary Scholar Jeanne Gang
A Liberian refugee realizes his dream of establishing a library in his home country