From competitors to community
A Rotary club is flourishing in an office building on Australia's Gold Coast
By Brad Webber
Paul Harris' summoning of three fellow businessmen for a meeting on 23 February 1905 is enshrined in Rotary lore. The Chicago skyscraper where they assembled was named, providentially, the Unity Building — an appropriately titled backdrop for the celebration of commerce and conviviality.
More than a century later and half a world away on Australia's Gold Coast, Andy Rajapakse set his sights on his own "unity building," Corporate Centre One in Bundall, Queensland. The building, with a rounded glass facade and white-pillared balconies reminiscent of the laces on an American football, is a hub for about 60 of the Gold Coast's top companies. A prime opportunity, Rajapakse reasoned, for the implementation of "this crazy idea" of his to start a Rotary club to attract young professionals from companies in one building and its surroundings.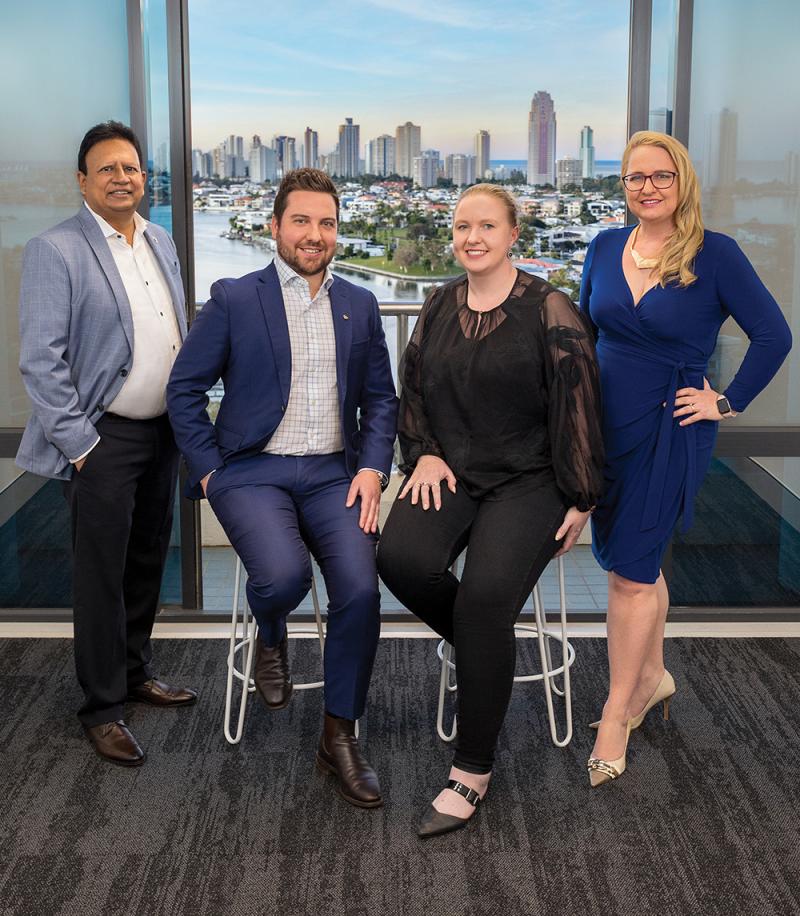 Hoping to turn them from competitors into a community and a force for good in the region, he paid a visit in early 2020 as the governor-elect of District 9640. He noted the firms listed on the directory and sought a meeting with a managing partner of one of the law offices there.
The elevator pitch? "To explain that most of them work and live in this building more hours a day and a week than in their home. And to imagine that if we can all get to know each other in this building, what a friendly and safer place it would be," Rajapakse recalls of the buildup to what would become the Rotary Club of Gold Coast Corporate. "Every time I see a high-rise corporate office building in Australia or New Zealand, I see an opportunity for a Rotary club."
One of those heeding Rajapakse's call was Derek Finch, an attorney who helmed the effort to form the club, posting notices and making old-fashioned cold calls. "Vanessa Jansen and I literally went door-knocking in the building to find members," says Finch, the club's charter president, referring to a fellow club member and financial planner who joined him in reaching as many as half of the roughly 60 businesses operating in the structure's 1.3 million square feet of office space. Finch says about 15 prospective members attended the organizational meeting that September.
At Rajapakse's request, Michael Irving, a past governor of the district and a retired academic, agreed to serve as the club's first-year mentor. "Rather than recommend established models of Rotary clubs, we explored how this Rotary club would be attractive to young professionals," Irving says. Naturally, Rotary's corporate membership structure took center stage. Adopting one of Rotary's flexible formats for such memberships, companies choose willing principals and pay their annual dues.
Composed almost entirely of Rotary newcomers, the club, chartered in October 2020, represents 23 businesses with a near-equal mix of men and women, most aged between their late 20s and late 40s.
"When Andy came and discussed a club focused on the younger corporate world, I thought that was an interesting proposition," says Anna Morgan. A rarity in the club, she already was exposed to Rotary though her father, Rock O'Keefe, twice president of a club that skewed to an active, but older demographic. Morgan concedes she hadn't thought Rotary was for her, because of the age difference and time requirements. "I've got three children, and I work full time. So having a club that was going to mesh well with my professional responsibilities and my family responsibilities was attractive."
For many younger individuals working in Corporate Centre One, the club's youthful vigor and businesslike approach dispel notions of stuffy confabs of older men at surf clubs. "At some of the events we hosted last year, when I talked to clients, some said, 'What are you doing with Rotary? That's for old people,'" says Club President Laura Johnstone, a business adviser. "It's very easy to explain our club as opposed to the stereotype."
Proximity, too, is a plus. As Rotarians in the building got to know everyone's fields of specialization, they began referring clients to one another. "I didn't join Rotary just to enhance my business operations," says Morgan, a personal injury attorney. "Let's just say it's a nice bonus." Johnstone adds, "It's going back to the foundations of Rotary."
Just like in Rotary's early days, the represented companies rotate as club meeting hosts. Employees give a short presentation about their corporation. Guests representing charities and neighboring Rotary clubs seeking project partners are also invited. As a result of one of those appearances, the club partnered with RizeUp, an organization that assists people affected by domestic abuse. In addition to fundraising, members assembled furnishings and provided goods to set up homes for women and children who are rebuilding their lives.
The club also provides mentoring to support Men of Business Academy, a high school that offers vocational education to students who find it difficult to engage with mainstream schooling. The club sponsored one of the students to attend a legal conference.
"What surprised me is how many young people are also looking for opportunities to give back and contribute to the community," says Morgan of the positive response to the Gold Coast Corporate club. "For me that's inspiring and encouraging. And having Rotary as the facilitator of getting those people together has been a fabulous outcome for the Gold Coast."
This story originally appeared in the October 2022 issue of Rotary magazine.
Revitalizing your club's membership
The Rotary Club of Gold Coast Corporate exists because of the flexibility offered by corporate memberships. An innovation enabled by RI bylaw changes within the past decade, the corporate membership type provides another tool clubs can use to attract new and more diverse members.
Clubs can involve a corporation — any business, nonprofit, or governmental entity — in Rotary by offering membership to some employees with relaxed attendance or service expectations. Workers not only get the chance to enhance their careers by expanding their network and visibility, they also receive the opportunity for social connections, leadership development, and service.
All are considered full, active members; they may attend the same meetings, or one company proxy may attend.
Become one of Rotary's people of action or explore the many opportunities we have for anyone who wants to improve lives in communities near and far.