Eco club in Italy draws 'members of the future'
By Frank Bures
When Lorenza Mazzoni joined her first Rotary club in 2017 in a small town outside Milan, it had a sizeable membership of around 45 people. Less than four years later, the number had fallen by at least a third. "This has happened in many clubs in Italy," Mazzoni says. "During the pandemic, I think it got worse."
Mazzoni also left the club — but she didn't leave Rotary. Instead, she joined the new Rotary Club of Eco Milano, Italy, one of a growing number of clubs in nontraditional formats dedicated to a particular issue or cause — in this case, the environment.
The new club began in late 2021 with 24 members, including 11 who were new to Rotary. What drew the newcomers also drew Mazzoni, who works in customer service at an international health care company. "The idea of identifying with a cause resonated with my personal ideals," says Mazzoni, who became the club's charter president. "And the idea of having a club that identified with my own values, and meeting people who think like me, and working together, that was very interesting."
Olderico Caviglia, a marketing specialist, also recognized the importance of establishing a focus. Five years earlier, he had helped charter the Rotary Club of Milano Digital, which is an online club. "It's a club that continues to function well," Caviglia says. "It was a success, but it lacked a purpose. Besides, we have to think of who the members of the future are."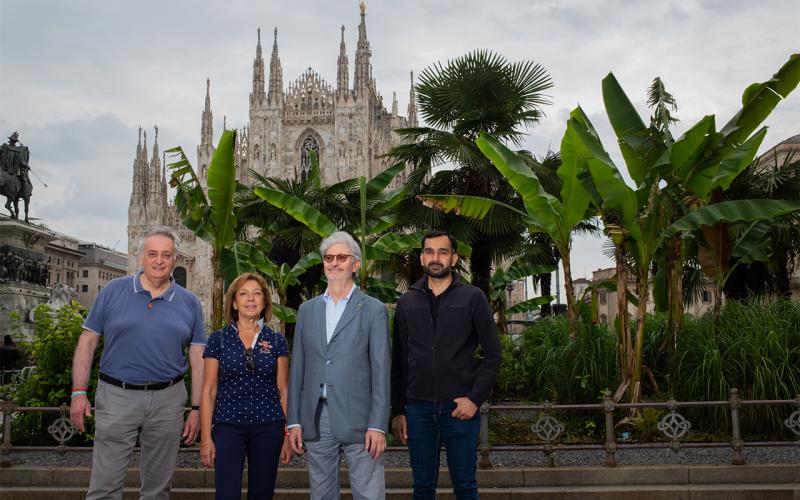 To determine who those members might be, Caviglia conducted a survey of more than 1,000 young people, including Rotaractors, Interactors, and university students. "Out of the 1,000, only four said they would belong to a traditional club," he says. "They also said they would be interested in a thematic club on the environment, and a smart club — figital, a mix of physical and digital."
By mid-2021, Caviglia and Franz Müller, a past governor of District 2041, had proposed such a club: Eco Milano. "We didn't decide to do a club just to create a club," Caviglia says. "We started a club responding to the specific requests of those who are the future members. The world of Rotary is born and dies with clubs that bring people together. So clubs have to think about who those future members are."
Members of the new club range in age from 34 to 76. About half live in the Milan area, while others reside elsewhere in Italy; there are also members in Poland and Switzerland. The core of the club's identity is promoting environmental sustainability, with the United Nations' 2030 Agenda for Sustainable Development serving as an overall framework. The current focus of its members is on plastics. "I'm a chemical engineer," says Müller, "and I had begun to occupy myself with the problem of plastics because they remain in the environment forever if they are not recovered and treated."
The club is working on a series of informational videos and publications aimed at different age groups to educate them about plastic use. It meets once or twice a month in person and the rest of the time online. "We can meet more frequently, and we can be more agile with the things that need to get done by meeting on Zoom," says Mazzoni.
Like many clubs in Europe and beyond, the Eco Milano club is responding to the war in Ukraine, helping refugees find jobs in Italy. And it's expanding its reach by creating a network of Rotary eco clubs around the world. "I was tasked to contact some Indian eco clubs," says Yasir Khan, 36, who is from Pakistan and is in Milan to study green aviation, a field dedicated to limiting aviation's environmental impact. "We were able to have a meeting with one club and established a link to learn and work together on these issues."
Khan and members of his generation are who Caviglia and Müller thought it was important to attract. "We know the problem of the environment is enormous and urgent," says Müller. "But it's not our problem. It's the problem of our children and our descendants. It's absolutely essential that we don't turn back."
"If we want to leave the young people a better world," says Caviglia, "we need to start thinking about how to preserve the environment. And we have to create a movement within Rotary to get these results. There's a saying I like to repeat: 'God always forgives. Humans sometimes forgive. Nature never forgives.'"
Five tips for starting an eco club
Start small: "Start with small groups of interested individuals," says Tom Gump, a past governor of District 5950 (Minnesota). "Lunches work best. Save the big organizational meeting until you have 30 or so individuals interested in joining. You need 20 members to register a new club and additional members are encouraged."

Get social: "Social media has been a huge factor," says Steve Solbrack, a charter member and director of the Rotary Club of Twin Cities Eco, Minnesota. "At least 12 of our members found us on Facebook or Meetup."

Cast a wide net: "I co-founded the Rotary Club of Duluth Superior Eco, Minnesota, in 2008," says District 5580 Governor Kay Biga. "My goal was to start a club that was attractive to women and younger members. We learned that an environmental theme appeals to a wide variety of people."

Keep it fun: "We plan for a minimum of six social and recreational events each year," says Solbrack. "Snowshoeing, hiking, kayaking, film discussion, lawn bowling, and social gatherings at members' homes are a few examples."

Don't get discouraged: "You need enthusiasm and patience," says Eco Milano member Franz Müller. "Especially, I would say, enthusiasm."
This story originally appeared in the August 2022 issue of Rotary magazine.