Column: The fun in fundraising
By Nancy Shepherdson
You might think that an 18-member Rotary club would be satisfied with donating a few thousand dollars to its community each year. For some small clubs, even that sum would likely come out of its members' own pockets.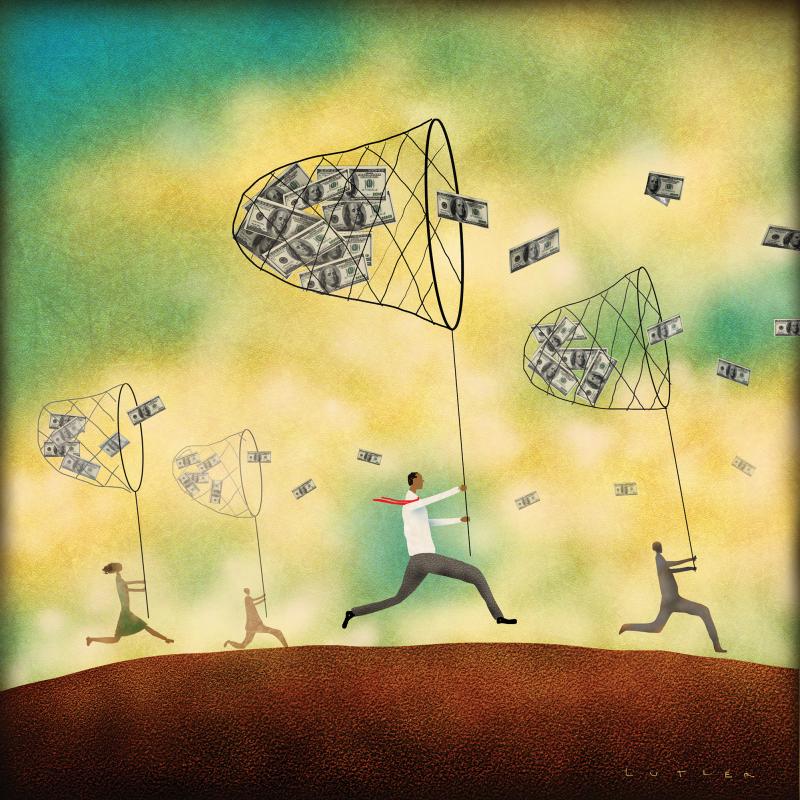 Yet the Rotary Club of Lake in the Hills, Illinois, USA, donates close to $90,000 each year to worthy local and international causes. The Rotarians created an event that draws as many as 20,000 people from the village and surrounding far northwest suburbs of Chicago. Taking advantage of a circuit of rib chefs who travel the country appearing at similar fests, the Rockin' RibFest, which runs for four days in July, also features an amateur rib cook-off, food booths (often staffed by other Rotary clubs), and live music. Since its modest beginnings in 2005, the RibFest has become the club's signature event and an annual tradition for many area families.
Jim Wales remembers how it got started. Members of the club, which had been chartered only the year before, decided they wanted to focus on one fundraiser per year. "People get tired if you try to do more than that," says Wales. "But we realized that we couldn't do a really big fundraiser by ourselves." Lake in the Hills Rotarians put out the call for volunteers and emphasized that the money raised would stay in the community. Youth groups were offered a $5 donation for every volunteer hour worked. Today, some groups take home several thousand dollars a year.
Planning for the first fest took eight months, says Wales. "Our attitude was that failure was not an option. We wanted, above all, to be beneficial to all concerned."
According to a survey conducted by the firm Software Advice, fundraising events that include nonsport competitions, such as the RibFest, are the easiest for small nonprofits such as Rotary clubs to pull off successfully. Such events combine relative ease of execution with the lowest cost per dollar raised. Other high-earning, relatively low-cost community fund-raisers include fun runs and walks.
The Rotary Club of Fullerton, California, with 177 members, started its Jog-a-Thon in 2013. The club works with local middle and high schools to recruit students to run laps one day in October. Students collect pledges for the laps they plan to complete, and most of that money is returned to the clubs or schools of the kids who run.
Every year, about 1,500 students raise as much as $40,000 for their own causes. The event also earns about $15,000 annually for End Polio Now – a contribution that, like all donations to Rotary's polio eradication effort, is matched 2-to-1 by the Bill & Melinda Gates Foundation. Fullerton Rotarians plan the event, volunteer on event day, solicit sponsorships and food donations from local businesses – and let the kids do the hard work (the running). The only major expense is for T-shirts that continue to promote Rotary long after the event is over.
For the club, this event is at least as much about teaching kids about polio eradication as it is about fundraising, says 2016-17 Club President Dan Ouweleen, who adds, "We can easily shift it to teaching about another cause once polio becomes a thing of the past."
Traditionally, many club fundraisers have depended heavily on members and their friends for donations. Through galas and auctions, for example, clubs can raise large sums but may find returns stagnating or dropping if they go back to the same people year after year.
"There are two categories of big fundraisers: an event-driven activity that happens to be a fundraiser and the cause-based fundraiser that's relevant to the community," says David Waring, past governor of District 6440 (Illinois, USA). "If you can combine the two, you've got a winner." Most people just want to have fun, he notes, and if they do, they won't mind spending some money.
All clubs should try to identify a flagship community event. If you just fundraise to fundraise, people get tired of you asking.

Quentin Wodon
Rotary Club of Capitol Hill (Washington, D.C.) and author of the Rotarian Economist blog
When planning a big event, suggests Waring, think about the consequences of success as much as those of failure. "You make the really big money on projects that are scalable, so consider what you will do to accommodate growth. Can you bring in more people with minimal extra effort?"
Rotarians in Oshkosh, Wisconsin, USA, have done that with their ice-fishing festival – once they got their idea past a skeptical board, that is. The two-day Battle on Bago, first held in 2008 and now put on by a foundation created by the Rotary Club of Oshkosh Southwest, helps kids learn to fish, supports local conservation efforts, and raises more than $50,000 a year on average as it attracts thousands of participants to nearby Lake Winnebago in February.
"The board looked at us and said, 'You want to do this on the ice, in the winter, in Wisconsin. Who's going to show up?'" laughs Lori Davis, one of the originators of the idea. Board members OK'd the plan but budgeted only $1,200 the first year for expenses. So the club set about proving that it was a good idea.
It is now the largest ice-fishing event in the Midwestern United States (there's now a summer event as well), requiring a 23,000-square-foot tent to accommodate the vendors (all fishing-oriented), the prizes, and the participants. In 2016, hundreds of prizes worth a total of $275,000 included trucks, boats, and fishing trips, attractive enough in themselves. But what makes this event different is that prizes are awarded randomly. At the Battle on Bago, even the smallest child who lands the tiniest fish has the opportunity to win a big prize.
"There is not one single way of fundraising," says Quentin Wodon, a member of the Rotary Club of Capitol Hill (Washington, D.C.) and author of a blog called the Rotarian Economist. "Different clubs have 89 different strengths."
In Wiarton, Ontario, Canada, Rotarians' strength is a unique venue – a fellow member's elk and maple syrup farm, the setting for the club's annual Maple Magic festival.
Maple Magic is not the Rotary Club of Wiarton's biggest fundraiser – that would be the annual village fair, which generates about CA$100,000 for the 30-member club. But the fair dates to the club's founding in 1938 and was becoming a little tired. Eric Robinson, the club's fundraising chair and the owner of the Regal Point Elk Farm, brought the idea for Maple Magic to the club in 2011.
"You need to have a clever idea to get the community behind you," he advises. "Be as innovative as you can and bring out something new every year to keep people interested in coming back." The event, which offers people the chance to see elk up close, enjoy lots of maple treats, and take part in feats of strength such as a log-sawing contest, attracts around 2,000 kids and adults and generates CA$18,000 in revenue each year.
Even big fundraisers seem to become most successful when fundraising is less important to the club than creating fun. That makes sense to Wodon. "All clubs should try to identify a flagship community event," he says. "If you just fundraise to fundraise, people get tired of you asking."
• Nancy Shepherdson is a freelance writer in Deer Park, Illinois, USA, and a member of the Rotary Club of Lake Zurich, Illinois.
• Read more stories from The Rotarian