Column: Three days of peace and music as Rotarians convene at the United Nations
By Geoff Johnson
Walter Gyger is the very model of a modern UN diplomat. When I first meet him – in the lobby of the Intercontinental hotel in Geneva, Switzerland – he's clad in gray trousers, a white shirt with a dark tie, a gray sweater vest, and a blue blazer. Silver haired and with a trim mustache, he speaks perfect English, albeit with a Continental accent.
If you called central casting and asked for someone ambassadorial, this is who they would send.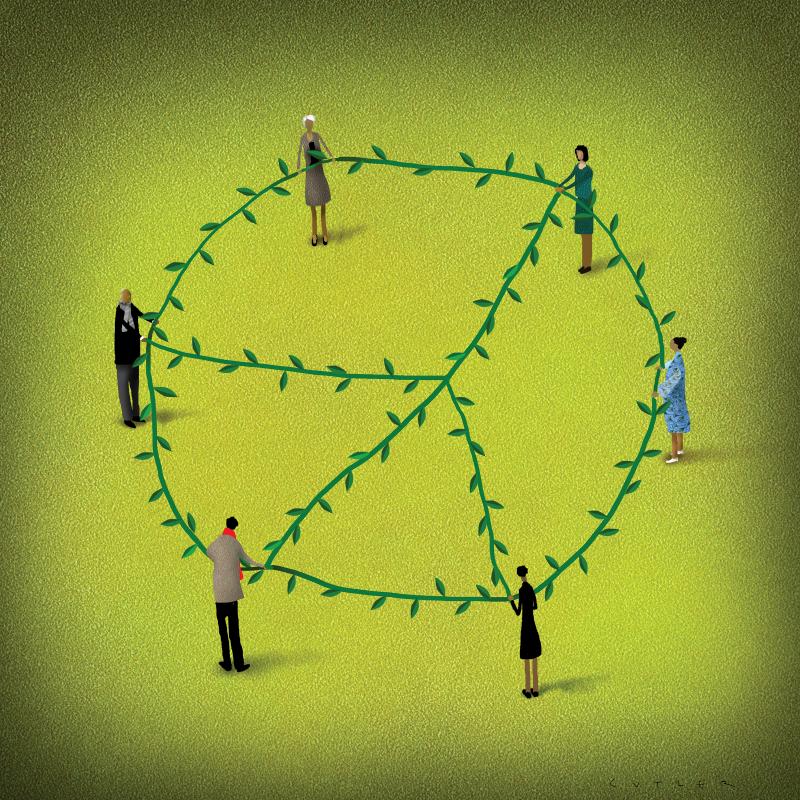 A distinguished veteran of the Swiss Foreign Service and Rotary's primary representative to the UN in Geneva, Ambassador Gyger has come to the Intercontinental to escort me and some of my colleagues to a fondue dinner at the Café du Commerce. After a mere two months as a senior editor at The Rotarian, I've traveled from Chicago to Geneva ostensibly to cover Rotary Day at the United Nations. In fact, the three days that I spend in Genève (as the Swiss call it) will introduce me to the vigorous and transformational spirit that imbues all things Rotary. Walter will serve as one of my guides on this revelatory journey. I mean no disrespect: Sooner or later, everyone calls him Walter.
At the Café du Commerce – where our host is Genève International, a two-year-old Rotary club – about 50 people crowd four long communal tables. John Hewko, the general secretary of Rotary International and an honorary member of the Geneva club, is there, as is Ed Futa, the dean of the network of 30 Rotary representatives who work with the UN and other key international organizations.
Of course they know Walter. Everybody knows Walter. He introduces me to a young Swiss woman named Karen Kienberger. Assisted by a Rotary scholarship, Karen (we're all on a first-name basis here) is working toward her doctorate in marine biology. Specifically, she is studying jellyfish, and though enrolled at the University of Granada in Spain, she conducts her various experiments in Vienna at Tiergarten Schön-brunn, the world's oldest zoo.
Karen is representative of the smart, vibrant people who gravitate toward Walter. For instance, at the dinner I also meet Barbora Bruant Gulejova, one of the youngest members of the Geneva club who, with her PhD in thermonuclear fusion, works at CERN, the Geneva-based nuclear research facility that's home to the world's largest and most powerful particle collider. And then there's Rebecca Tolstoy, the Swedish-born Australian Rotarian who leads Path of Hope, which crusades for global solutions to domestic violence and human trafficking.
My greatest good fortune this evening is sitting with Jean Best and her husband, Keith. Jean is one of the champions of peace that Rotary will honor at the UN this year, and getting to know her and her five fellow honorees is one of the main reasons I made this trip. Originally from Yorkshire and now living in Scotland – she's a member of the Rotary Club of Kirkcudbright, and Keith is a former governor of District 1020 – Jean has a broad smile and a rich, ready laugh. We hit it off immediately, and when we say goodbye some 40 hours later, I feel like I'm parting from old friends.
I meet the five other honorees the next morning at breakfast, after which we walk to the vast, neoclassical Palais des Nations, which was originally home to the post-World War I League of Nations. Salle X, a large, wood-paneled conference room, serves as our home base over the next two days. Today the honorees are working on the short speeches they will deliver during Rotary Day, and a nervous undercurrent pervades the room. And because one of the honorees, Alejandro Reyes Lozano, mainly speaks Spanish, a translator's voice hums constantly in the background.
Alejandro has spent the last several years successfully brokering peace in war-torn Colombia, yet he betrays none of the solemnity or weariness you might expect after such a prolonged and dangerous endeavor. At first blush, his fellow honorees are similarly unassuming. Ann Frisch of White Bear Lake, Minn., advocates for using unarmed civilians to protect people in areas of violent conflict, a concept she first successfully implemented in southern Thailand. Safina Rahman, a hard-nosed defender of workers' and women's rights in Bangladesh, graciously addresses each of us as "Brother" or "Sister. " Taylor Cass Talbott – currently of Oregon, where she makes functional, fashionable, and whimsical art from reused materials – once lived in the slums of Pune, India, fighting to improve waste pickers' lives. The son of parents who emigrated from India to Africa to England, Kiran Singh Sirah, who now calls Tennessee home, is the spiritual descendant of the wily tricksters of folklore, a man who conspires to use stories and humor as a "force for good."
The six honorees work on their speeches under the guidance of a speech coach. She's like a conductor leading an orchestra, using dramatic gestures to direct the cadences, emphases, and pauses within each speech. "Silence is your friend!" she exhorts. Ed Futa rises from a couch and offers a suggestion: "Less words and more passion!"
That night at the World Intellectual Property Organization, Walter helps kick off the opening ceremony on the eve of Rotary Day. He marvels at the large, diverse crowd – "Looking around me, I can only say wow!" – and invokes Mahatma Gandhi: "There is no pathway to peace. Peace is the pathway." With that he welcomes everyone to Geneva, "the capital on this pathway called peace." Following a long roster of speakers, the evening concludes with a program of Tchaikovsky and Brahms performed by the United Nations Orchestra in Geneva.
By auspicious coincidence, Rotary Day at the UN – 11 November 2017 – is the 99th anniversary of the end of World War I. The day's theme, enunciated by Rotary International President Ian H.S. Riseley, is "Peace: Making a Difference." Back in Salle X, the six honorees make their final preparations. Their jitters have vanished, and they dance in a tight circle chanting, "I will remember my silences and my pauses between words."
Inside the Assembly Hall, some 1,200 people from 85 countries await. A third of them are under the age of 35. The honorees have morphed into giant-killers, and each of their two-minute speeches is a triumph. At their conclusion, the audience rises for a prolonged ovation.
It's the only standing O in another long day filled with speeches and workshops, yet as the hours pass, people only become more energized. Paul Netzel, the trustee chair of The Rotary Foundation, reminds people that "throughout Rotary's history, we've proven that you don't need to be a diplomat to build peace." Futa – "I have no script, folks. Get used to it!" – extemporizes: "Peace needs to be lived, rather than preached." Center stage, the six peace honorees spontaneously pose for a selfie. Riseley, Hewko, and Netzel step into the frame. Invigorated, 1,200 Rotarians stream out into the Geneva rain.
Back in my hotel room, I ponder the events of the past 48 hours. My thoughts wander back to the fondue dinner of two nights before, which, in retrospect, set the tone for everything that followed.
As the dinner at the Café du Commerce progresses, Walter divests himself of blazer, vest, and tie and drapes a white scarf around his neck, completing the transformation from dignified diplomat to Swiss bon vivant.
Diego Carneiro, the Brazilian cellist and peace advocate who leads the Ecuador Youth Orchestra, arrives at the café with his wife and collaborator, Isabel Rodríguez. She's from Ecuador, and they live in Quito. They're bound for the airport, yet here they are, drinking wine and eating fondue. Walter cajoles Diego into unpacking his cello. Diego sets up in a cramped doorway and passionately plays two Bach pieces, eyes closed, head thrown back, long hair swaying.
Now Diego convinces Isabel to stand up and sing. She complies. Leaning against the back wall, her long dark hair falling over her shoulders, she begins with "Carinhoso, " a lush Brazilian love song, whose lyrics, translated into English, beckon: "Come feel the warmth of my lips seeking yours / Come quench this passion that devours my heart. "
Her second song, a bossa nova, elicits a happy murmur. Everyone immediately recognizes "The Girl from Ipanema." Isabel sings the original Portuguese lyrics:
Ah, por que estou tão sozinho?
Ah, por que tudo é tão triste?
Ah, a beleza que existe
A beleza que não é só minha,
Que também passa sozinha.
"I was told to play for two hours," says Diego, and everyone laughs. He's joking, but no one would object if he weren't. If music be the food of peace, play on. 
• Read more stories from The Rotarian