Club innovation
Far-flung fellowship
Rotary Club of District 7040 Passport
Chartered: 2017
Original membership: 27
Membership: 26
Return engagement: This club caters to residents of the expansive district covering parts of Ontario, Nunavut, Quebec, and New York state. Founded by a past district governor, the Rotary Club of District 7040 Passport has successfully appealed to former Rotarians, inviting them to re-engage in Rotary. The club meets online, but members can attend meetings of clubs anywhere in the district to count toward their meeting commitment. Several members hold district leadership positions, proving that e-clubs are fully engaged in the life of Rotary.
Club innovation: The club meets via video conference call. During these calls, members update one another on their personal service projects. For the rest of their Rotary service, members participate in the community service projects, fellowship events, fundraisers, and meetings hosted by any of the clubs in District 7040.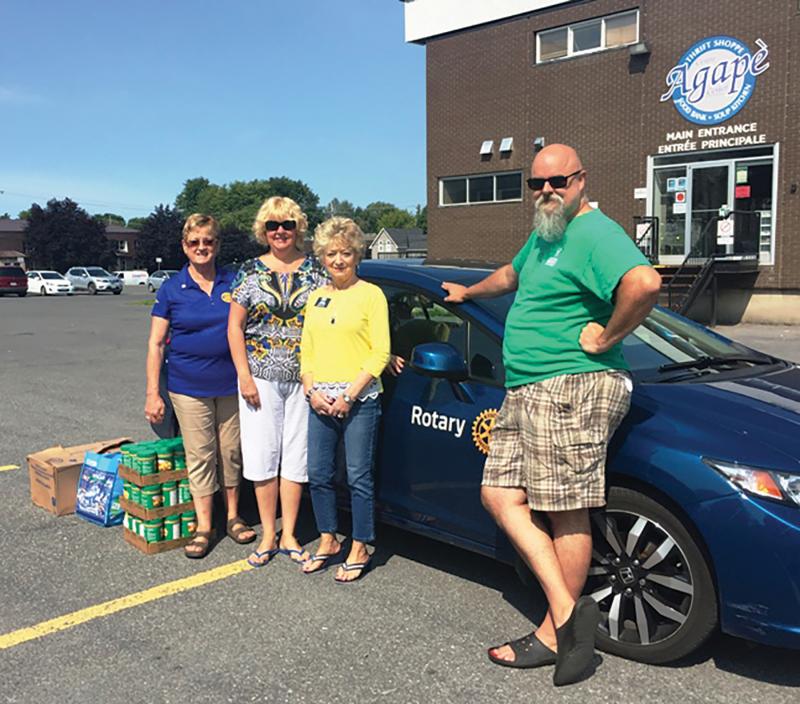 Ariane Carriere, past governor of District 7040, wanted to form a Rotary club for people who could not manage weekly in-person meetings. To find prospective members, she sought out former Rotarians. "The district governor wanted to be sure that we would not be raiding other clubs for members. I absolutely agreed," she says. "I went in the district database and found members who had resigned. It was easy to reach out to inactive members. There were about 1,200. I sent everybody a message." That effort yielded about 100 potential members.
"When we started up, we had 20 members who had resigned from other clubs, and we had six brand-new Rotarians. I was the only one who was active in another club and transferred over," Carriere says. Eight days after driving across the U.S.-Canadian border to mail the charter application for expedited delivery, she received approval for the club from Rotary International.
Members attend meetings of Rotary clubs that are convenient to them as makeup meetings, and individual volunteerism also counts toward makeups. When it comes to service, they follow their personal interests. "If someone is interested in something, you need to go with that," Carriere says, adding that one snowbird member is a devoted volunteer at a Habitat for Humanity ReStore in Florida, where she spends part of the year. Another club member is interested in Little Free Libraries, the free book exchanges people put up in public places. Members often inspire one another with their reports of their service work. "After our meetings, I am so energized by the ideas that people have that I'm beside myself," says Carriere.
Some former Rotarians returning to the Rotary fold have been tapped for district roles: Chris Cochrane is the district public relations chair, and Jacinthe Paillé is the district's promoter for the Rotary International Convention in Hamburg.
Paillé, who has been a member of six clubs over the past 20 years, says she has found a home in the e-club. "The Passport club is a club like any other," says Paillé, who teaches English as a second language at Collège André-Grasset, a community college in Montreal. "I've had people ask me, 'What's your real club?' It is my real club. I'm a full Rotarian. I just don't get to see my fellow club members every week for breakfast, lunch, or dinner."
If it turns out that Passport members miss the camaraderie of clubs that meet in person, Carriere says she doesn't mind seeing them move to another club. "We just had it happen with one member, who said, 'I really enjoyed the time I was here, but I'm now finding I would like to be a member of a club I have been visiting quite a bit.' It's an easy transfer."
— Brad Webber
• What is your club doing to reinvent itself? Email club.innovations@rotary.org. Read more stories from The Rotarian.