Club Innovation: Honeymooners group
The Rotary Club of Fair Oaks, Calif., USA, welcomes new members with special group
From the moment she joined Rotary in 2015, Mary Cate Gustafson-Quiett was thinking about how to retain new members. She attended a board meeting of the Rotary Club of Fair Oaks to hear about membership, and the brainstorming began.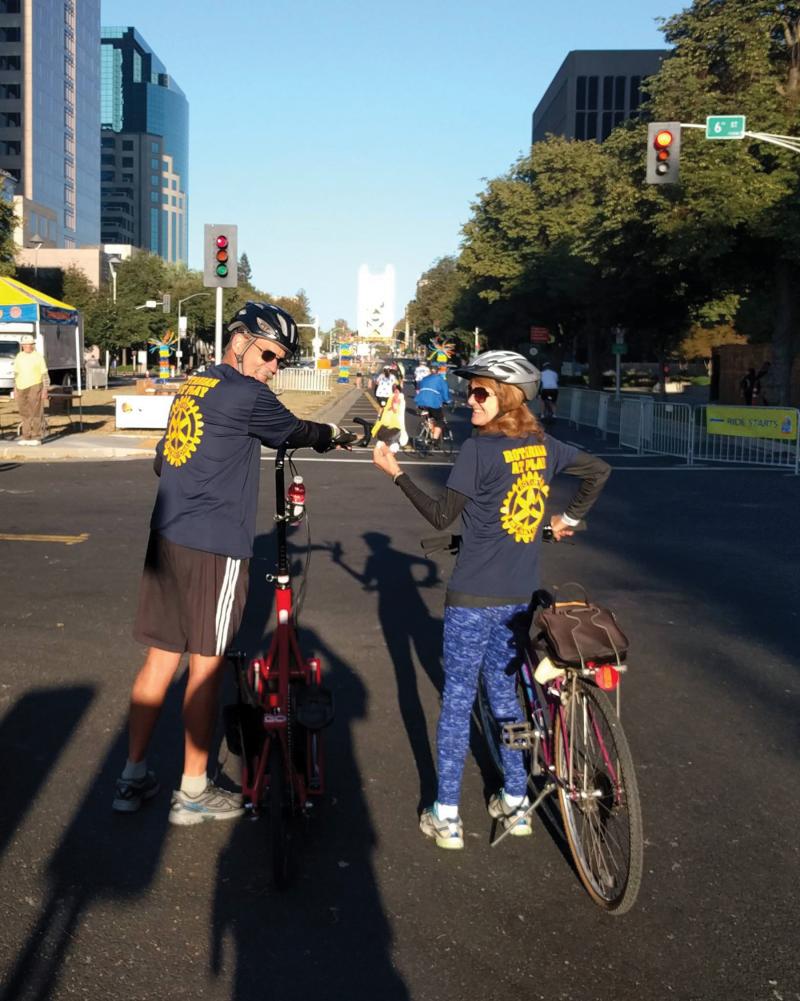 Knowing that some Rotary clubs have groups for new members, she spearheaded the drive to start the "honeymooners group" for Fair Oaks to help with retention.
"We chose the name honey-mooners because we thought that your first year in marriage, that's your honeymoon year," explains Gustafson-Quiett. "This is your honeymoon year of Rotary."
Gustafson-Quiett stresses that the group is about fun and fellowship.
"Our Rotary club is a fairly large club, with 80-some members. So it's easy to feel like you get lost in the crowd. We thought that this would be a good way for new members to get to know each other."
At the same time, notes current group facilitator Dennis Dunbar, the group "bridges that gap between a new member's wide-eyed enthusiasm and a more seasoned understanding of the club's values and goals through education and involvement."
The group was such a success that at the end of the first year, many members wanted to stay. So they simply changed the rules to permit membership for two years. That also gives the group some continuity from year to year. And of course it's voluntary.
A different member hosts each gathering, which starts with socializing over a meal. The group has between a dozen and 20 people on the mailing list at any given time, but five to 12 members attend a typical event.
Club Innovation
Each month, we bring you suggestions of how to innovate in your approach to membership. See more ideas in previous columns:
In addition to fellowship, the gatherings offer a chance for new members to test out new ideas. Sometimes, Gustafson-Quiett notes, all the experience of Rotarians can be a bit intimidating. Among fellow neophytes, people feel free to pitch an idea and see what the smaller group thinks.
The honeymooners also invite some experienced Rotarians to visit their gatherings, including club board members. "For example," says Dunbar, "I invited a former board member to discuss The Rotary Foundation and our club foundation. The focus on this kind of club education is important to encouraging members to feel and be involved."
The group helps new members get used to participating in the club at large. "We ran some of the club's weekly meetings," says Gustafson-Quiett of her time leading the honeymooners. "We planned it out at a honeymooners gathering."
Dunbar sees the group benefiting both new members and the Rotary club.
"New members get answers to their questions that are consistent across our group's membership. This educational process accelerates their assimilation into the club and gets them involved in our projects and events more quickly. We get good ideas coming out of the honeymooners as well. This dynamic makes the Rotary Club of Fair Oaks stronger in terms of the projects we pursue and the members we can attract and retain."
What is your club doing to reinvent itself?