Check dams increase farm incomes and reverse migration in India's semidesert areas
Not long ago, young men in the semidesert areas of Rajasthan's Sikar and Alwar districts were leaving their family farms to find work in the city. Faced with scarce water for crops and unreliable rainfall, they could no longer count on farming to feed their families.
Our villages no longer have only old men and women. Our young men have returned.

Goverdhan
An elder from the Neem Ka Thana village in the Sikar district of Rajasthan
"The land here was so dry that you could barely get drinking water at 800 feet [244 meters] deep," recalls Goverdhan, an elder from the Neem Ka Thana village in the Sikar district of Rajasthanelder. Because using only monsoon water limited cultivation, "young men migrated to cities like Delhi and Mumbai to work."
Now, a Rotary water project is making farming profitable again and reversing the departure of young people. Farmers harvest rainwater that percolates into the ground by using check dams, which restrain, or check, the flow of rainwater from catchment basins.
Farmers use that water to replenish water supplies, including wells. Unlike dams built across rivers, check dams aren't designed to create a new water source for irrigation or drinking, but rather to prevent the runoff and loss of precious rainwater.
"Our villages no longer have only old men and women," says Goverdhan, one of the first beneficiaries of the project. "Our young men have returned."
Water banks
The Rotary India Water Conservation Trust in partnership with the PHD Rural Development Foundation, built 82 check dams between 2005 and 2017, benefiting more than 250,000 residents of farming communities throughout the Sikar and Alwar districts. Rotary Foundation Trustee Sushil Gupta, chair emeritus of the water conservation trust, spearheaded the program.
82.00

check dams built since 2005

250000.00

village residents' lives changed
The dams include walls 14 feet (4.3 meters) high and foundations 7 feet (2.1 meters) deep to prevent erosion. Their catchment basins range in length from 3 to 7 kilometers (1.9 to 4.3 miles).
Water from the Aravalli hills flows into the check dam catchments and stays for roughly six to eight months. When the water recedes, it leaves behind silt and rich minerals, which offer another opportunity for a quick cash crop before the onset of the next monsoon. Twenty of these dams are now perennial (filled with water year-round) and contain enough fish to help feed the community.
Despite 2014's disappointing rainfall, Goverdhan, who helps Rotary with its work, proudly points to the area's greenery.
"Due to water scarcity, these farmers could earlier grow only millets and a little wheat. Now, they have three crops: millets, wheat, and vegetables such as bhindi [okra], tomatoes, and green chilies." Goverdhan also says the check dams have raised water levels in wells eight feet (2.4 meters)."
PHD Foundation CEO Atul Rishi says the check dams and increased water availability have dramatically expanded the area that can be farmed, as well as improved incomes.
Some farmers' incomes have increased 100-200 times, says field officer Mukti Narain Lal. "From thatched homes, they now have [better-quality] pucca houses; from camels and cattle, they now have tractors to plow their fields," Lal says.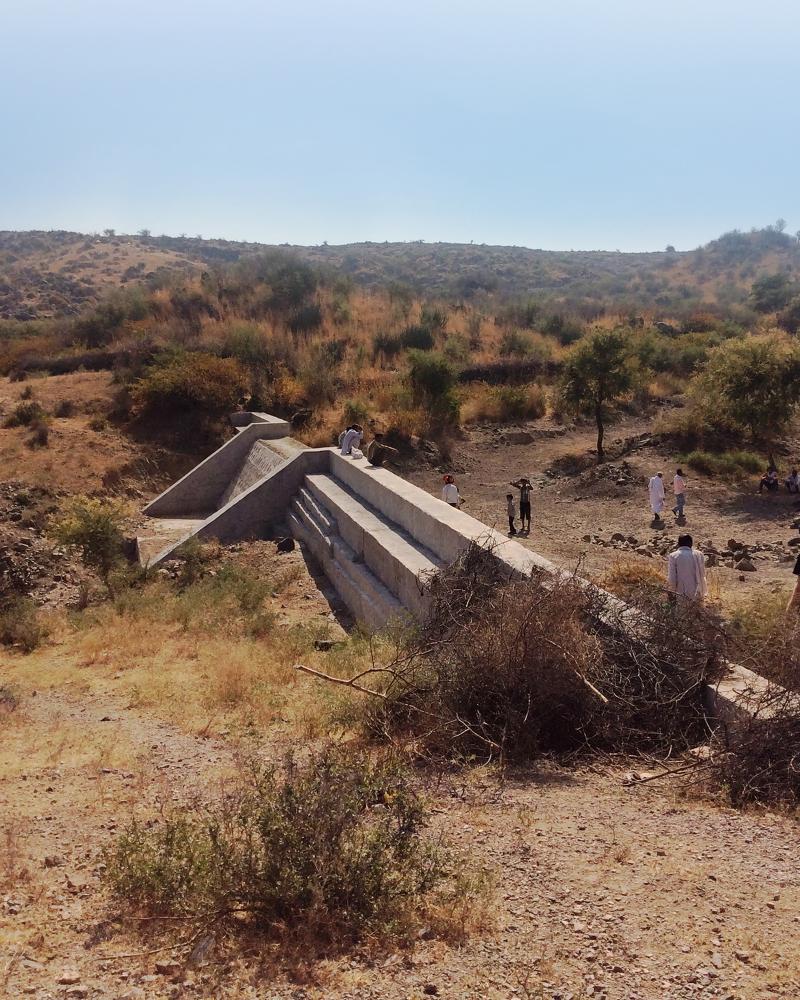 At a gathering at Goverdhan's home, a farmer tells his story. Some years ago, his five sons departed for cities to find work doing menial tasks. They've all come back, he says, adding that now, there is plenty of water, plenty of grain, plenty of money. In recent years, the farmer bought a tractor worth roughly $8,000.
Village residents have taken ownership of the check dams and their maintenance to ensure sustainability. Each dam has a committee overseeing it, with money for maintenance kept in a bank.
One committee "wants to increase the width of the dam wall, which is now being used as a bridge," says Atul Dev of the Rotary Club of Indraprastha-Okhla, Delhi, India. Dev is the project director of the Rotary India Water Conservation Trust.
"Thanks to the check dams, we have copious water for animals, birds, plants, and trees, too, as you can see from the greenery around," he says.
A global connection
In November 2014, Dev accompanied Philippe Dangelser, past president of the Rotary Club of Brumath-Truchtersheim-Kochersberg, France, who was in India to inaugurate three completed check dams and help break ground for three more in the Sikar and Alwar districts.
Dangelser comes to India twice a year, bringing money he raises from Rotary clubs in France and Germany. So far, he has financed the construction of 24 dams. On this trip, he brings 30,000 euros (about $32,000) to build four to five more dams. Each dam costs around $12,000, minus the money saved by local volunteers who help with construction.
Dangelser's India connection began in 2005, when he attended the Rotary International Convention in Chicago. Past District 3010 (now District 3011) Governor Ranjan Dhingra, the district's water chair, invited Dangelser to visit India. Soon, he was dedicated. As one farmer describes Dangelser, "Another god gave us birth — you gave us life."
The Latter-day Saints Charities have contributed $188,000 for 21 dams. And Rotary clubs in Russia and the United States have also donated money and labor.
• Read more stories from Rotary News India
Thanks to the check dams, we have copious water for animals, birds, plants, and trees, too, as you can see from the greenery around.

Atul Dev
Member, Rotary Club of Indraprastha-Okhla, Delhi, India, and project director, Rotary India Water Conservation Trust
Explore our causes
Share this story