Canadian Rotary members assist with COVID-19 vaccinations and feeding families
Volunteers work to keep the community of Kingston, Ontario, healthy and safe
by Arnold R. Grahl
Rotary and Rotaract members in Kingston, Ontario, Canada, have been volunteering at the region's largest COVID-19 vaccination center, helping to facilitate the process of immunizing hundreds of people per day.
If ever there was a time for Rotary to step up and take initiative, this was certainly it.

Paul Elsley
Rotary Club of Kingston
Shortly after COVID-19 vaccines became available to the province in March, Kingston, Frontenac and Lennox & Addington (KFL&A) Public Health converted a hockey rink in the INVISTA Centre into a vaccination site. Local health workers have been vaccinating about 300 people a day and are preparing to inoculate up to 2,000 a day when more vaccine become available.
Appointments were initially open to medical workers, people who are at least 80 years old, and residents of nursing or retirement homes. But appointments will expand to people in other demographic groups when the supply increases.
Mike Moore, a member of the Rotary Club of Kingston-Frontenac, was watching news coverage of mass COVID-19 vaccination sites in the U.S. when he realized local Rotary clubs could be of use at the site near them.
"It's directing traffic or directing people or assisting in any non-technical way," says Moore. "This is what we do — we volunteer for stuff like this all the time. Our public health authorities aren't usually dealing with a pandemic, and I knew they would need help."
42.00

Number of volunteers from Rotary and Rotaract clubs, including friends of Rotary
300.00

Average daily number of vaccinations at the INVISTA center
2000.00

Daily goal of vaccinations when supplies of vaccine increase
Moore contacted KFL&A Public Health officials to offer two volunteers for each of the three, three-hour shifts every day. The 42 total volunteers are from the four Rotary clubs and two Rotaract clubs in the greater Kingston area, and some are friends of Rotary. Their work has consisted mostly of greeting, ushering, and screening clients.
Moore went further and compiled a longer list of volunteers who are on standby for when the clinic expands its hours. The list includes Sarah Beech, a member of the Rotaract Club of Kingston, whose schedule has prevented her from filling a daytime or weekend shift.
"I've been a part of Rotary for more than 10 years now, starting with Interact and now Rotaract," she says. "We have a huge network of people willing to coordinate and make things happen. The fact that we could jump into action and assist this large clinic and get the vaccination process going has been exciting."
Alternate centennial plans
Local Rotary members were making plans to celebrate 100 years of Rotary in Kingston when the pandemic hit in March 2020. Paul Elsley, a member of the Rotary Club of Kingston, said members quickly shifted focus from planning centennial celebrations to filling a huge service gap they saw emerging as other service groups and government agencies went into emergency mode.
"It became clear to us that Kingston was in great need," says Elsley. "If ever there was a time for Rotary to step up and take initiative, this was certainly it."
Elsley runs a local chapter of the nonprofit Blessings in a Backpack, which provides food to schoolchildren who otherwise might go hungry on weekends. During the week, the kids received food at school. But when the schools closed, Elsley and his team partnered with the in-school meal program run by the Food Sharing Project to deliver large boxes of food directly to the families' homes.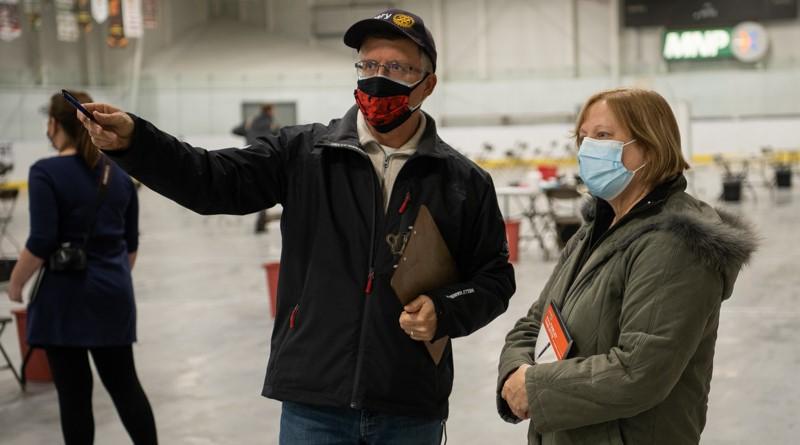 "We've been doing it every single week since April 2020," says Elsley. "We're at just under 3,000 families that we are feeding."
In addition, the Kingston club made protective masks for recipient families. They also contacted isolated senior residents, calling them on the phone, delivering groceries, and taking them to appointments.
All of these activities put Rotary in the public eye and positioned Rotary members as an obvious resource for health officials when mass vaccinations began.
"I think it's about being visible," Elsley said. "Once we were engaged in supporting the community and the community recognized Rotary is coming to the table, a lot of other discussions happened. Mike reached out to KFL&A and got everything organized."
Moore says the reactions from members and those they are serving have all been positive.
"It's not complicated work, and all the people are happy we are there," says Moore. "People have such a sense of relief when they receive their vaccine."
---
Related content
Sri Lanka Rotary uses ingenuity, invention to protect communities against COVID-19
Rotary ramps up COVID-19 vaccination efforts
Rotary and the U.S. government support Italy's fight against COVID-19