Letter from our leaders
More than a century ago, Rotary pioneered a new model of service leadership grounded in person-to-person connections. Today, those connections are a network that spans the globe — bridging cultural, linguistic, generational, and geographic barriers — and that shares the vision of a better world.
As people of action, we understand that fulfilling that vision requires a plan. Rotary has adopted a new Action Plan for the next five years: to increase our impact, expand our reach, enhance participant engagement, and increase our ability to adapt. Our plan will provide us with a continuity of vision from year to year, keeping us moving toward our shared purpose.
The Rotary Foundation plays a critical role in fulfilling this purpose. In 2018-19, the Foundation raised over $395 million, surpassing our $380 million goal. We made great progress toward building our Foundation's Endowment to $2.025 billion by 2025.
Rotary leadership creates opportunity — and this year, we saw amazing examples of that leadership across generations of Rotarians. Whether participating in Rotary Youth Exchange, Interact, Rotaract, or Rotary clubs, Rotarians are transforming lives and making a lasting impact. Your continued commitment proves that Rotary is an inspiration to the world.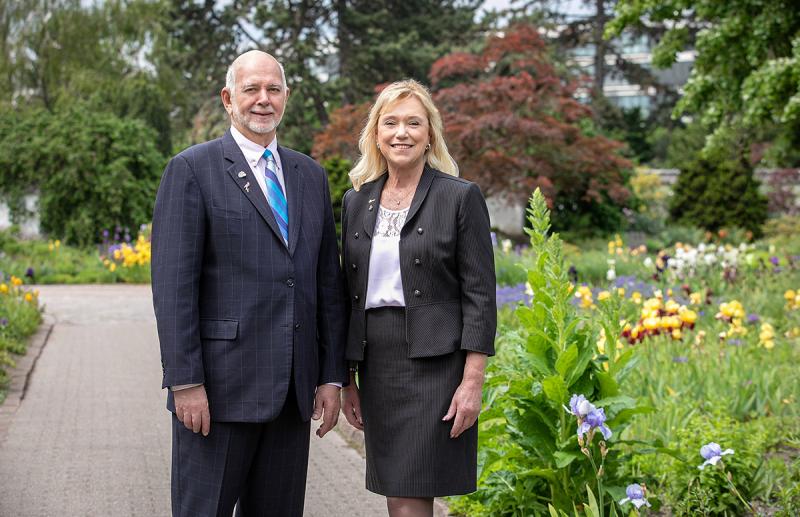 Barry Rassin
2018-19 President
Rotary International
Brenda Cressey
2018-19 Trustee Chair
The Rotary Foundation
Who we are
We are people of action, motivated to improve our communities by making a direct and lasting impact through service.
We are problem-solvers, working together to find solutions to global challenges.
We promote integrity through our fellowship of business, professional, and local leaders.
Together we transform communities, ourselves, and the future of Rotary in many ways.
Creating lasting change
Since Rotary was founded in 1905, the world's demographics have shifted, the pace of change has accelerated, and technology has created new opportunities for connection and service. What haven't changed are the values that define Rotary: fellowship, integrity, diversity, service, and leadership. By honoring our past and embracing our future, we can continue to evolve to address today's needs.
In June 2018, the Board of Directors and Rotary Foundation Trustees approved four new strategic priorities and objectives that will be the foundation of our next strategic plan. This plan — our Action Plan — sets the framework for our future so we can continue to thrive as a respected, dynamic organization that advances communities worldwide.
Over the next five years, our priorities are to increase our impact, expand our reach, enhance participant engagement, and increase our ability to adapt.
Catalysts for change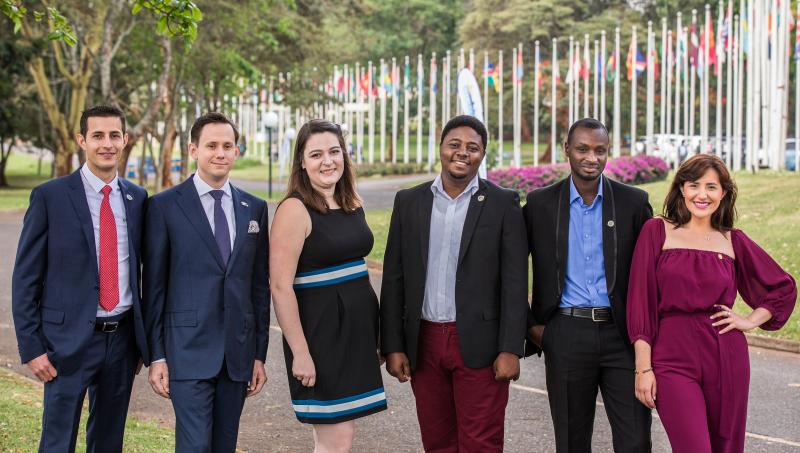 In 2018, six members of Rotary and Rotaract were honored as People of Action: Young Innovators during Rotary Day at the United Nations in Nairobi, Kenya. These trailblazers were recognized for their commitment to sparking transformation through innovation:
Albert Kafka, of the Rotaract Club of Wien-Stadtpark and Rotary Club of Wien-Oper, Austria, launched Intarconnect, an online platform for establishing mentorships and encouraging service across generations.
Charlie Ruth Castro, of the Rotary E-Club of Sogamoso Global, Boyacá, Colombia, leads a program that teaches vocational and business skills to women in prison in Colombia.
Christina Hassan, of the Rotary Club of Calgary Fish Creek, Alberta, Canada, launched the nonprofit FullSoul, which trains midwives and supplies safe, sterile childbirth equipment to hospitals in Uganda.
Paul Mushaho, of the Rotaract Club of Nakivale, organized a Rotaract club in a Ugandan refugee settlement. The club conducts service projects in the camp and fosters a sense of family among the refugees.
Shadrack Nyawa, of the Rotary Club of Kilifi, Kenya, travels to remote areas of the country to provide toilets and hand-washing stations to schools in need.
Ludovic Grosjean, of the Rotaract Club of Melbourne City, Victoria, Australia, started the Ocean CleanX company, which is developing technology to monitor pollution and remove it from waterways.
Champions of personal and professional growth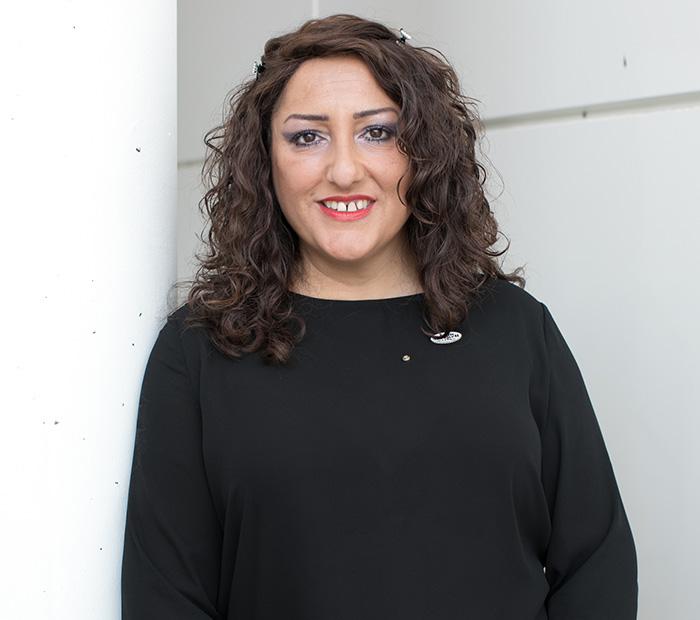 Rotary helps members develop personally and professionally as they carry out their passion for service. Through their clubs, Rotarians and Rotaractors have the opportunity to enhance their leadership skills through public speaking, networking, fundraising, team building, and event planning.
When Deli Levi-Jensen was first invited to join a Rotary club, she said no. A visit to Israel changed her mind. During her trip, she saw children waiting to get the polio vaccine, which Rotary members were administering. She was so inspired, she started the Rotary Club of Herning International after returning home to Denmark. Reaching out to new people to build a new club meant overcoming her fear of public speaking. Today, Levi-Jensen works in the leadership development field as a speaker, coach, and trainer.
Forward-thinking leaders
We are exploring new ways to ensure that current and future generations benefit from the club, service, and learning experiences that are the hallmarks of Rotary:
We're supporting innovative club models that accommodate the busy schedules and evolving interests of new generations of leaders. By encouraging flexibility in club meeting formats, Rotary is embracing the needs of today's business and community leaders while still offering a direct path to local and global service.
Rotaract has been elevated from a program to a membership type within Rotary International. Rotarians and Rotaractors have different membership experiences but are partners in service, working side by side to create lasting change.
Rotary is developing a highly competitive new Programs of Scale grant type to annually support one impact-focused, multiyear program aligned with one or more of Rotary's areas of focus. A program of scale will respond to a community-identified need with measurable outcomes and impact across a significant geographic area and/or a large-scale population.
Through programs of scale, Rotary can implement significant evidence-based projects in partnership with other organizations, making an even greater impact in the lives of people around the world. These grants can establish member expertise and capacity to implement large-scale solutions to a community need at a population or regional level.
One of Rotary's top priorities is diversifying our membership to ensure we fully reflect the communities we serve, both at the club level and in the Secretariat. To underscore our commitment to this goal, the Board of Directors adopted a diversity, equity, and inclusion statement:
As a global network that strives to build a world where people unite and take action to create lasting change, Rotary values diversity and celebrates the contributions of people of all backgrounds, regardless of their age, ethnicity, race, color, abilities, religion, socioeconomic status, culture, sex, sexual orientation, and gender identity.
Rotary will cultivate a diverse equitable, and inclusive culture in which people from underrepresented groups have greater opportunities to participate as members and leaders.
The Rotary Foundation Board of Trustees approved changes to Rotary's areas of focus to offer greater clarity on global grant eligibility criteria, to allow for additional project types, and to enable clubs to undertake more activities focused on the environment. We now articulate Rotary's signature causes as:
Peacebuilding and conflict prevention
Disease prevention and treatment
Water, sanitation, and hygiene
Maternal and child health
Basic education and literacy
Community economic development
The value of Rotary
Global transformation
A special report prepared by the Johns Hopkins Center for Civil Society Studies estimated that Rotarians volunteer nearly 47 million hours in a typical year, providing about $850 million worth of community service.
"Translated into economic terms, Rotary is annually generating a scale of social and economic problem-solving effort that is worth nearly nine times more than it costs the organization to produce," the researchers note.
One way Rotarians improve their communities is through global grants, which help fund sustainable, high-impact projects. In the last year:
Local impact
Although clubs provide the foundation of a Rotary member's experience, we offer multiple ways for Rotarians, as well as their friends and family, to inform and transform their view of the world:
Our numbers around the world*
1189466.00

Rotarians

35890.00

Rotary clubs
182721.00

Rotaractors

10255.00

Rotaract clubs
565708.00

Interactors

24596.00

Interact clubs