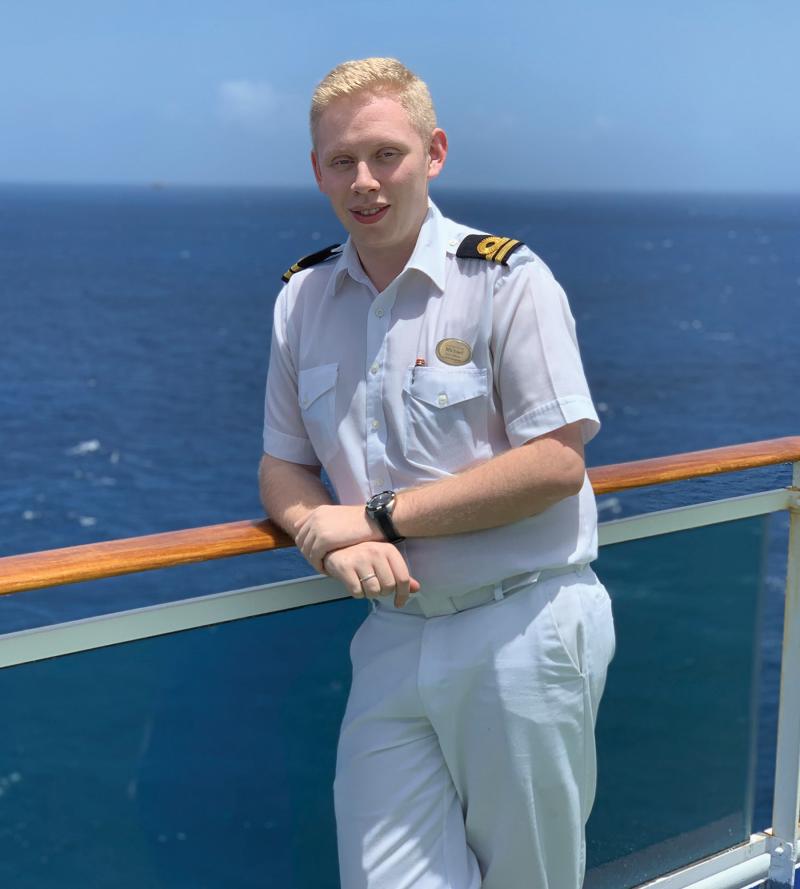 The world stopped. They didn't
---
Michael Rhind
Cruise ship officer
Rotary Club of Forres, Scotland
I am the second officer on a large cruise ship that normally carries about 1,200 passengers and almost 900 crew members. We were cruising from South America to Antarctica when the COVID-19 outbreak started. At first, we felt lucky — there were no cases on board, so we felt like we were the safest place in the world. But after the cruise line announced we would be pausing all operations fleetwide, we docked in Buenos Aires. Before arriving in Argentina, everyone on board had their temperature checked and we were confirmed healthy, so they allowed some passengers to disembark; some of them planned to fly home from there. At midnight the following evening, Argentina imposed a national quarantine. Its borders were closed and all flights canceled. At the time, we had 200 passengers ashore who had to come back from the airport to the ship or they would be stuck in Argentina.
People started getting sick a few days after these passengers got back on the ship, and no country would allow us to dock and disembark. We tried Montevideo, Rio de Janeiro, and then Barbados. Barbados allowed one critically ill passenger to get off and be medically evacuated to the United States for treatment. Finally, after almost a month of sailing, we approached Miami, where we were allowed to dock. Sadly, two passengers died a few hours before we made it to Miami. Others who were in critical condition were immediately taken by ambulance to nearby hospitals.
"People started getting sick a few days after these passengers got back on the ship, and no country would allow us to dock and disembark."
The process of disembarking all but 13 international guests took five days in total. During those five days, we would periodically call ambulances so ill passengers and crew could be transferred to area hospitals for more care. The remaining passengers and crew members had to stay on board for a 14-day quarantine before the United States would allow the passengers to disembark. In total, six people died, including one of our crew members, a guy in his late 40s. As you can imagine, that really rattled the crew's morale. It's hard on many of us mentally. We're stuck in a steel box with the virus — there's nowhere we can go.
Once our quarantine ended, the rest of our passengers were allowed to disembark, but five unlucky guests on board still can't get flights to their home countries. We also still have hundreds of crew members from all over the world. So the cruise line came up with a solution to get everyone home: Later this week, five ships are going to meet in the Atlantic between Florida and the Bahamas and use our lifeboats to exchange passengers and crew. Our ship will sail to Asia, another will go to Europe, another to South America. We're essentially going to operate a bus service to get people back home.
I was supposed to go home to Scotland about two months ago, but now I'll be on the ship until at least the end of June. My mum is worried about me, as any mother would be. She asks if I'm eating and sleeping well, and while it's not ideal to be stuck here, I know others have it much worse. I have a warm bed, enough food, and a job. I'm also glad I can be of service and help other people get home.
I usually work on the ship for three months, and then I have three months off. That's why I joined Rotary — when I'm at home, I like to spend my time volunteering. At 24, I'm the youngest person in my club by far, but I really enjoy it. I've been attending our meetings from the ship via Zoom. It's good to see the faces of the other members, and they are always eager to hear my updates. It provides me with a welcome bit of home.
Read more stories of 10 workers who put
service above self when it counted most
• This story originally appeared in the August 2020 issue of The Rotarian magazine.