Thinking — and giving — big
Why a Rotary member in India donated $14.7 million to the Foundation
When Ravishankar Dakoju was a young boy, one of his teachers would often say, "You should give till it hurts, because until then you are sharing your comfort, not everything that you have." Ravishankar, president of the Rotary Club of Bangalore Orchards, India, and a successful real estate developer, has followed that advice: He is donating $14.7 million (1 billion rupees) to The Rotary Foundation, one of the largest-ever contributions to the Foundation.
The gift will establish a named endowed fund within the Foundation to support high-impact and sustainable humanitarian and educational projects.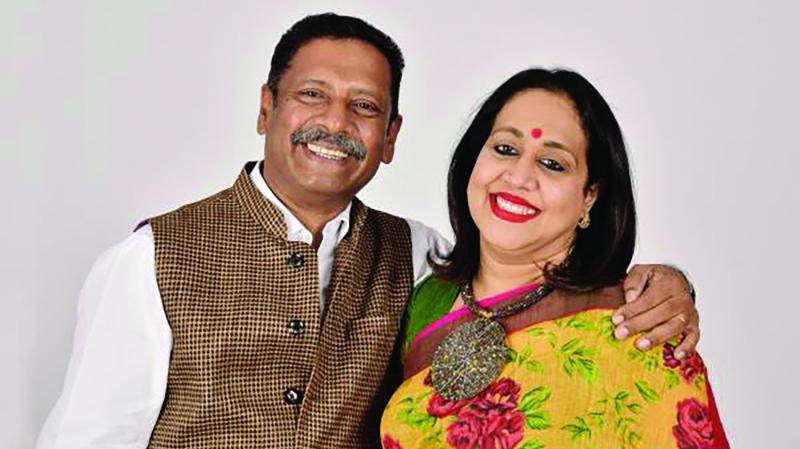 The idea took shape in 2017. Ravishankar had a list of projects that he wanted to fund, including a microcredit program and a home for senior citizens. He discussed it with his longtime friend Suresh Hari S, the incoming governor of District 3190 at the time, who persuaded him to give the money to The Rotary Foundation. "I believe whatever money I have belongs to society," Ravishankar says. "I am just a custodian for a short while; I didn't bring it with me, nor can I take it with me."
Ravishankar's parents taught him to value altruism. During the movement for Indian independence, his father had been a freedom fighter and embraced the philosophy of Vinoba Bhave, a follower of Gandhi, who urged landowners to give away a portion of their land. Ravishankar's father gave away all his land and was imprisoned for four years for his activism. After India gained its independence, he worked as an engineer. Ravishankar and his six siblings enjoyed a comfortable life — until their father died unexpectedly.
After being widowed, Ravishankar's mother faced serious financial problems. "She had to struggle to bring us up," he recalls. He remembers having only rice and vegetables to eat. When he couldn't get enough, he would go to friends' houses and ask for food. "Society fed me," he says. "People whose hearts were so pure fed me. They are all dead and gone, but I have to give back."
Ravishankar struggled emotionally after his father's death. "I fell into bad company, stealing things, selling black-market cinema tickets, and so on," he says. He failed his high school exams twice. Knowing how much this upset his mother, he tried one more time and finally passed. He went on to earn degrees in business administration and marketing management.
In the 1980s, Ravishankar delved into real estate and construction. In 1987, he and his childhood friend B.S.N. Hari founded a company called Hara Housing, which is now one of the leading land developers in Bangalore.
But as his business thrived, he felt that something was lacking. "Everybody around me was obsessed about the real estate market. I felt suffocated with the kind of people I was mixing with," he recalls. "Whether it was a doctor, a barber, or a dentist, they'd talk only about business and real estate."
Then he met a Rotarian named Ramesh Chari. "I told him I wanted to connect with society. He said, 'Why don't you try Rotary?'"
For Ravishankar, Rotary offered a way to give back. "Rotary is like a buffet; it is up to you what you want to take from it," he says. "Rotary gives you the opportunity to do things." The things he has done through Rotary range from building schools to reaching across national borders and religious divisions to make connections with fellow Rotarians in Pakistan.
Every donation to The Rotary Foundation helps fund clean water and sanitation, health, economic development, and new opportunities. Be a part of changing the world at rotary.org/donate.
Currently, he is involved in a project to plant 10 million saplings in Karnataka, his home state. "It's a five-year project," he says. "We're trying to involve the Karnataka state government. We want to involve schools and make the headmasters responsible for ensuring that the trees survive."
Ravishankar and his wife, Paola, have raised their two daughters, Ektaa and Samta, to value altruism as well. "When they were children, I'd always tell them, 'I have taken so much from society, I need to give back.' They said, 'Don't worry about us. We'll stand on our own feet.'"
Ektaa, who is getting a master's degree in Melbourne, Australia, worked for several years to save money for her education, and considers her parents' contribution to her schooling as a loan. "She wants to return the money she has 'borrowed' from her father by working part time for him," says Paola.
The whole family embraced Ravishankar's plan to give away so much of their wealth. "From childhood I have had this way of doing things; I think big, stupid, or impossible," he says. "My wife, being a mother, understandably had some concerns about our daughters, but Ektaa convinced her."
Samta, he notes, "doesn't even want to inherit our house. She says, 'If you leave it to us, we will sell it and build a school in Kashmir with the money.' I feel so blessed to have such a fine family."
Rotary Foundation Trustee Chair Ron D. Burton says Ravishankar's gift is "extraordinary and truly transformational, not just for those who will benefit from the Rotary projects funded by the gift, but also for our Foundation, as it encourages other Rotarians to think big and select Rotary for their charitable giving."
When he is reminded that his will be one of the largest contributions to the Foundation, Ravishankar says, "I didn't think of any statistic. I didn't have a strategy in my mind. I simply decided to give."
— Rasheeda Bhagat
• Read more stories from Rotary News of India