United in friendship and service
Rotary International's recent member survey reveals where Rotary is today, while suggesting where it needs to go tomorrow
The motive power of Rotary is friendship," said Paul Harris in his address to the Rotary convention held in Edinburgh, Scotland, in 1921. His remarks were greeted with a round of applause — and were endorsed 100 years later by current members of Rotary.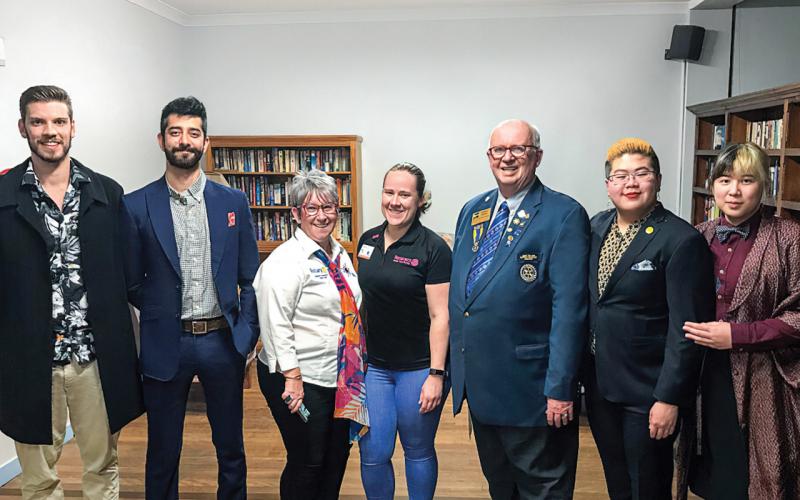 In the most recent annual survey of Rotary members, 45% of respondents cited friendship as the reason they remain in Rotary, and 84% said they were satisfied with their ability to connect with friends through Rotary. Meanwhile, 42% of respondents cited the opportunity to make an impact on their communities as the reason they remained in Rotary — another response that would have delighted Rotary's founder.
Gathering this kind of information is one of the reasons we survey Rotary members every year. The 2021 all-member survey, which was conducted last fall by Rotary International and drew nearly 70,000 responses from Rotarians and Rotaractors, will contribute to the long-term success of Rotary's Action Plan and its strategic initiatives. It also ensures that Rotary leadership understands and responds to the expectations and experiences of new and longtime members. On a more local level, clubs and districts can use this information to attract and engage new and current members.
Rotary members: A snapshot
65

Average age of male Rotarians

59

Average age of female Rotarians

25

Average age of Rotaractors, male or female

24%

of Rotarians are women

50%

of Rotaractors are women
What members like about their clubs . . .
Friendship and fellowship
Learning new things from guest speakers
Interesting discussion topics
Opportunities to get involved in the local community
Hybrid meetings that allow clubs to host different speakers and allow members who have difficulty attending in person to participate
. . . and what they don't like
Virtual meetings without in-person interaction
Weak, unresponsive club leadership
Irrelevant, uninteresting guest speakers
Poor time management (starting or ending meetings late)
Cliques
Exclusivity and lack of diversity
Rituals and unneeded formalities like prayers and songs
Why members stay
93% of Rotary members who were either very likely (78%) or rather likely (15%) to remain a member of their club over the next 12 months
61% of Rotary members who thought their clubs had made a positive impact on their communities
48.2 Volunteer hours (in millions) contributed by Rotary members in a 12-month period ending in October 2021
59% of Rotarians who participated in global grants by organizing projects, volunteering, and/or donating money
Why members leave
61% of Rotarians who joined Rotary in 2016 and had terminated their membership by 2020
Why?
Club does not represent my values
Club's lack of impact
Cost
Personal circumstances
Conflicts within club
Time
53% of Rotary members who are very informed about how clubs spend their dues
The pandemic's impact
57%

of Rotary members who said their clubs were primarily meeting online at the height of the COVID-19 pandemic. That number has since diminished to 12 percent.

63%

of Rotary members who said they enjoyed their virtual club meetings, but also reported missing personal interaction

50%

of district and club leaders who reported doing fewer service projects during the pandemic

65%

of district and club leaders who reported raising fewer funds during the pandemic
Takeaways from the data
To engage new members, include them in club meetings, introduce them to other club members, or invite them to serve in a leadership role for a committee or project.
If cost is a burden, consider decreasing membership dues or offering flexible membership options.
Diversify your membership by inviting someone outside of your immediate social circle to join your club.
As a member's comfort level increases, so does their satisfaction as a Rotary member, so ensure that members feel welcomed, respected, and valued for who they are.
82.00

%

of new members who found their clubs through friends, colleagues, or other members

1.00

-3

Number of meetings that most potential members attend before deciding if they want to join the club

1.00

-3

Period of years after joining a club in which new members are highly susceptible to terminating their membership
This story originally appeared in the August 2022 issue of Rotary magazine.