Toronto, the capital of nice
A tour of Rotary's 2018 convention city reveals one common thread: a welcoming spirit
By Vanessa Glavinskas Photography by Alyce Henson
We're lost. My phone battery is low, so I don't risk draining it to consult Google Maps. Instead, we duck inside a coffee shop and I pull out a paper map while my nine-year-old daughter orders a hot chocolate. The clerk smiles and asks where we are trying to go. On a small sheet of paper, she begins drawing a map of the area – complete with landmarks – so that I will know how to get to Kensington Market. It reminds me of the hand-drawn maps in a Rick Steves guidebook. I thank her, and as we leave, my daughter says, "Wow, they are so nice in Canada."
It's true. The people of Toronto gave us a warm reception on our visit to the city that will host the 2018 Rotary International Convention. Toronto has been shaped by immigrants, who have added new languages, customs, and foods while boosting the economy. Condo buildings are going up rapidly, and beyond downtown's skyscrapers, Toronto is a sprawling network of neighborhoods: from ethnic enclaves such as Little Italy and Little India to Kensington Market with its bohemian cafés and Yorkville with its postcard-perfect Victorian houses. But despite its size, Toronto is safe and easy to navigate. The streets are clean. And the city's 2.8 million residents – half of whom were born in other countries – speak more than 140 languages. The result is a cultural convergence that makes Toronto feel like home no matter where you're from.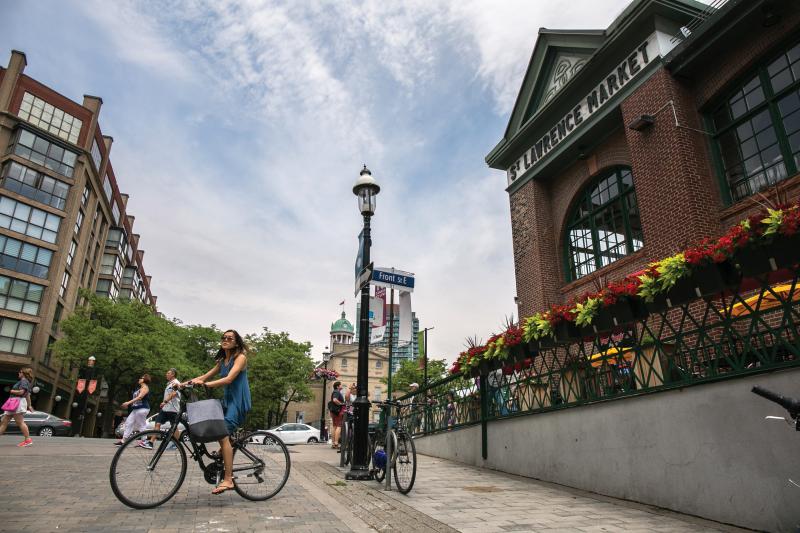 Once you touch down at Pearson International Airport, you can grab a taxi to the city for about $55, an Uber for $35, or the Union Pearson Express for $12 directly to Union Station near the Metro Toronto Convention Centre (MTCC). The ride is 25 minutes; trains run every 15 minutes and offer free WiFi. If you fly Porter Air, you'll land on the Toronto Islands, which are a short ferry ride from downtown (unless you opt to reach the city via the new pedestrian tunnel, which is full of moving walkways and escalators, making the total trip about six minutes).
Hotels are abundant near the two convention venues: the MTCC and Air Canada Centre, which are within a 10-minute walk of each other. Just be sure to book early: Toronto is a convention magnet, and rooms fill up quickly in the warmer months. The MTCC and Air Canada Centre are close to Toronto's Lake Ontario shore, where the Waterfront Trail is popular with cyclists and a boardwalk draws those who would rather stroll along the water's edge. Boat tours offering views of the skyline or a cruise to the Toronto Islands leave from the Harbourfront Centre. But the main attraction is the CN Tower: Like the Space Needle in Seattle, it defines Toronto's skyline.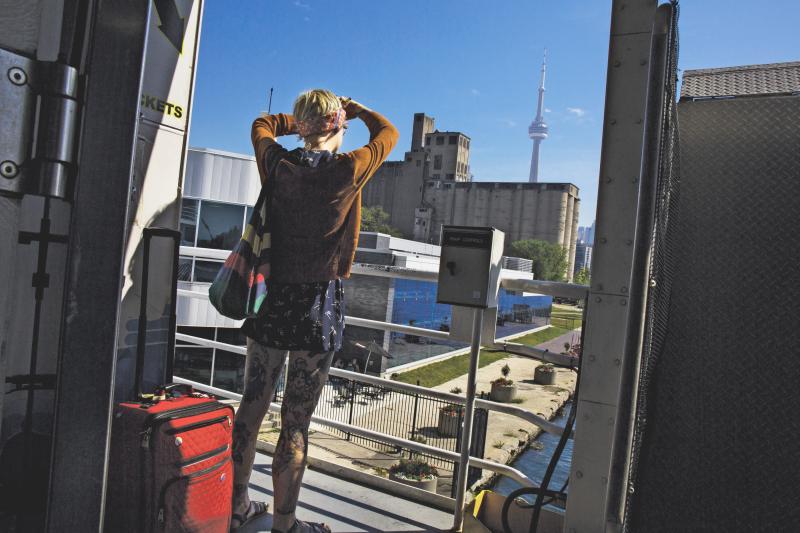 Opened in 1976, the tower was a product of necessity: New skyscrapers made it difficult for TV stations to broadcast their signals across the growing city. The tower was built to solve that problem, but it symbolized much more – it projected the strength of Canadian industry as the world's tallest tower, a title it held for more than 30 years.
As a tourist attraction, the CN was the first tower in North America to add a glass floor experience – a spine-tingling look straight down to the street 113 stories below. Signs reassure visitors that the glass is strong enough to hold "14 hippopotamuses," yet I still had a hard time venturing onto it. But this is a spot that kids love. They skip, jump, and lie down to take selfies.
When now-RI President Ian H.S. Riseley toured Toronto in May, he didn't merely step out on the glass floor. He did the EdgeWalk: Imagine being fitted with a harness and strolling around the tower on a tiny ledge without a railing 1,168 feet above the ground. Sound terrifying? Exhilarating? Either way, a GoPro camera on your helmet captures it all so you can relive it later.
Day trips
Niagara Falls and Niagara-on-the-Lake
One of North America's most famous natural wonders, Niagara Falls, is just a 90-minute drive from Toronto. You can take in the falls from land, air (by helicopter), or water (speedboat tours soak passengers in the towering curtain of mist). Niagara-on-the-Lake, the neighboring 19th-century village set among Ontario's vineyards, features horse-drawn carriages, Victorian B&Bs, and charming boutiques.
Ontario's wine country
Southern Ontario is about the same latitude as southern France, and the region is likewise home to vineyards. The local must-try is ice wine, a sweet dessert wine made from grapes picked after they've frozen on the vine. Plan your route around Ontario's wineries at winecountryontario.ca.
Muskoka
Natural beauty and relative seclusion have made Muskoka a playground of the rich (and often famous). Celebrities, athletes, and other millionaires have been snapping up property on the three big lakes outside Toronto – Muskoka, Joseph, and Rosseau – in recent years. It's the kind of place that makes you want to rent a cottage for a season and write that novel. It's also home to about two dozen golf courses. What the Hamptons are to New York, Muskoka is to Toronto.
Back on the ground, another attraction is right next door. Ripley's Aquarium of Canada differs from other big-city aquariums in the number of hands-on experiences it offers. For CA$99, you can book a behind-the-scenes tour that includes donning a wetsuit to feed the resident stingrays, which clamor for your attention like a pack of enthusiastic Labrador retrievers. (Reservations are required.) A glass tunnel takes visitors through the largest tank. Everyone gets giddy when sharks glide overhead, and the tank also teems with yellowtail snapper, tarpon, an enormous goliath grouper, sea turtles, and impressive green sawfish. To quote my wide-eyed nine-year-old, "It's like we're in the ocean!"
Across the way, the Toronto Blue Jays play baseball at Rogers Centre. The stadium can accommodate nearly 50,000 fans and is known for its giant (patented) retractable roof that can be opened on nice days and closed to keep fans warm and dry during inclement weather. The venue also hosts concerts and other events.
St. Lawrence Market, a 20-minute walk down Front Street from the MTCC, topped the list when I asked locals to name their favorite lunch spots. National Geographic ranked it among the 10 best food markets in the world.
Inside, a patchwork of colorful stalls greets you, along with sign after sign for bacon. Peameal bacon, to be exact. This lean cut, from the pig's back, is cured and then rolled in cornmeal. Sliced, grilled, and served in sandwiches, it's the market's signature item – even Barbra Streisand sent her assistant for a sandwich when she performed in Toronto.
Across from the clerks assembling the peameal bacon sandwiches at Carousel Bakery, Carnicero's offers burritos and other Mexican fare. Nearby, Turkish delight is sold in bulk. Downstairs, Ukrainian pierogies are doled out next to trays of lasagna. Many of the same families have operated these stalls for generations, and the global fare they offer reminds you how diverse the population of Toronto is.
But the striking mix of cultures at St. Lawrence Market is just a regular part of life for Toronto's residents. "The diversity in our city is something very special," says Michele Guy, who co-chairs the Toronto Host Organization Committee with Michael Cooksey.
"You can come to the convention and feel like you've traveled the world," Cooksey adds.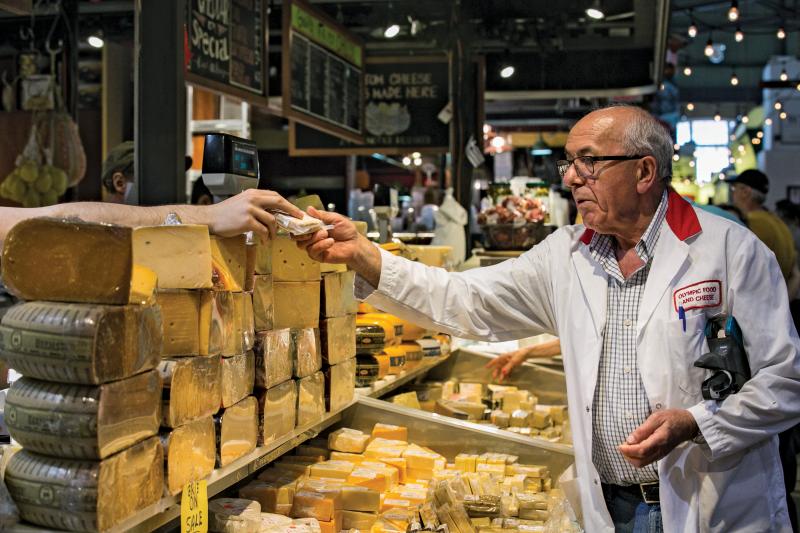 One of Guy's favorite spots is Café la Gaffe on Baldwin Street, an off-the-beaten-path bistro with a French-inspired menu, exposed brick walls, and an indie playlist. Many visitors also eat and shop in nearby Kensington Market. Unlike St. Lawrence, Kensington Market is not an actual market, but a neighborhood. Waves of immigration have shaped and reshaped the area, which got its name in the 1920s when it was a primarily Jewish neighborhood and families sold goods from stands in front of their houses.
Today, it's still an immigrant community, now mostly Chinese, and a hub for artists and activists. Good food can be found at Rasta Pasta, which blends Italian and Jamaican fare; at Amadeu's, a Portuguese spot known for its grouper; and at Hibiscus, where the menu is vegetarian, gluten-free, and organic. Meat eaters will enjoy the Burgernator, where you can get burgers "fully loaded" with cheddar cheese, a fried egg, mushrooms, caramelized onions, lettuce, and tomato.
Local Rotarians share their favorite restaurants
Scaramouche "It's a classy restaurant with a beautiful view of Toronto. There's also a more casual bar area, which serves amazing pasta."
Café Diplomatico "Great Italian food, fabulous people watching, family business, big patio."
Alo "A must if you have the budget."
House of Chan "One of the most diverse restaurants in Toronto serving outstanding steaks and veal chops, with excellent Chinese food like egg foo young along with delicious broiled salmon."
Buca "Not your average Italian. … Loved by foodies across the city and consistently rated one of the top restaurants in Toronto."
Sorrel "Diverse menu with something for everyone, all very well prepared. Fresh fish, pasta, duck, oysters, steak, and exceptional fried chicken."
A one-of-a-kind place to dine and shop is the city's Distillery Historic District, now an arts and entertainment mecca. The host committee is planning an evening of food and entertainment here for convention attendees; visit Rotary2018.org for details.
In 2003, the industrial complex that once housed the Gooderham and Worts distillery was redeveloped. Reminiscent of New York's SoHo but more relaxed, it's a pedestrian-only zone with 80 independent retailers that sell everything from home décor to jewelry. We stopped at Heel Boy, expecting a high-end pet boutique (it actually sells shoes), and Corktown Designs, which features modern jewelry by designers from around the world. For more shopping, Eaton Centre offers all the major retailers in a comfortable mall setting while Yorkville is an upscale neighborhood filled with high-end boutiques and chic restaurants. (The patio at One is great for people-watching.)
But the distillery district isn't only for shopping. Its sometimes sordid past is worth exploring as well. Stop by Go Tours and book the "Booze, Death, and Cholera" tour to learn how Gooderham and Worts grew to become the world's largest distillery (eventually merging with Hiram Walker Co.), controlling much of the U.S. market during Prohibition.
For more Toronto history, explore Casa Loma, the only full-size castle in North America. It was built by Sir Henry Pellatt in the early 1900s after he made his fortune bringing electricity to Canada: He was worth about $17 million in 1911 when construction began. His travels in Europe had inspired him to build a castle of his own, and many of the furnishings were imported. He commissioned a replica of Napoleon's writing desk for his study. In his bedroom, he proudly displayed a tiger skin rug.
Not all went as planned, however. Pellatt and his wife, Lady Mary, spent less than 15 years living lavishly at Casa Loma before his company lost its monopoly on electricity. Eventually, the Pellatts went into bankruptcy, auctioning off most of their possessions. The castle was converted into a hotel, which failed in 1929. In 1937, the Kiwanis Club of West Toronto took it over as a tourist attraction, operating it until recently. Cooksey of the host committee says Casa Loma is a must-see, so the committee is planning an evening for Rotarians to enjoy a symphony concert in Casa Loma's gardens overlooking the city.
Like many cities, Toronto has dozens of museums. Its largest is the Royal Ontario, a natural history museum whose exhibits range from dinosaurs to art and that attracts more than a million visitors a year. But down the street is a quieter, quirkier option – the Bata Shoe Museum. This isn't just for people who love shoes. It's a world history tour through the lens of footwear. Take, for example, the "chestnut crushing clog," which looks menacing with its 2-inch spikes but is actually a 19th-century French tool for shelling chestnuts. A tiny pair of black leather shoes look as if they were worn by a child but were made in China for a woman with bound feet. Museum founder Sonja Bata also funded field research in the Canadian Arctic and other regions to document footwear made by indigenous people, such as boots with reindeer fur on the soles for traction. The collection also features its share of famous shoes – including glittering platform heels Elton John wore onstage in the 1970s.
It's impossible to leave Toronto without talking about hockey. Canada has produced some of the game's best players, and the Hockey Hall of Fame is a shrine to the country's sports heroes. When it opened in 1961, then-Prime Minister John Diefenbaker said, "There is nothing greater than hockey to bring about national unity." The hall is a short walk from the MTCC and features interactive experiences such as a virtual shootout against computer-generated versions of famed goalies Carey Price and Henrik Lundqvist, who try to block your puck. It's also home to 18,000 square feet of hockey memorabilia – the largest collection in the world.
In a city that embraces its identity as a melting pot of cultures, this stop is 100 percent Canadian. But in true Toronto style, all are welcome.
You can come to the convention and feel like you've traveled the world.

Michael Cooksey
Toronto Host Organization Committee co-chair
Through 15 December, save on registration for the 2018 convention