Telemedicine stretches to corners of Nigeria
Technology allows virtual doctors' appointments for people in rural Nigeria
On a visit to southern Nigeria last October, Dr. James K. Gude of Sebastopol, Calif., and Mikel Cook of the Rotary Club of Sebastopol Sunrise learned how hard it can be to bring medical care to rural areas.
"We drove 20 or 30 miles from the Federal Medical Centre of Yenagoa to a satellite hospital, and it took an hour," recalls Gude, an honorary Rotarian who is medical director of Sebastopol-based telemedicine services company OffSiteCare. "Big chunks of the road were flooded, and there were people all over the place; we were going through villages and trying not to hit anybody."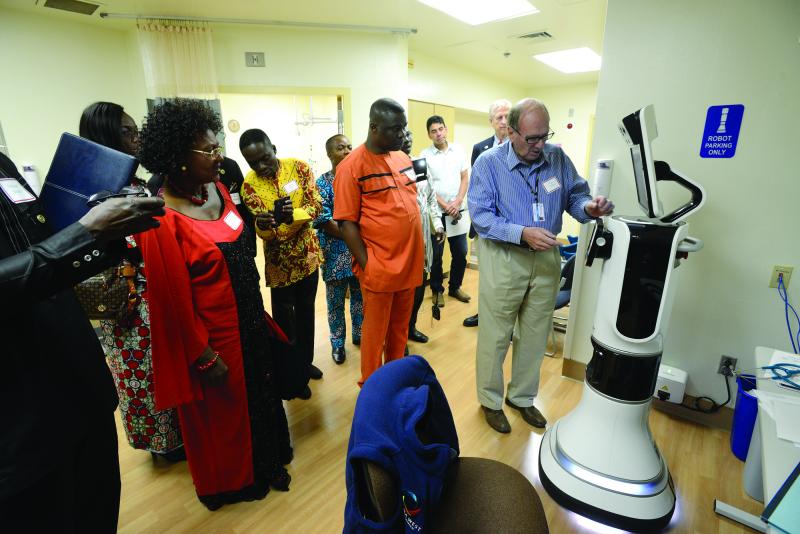 That laborious journey illustrated the reason for their visit – to help make health care available to people in isolated areas. In rural portions of Nigeria, a country with only one physician for every 2,500 people, many Nigerians seeking health services have to make trips much more arduous than the drive Cook and Gude undertook. The result, of course, is that a great many people simply don't receive care. While it would be ideal to get more doctors in remote regions, that would take years.
Gude and the Sebastopol Sunrise Rotarians are part of a larger effort to bring technology to bear on the problem, using telemedicine – the use of information technology to provide health care from a distance – to bring doctors to patients virtually. And thanks to a global grant from The Rotary Foundation, a team of health care professionals from Nigeria has been trained in telemedicine.
Telemedicine has been around for many years, but only as internet speeds have gotten faster has it become practical. Telemedicine allows physicians to connect with patients remotely, as well as to consult with colleagues all over the world. At its simplest, it consists of a chat via online video, but it can also allow a physician to examine a patient remotely using a robot.
The need for telemedicine can never be overemphasized. Health care should be for everyone – for the underprivileged, for the underserved, for the remote areas – not just for the rich.

Princess Frances Kemelagha
psychiatrist at the Federal Medical Centre in Yenagoa and a member of the Rotary Club of Yenagoa
The Sebastopol Sunrise Rotarians have been involved with telemedicine since 2012, when then-President Gail Thomas (a former senior official in the U.S. Department of Health, Education, and Welfare) proposed it as a club priority.
"We decided that we wanted to make a long-term commitment to telemedicine because it guides treatment and it saves lives," says Cook, a computer consultant. "It counters the global tendency for physicians to concentrate in big cities, leaving the countryside without easy access."
Since then, the club has worked with other Rotarians and with Gude to bring telemedicine technology and training to several hospitals around the world, including facilities in Uganda, the Democratic Republic of Congo, and Zimbabwe.
Participating hospitals can use their telemedicine capabilities to consult with Gude and his medical colleagues on particularly difficult cases. For example, a patient in Congo avoided an unnecessary procedure to remove his spleen, thanks to his physician's ability to tele-consult with Gude and his network.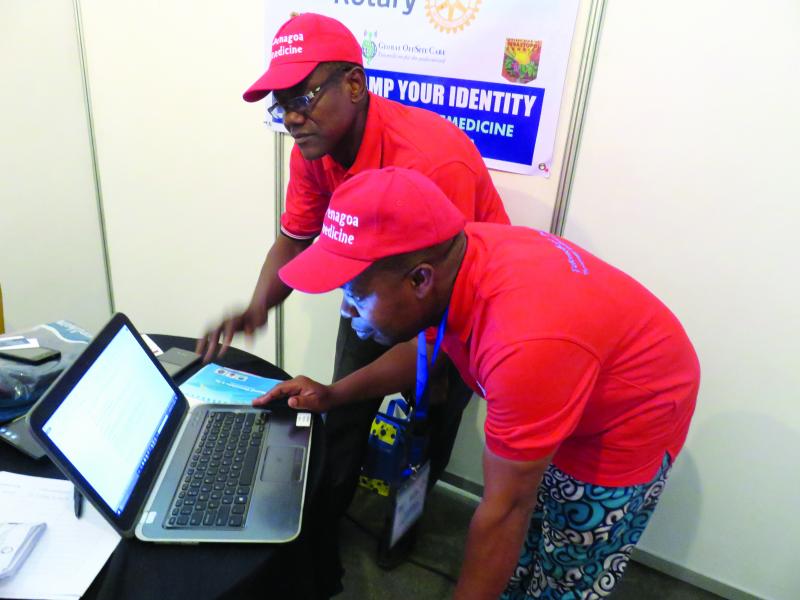 Along the way, Thomas and Cook helped found a nonprofit, Global OffSite Care, devoted to bringing Rotarian resources together in support of telemedicine projects worldwide. Gude, whose company provides telemedicine services to several hospitals in Northern California, has been an enthusiastic and knowledgeable volunteer.
The Nigeria connection began in 2013, when Princess Frances Kemelagha, a psychiatrist at the Federal Medical Centre in Yenagoa and a member of the Rotary Club of Yenagoa, learned about Global OffSite Care at the Rotary International Convention in Lisbon and was instantly captivated.
So it was that in August and September 2015 – thanks to a global grant and the efforts of Rotarians from Sebastopol, Rancho Cotati, and Santa Rosa East, plus the Sonoma State University Rotaract Club and others – she and five colleagues flew to Northern California for 11 days of training under Gude in telemedicine best practices.
Since then, Kemelagha says, she has seen the training's effects in better outcomes for both patients and doctors. Thanks to telemedicine, a 75-year-old patient from a remote village was found in need of a potentially lifesaving pacemaker. The colleague consultations via telemedicine are having other unexpected benefits. "Our resident doctors are learning so much more that they are beginning to pass their exams with ease," she notes.
During a follow-up visit to the Federal Medical Centre last October, Cook and Gude found the Nigerian team making good use of their new telemedicine capabilities. Those include a donated InTouch Health robot, a device that allows the remote physician to see and examine the patient and even hear the sound transmitted from a stethoscope to aid in making a diagnosis.
"The need for telemedicine can never be overemphasized," says Kemelagha. "Health care should be for everyone – for the underprivileged, for the underserved, for the remote areas – not just for the rich."
• Read more stories from The Rotarian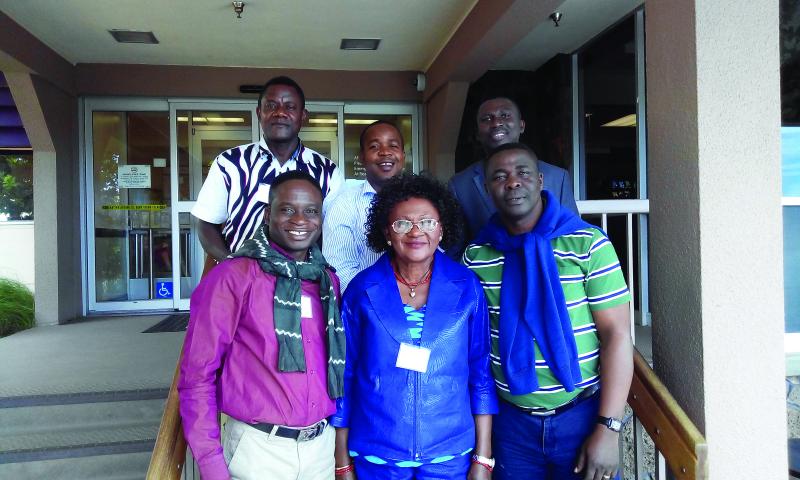 Support our health care efforts
Share this story