Taipei rising: Rotary International announces 2021 Convention location
Sacred temples, cloud-busting skyscrapers, mountain getaways, incomparable food, and a dazzling nightlife: welcome to Taiwan's dynamic capital city, home of the 2021 Rotary International Convention.
Story by Susie L. Ma Photography by An Rong Xu
To the Portuguese sailors exploring uncharted seas, the island looked like a paradise
It emerged from the ocean mists nearly 500 years ago, a lush Asian isle covered in green forests and punctuated by tall mountains. No matter that it had a civilization and a culture already centuries old. To the Portuguese sailors exploring uncharted seas, it was something entirely new, and it looked like a paradise. They gave it a name that soon began to appear on mariners' maps: Ilha Formosa — beautiful island.
The name stuck, though the island of Formosa, about 100 miles east of the coast of China, is known today as Taiwan. It is also considered one of the Four Asian Tigers, a quartet of Far East economies that took off in the late 20th century and continue to expand in the 21st. For Taiwan, the seat and symbol of that miraculous growth is its capital, Taipei, a city that blazes 24/7 with an inextinguishable vitality — making it a perfect setting for the 2021 Rotary International Convention, whose theme is Feel the Energy.
This is a long-awaited moment for Taiwanese Rotarians, who established their first club, the Rotary Club of Taipei, in 1948. Seventy-two years later, Taiwan has nearly 900 clubs and about 35,000 Rotarians. Its 12 districts will serve as hosts for the 2021 convention from 12 to 16 June. "The Taiwanese Rotarians have been preparing to put on this convention for five years," says Kenneth M. Schuppert Jr., the convention chair. "They have a great deal of pride, and they're intent on making the convention a showcase for their city and their country."
A member of the Rotary Club of Decatur, Alabama, Schuppert served as the aide to Past RI President Gary C.K. Huang, a member of the Rotary Club of Taipei since 1976. Schuppert and his wife, Lynn, a member of the Decatur club who served as the aide to Huang's wife, Corinna, have visited Taipei several times. They are eager to return. "The city of Taipei is so interesting," Schuppert says. "You've got all these modern buildings, with beautiful, ancient temples interspersed among them." He extols the city's vibrancy (as epitomized by its night markets), its cleanliness, and its many natural wonders, from its "pocket parks" to its nearby mountain trails.
Schuppert also raves about the food — and in doing so, he's far from alone among visitors to Taiwan. Even the simplest meal is an occasion — a time for friends, old and new, to enjoy one another's company and the island's varied cuisine. Schuppert has some advice for Rotarians who are invited to dine as the guest of a Taiwanese host. "Don't empty your plate unless you really want more," he says. "When you think the meal is over, it's probably not. More will come."
Schuppert also touts the friendliness of the Taiwanese people and recommends that visitors attending the 2021 convention rely on local Rotary members to introduce them to the wonders of Taipei. In the following pages, you'll see that we've done exactly that. We gathered tips from nearly a dozen Rotarians and Rotaractors who are well acquainted with the city. Our tour begins with an unlikely must-see destination that was also near the top of Schuppert's list: the subway.
Explore
Take the MRT
Take an elevator up
Take a hike
Take a dip
Take in 7,000 years of Chinese culture
Take time to act like a tourist
Eat
Night markets
Dumplings
Hot pot
Breakfast
Food courts
Convenience store food
Explore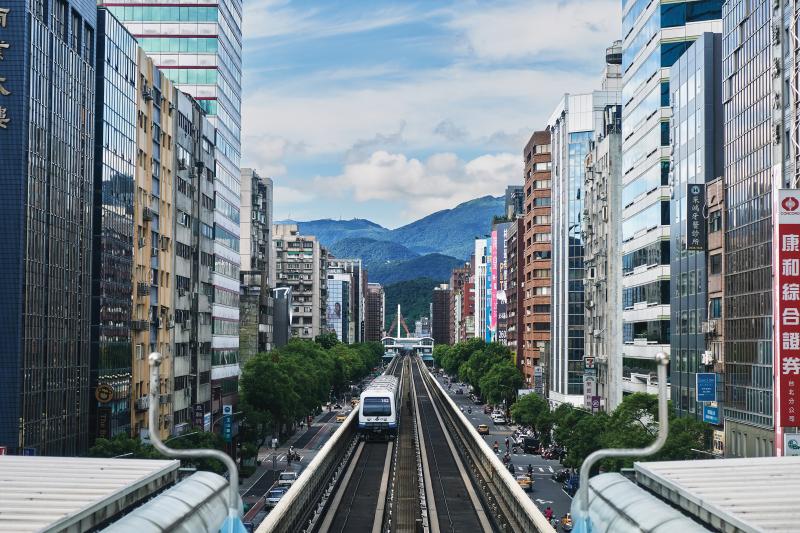 Take the MRT
In any new city, a visitor's first order of business is to figure out the best way to get around. In Taipei, the answer to that question is the Mass Rapid Transit System. As Rotarian and Rotaractor Julie Chu explains, the MRT is more than just a means of getting from one spot on the map to another.
Chu was born in Taipei, but she spent most of her youth living abroad. When she returned as a 25-year-old, she knew little of her native city. "I had to explore Taipei as a foreigner," Chu explains. "I spoke the language, but a lot of things were alien to me. The MRT was how I relearned my home city." She rode the MRT into different ethnic neighborhoods, such as Little Manila. She rode it to the ocean in one direction and to the mountains in the other. She took it to the end of the Red Line where the Tamsui River opens into the sea so she could catch the sunset, hear live music, and walk along the coast. She took it to the Maokong Gondola, the cable car she rode up to the teahouses and plantations in the village of Maokong. The trains run underground in the city center, but some of them travel above ground outside of downtown, giving Chu a chance to get reacquainted with the Taiwanese countryside.
Taipei personalities: Five of our tour guides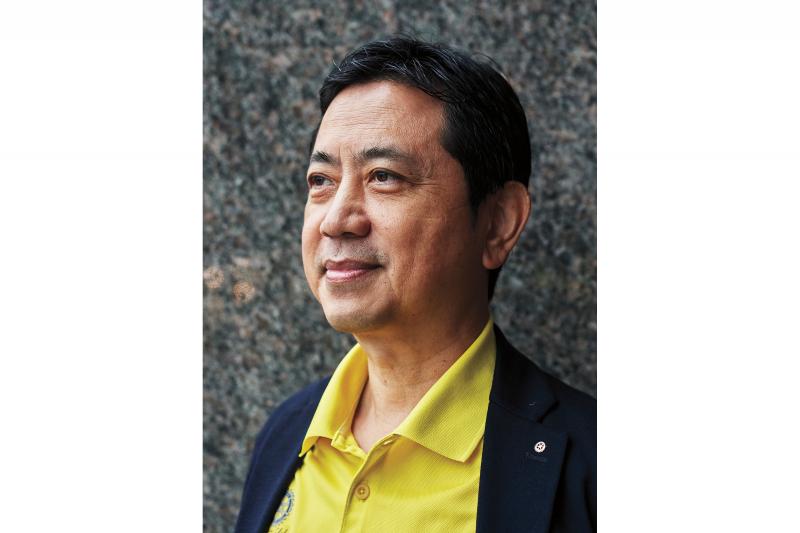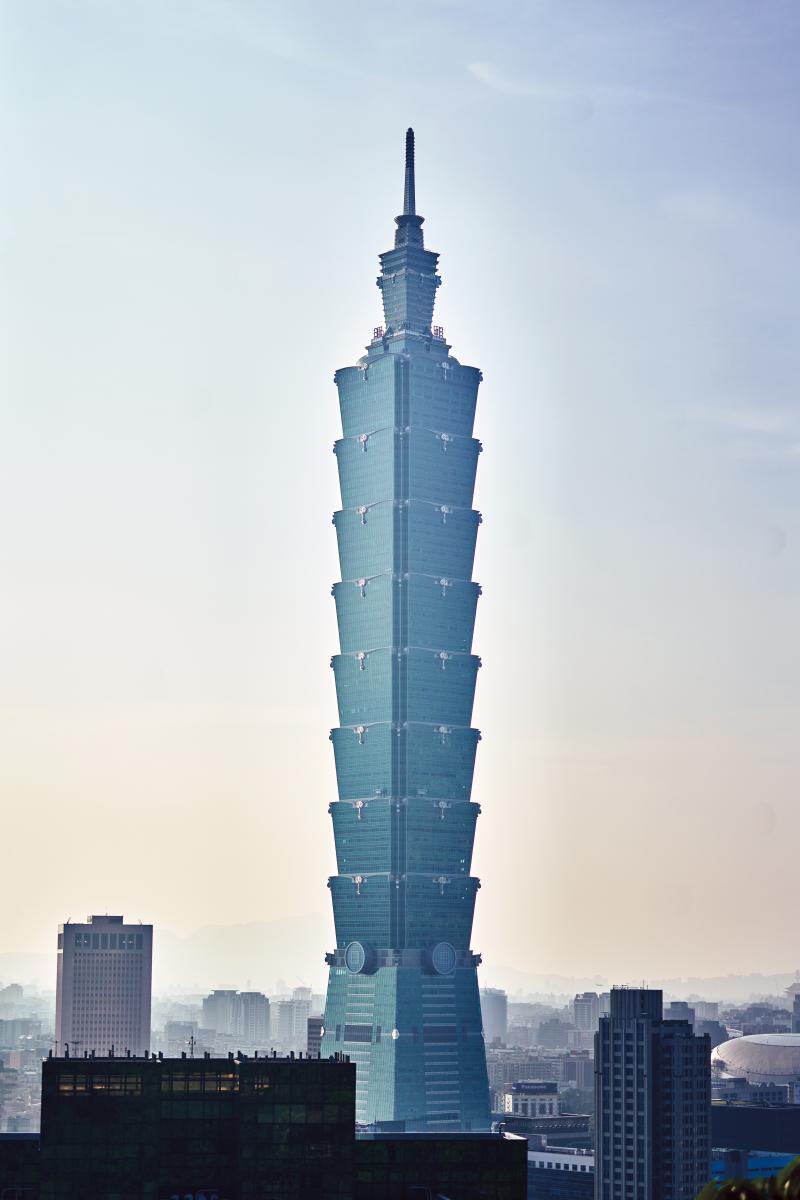 Take an elevator up
One sight you literally cannot miss is Taipei 101, the skyscraper that dominates the city's skyline. Named for its 101 floors, it was the tallest building in the world from 2004 until it was surpassed by Dubai's Burj Khalifa, which was completed in 2009. At 1,667 feet tall, it towers above the rest of the city — and nearly every Rotary member we spoke with mentioned it as an essential stop on any tour of Taipei.
Some say the tower resembles a pagoda, while others think it looks more like a stalk of bamboo. Taiwan is prone to earthquakes and typhoons, so Taipei 101 was designed to withstand a magnitude 9.0 earthquake and boasts an enormous, 728-ton tuned mass pendulum-style damper shaped like a gold ball that helps stabilize the building in high winds. (The damper is visible from the 87th to 92nd floors.)
The elevator ride from the fifth to the 89th floor takes only 37 seconds. There is an indoor observatory on the 89th and an outdoor one on the 91st. Last year the building management opened the 101st floor, previously reserved for VIPs, to the public; entry to the outdoor viewing platform requires wearing a safely harness. Tickets to the observatory decks are sold online or at the tower for about $20.
Before or after you visit the top floor, stop on the lower floors to shop at the high-end stores or grab a bite to eat (Din Tai Fung, Taipei's legendary dumpling house, has an outpost here; its smaller, original restaurant is on Xinyi Road). If you prefer your meal with a view, there are also restaurants on the 85th and 86th floors.
Take a hike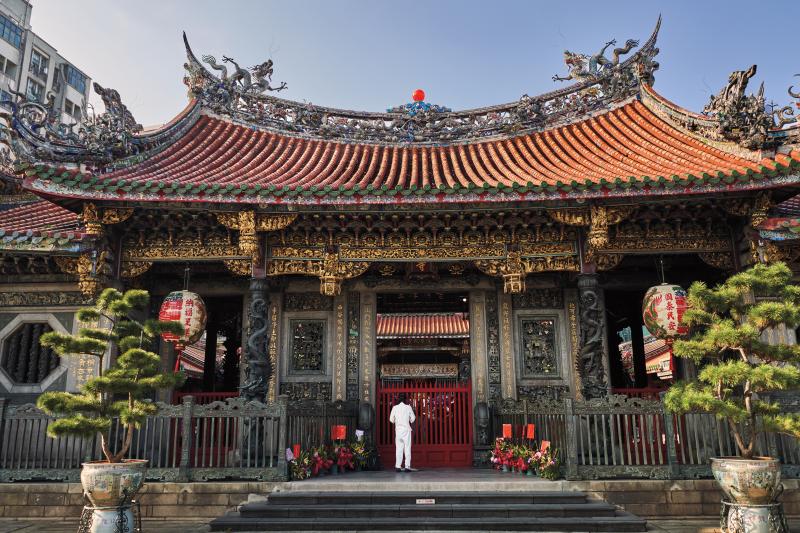 Taiwan is a mountainous island, and hiking is a popular pastime among locals. Tso also recommends Yangmingshan National Park at the northern tip of the island, easily accessible via bus, taxi, or car. The park has numerous hiking trails, waterfalls, meadows of calla lilies, dense forests, and open grassy plains dotted with cows. Tso says to plan to stop for a meal or a snack while at Yangmingshan; there are cafes and restaurants in and around the park, some offering panoramic views of the city.
Rotarian Koji Fukuhara prefers to hike a smaller mountain called Guanyinshan, whose summit can be reached in about an hour or less. At the end of a rigorous hike, Fukuhara rewards himself at one of the restaurants near the mountain with a meal of urn chicken. A popular dish in Taiwan, it's so named because whole chickens are basted, then roasted in clay urns, once to cook the chicken and then again at a higher temperature to crisp the skin. "It's very juicy and salty," Fukuhara says, "and you eat it with side dishes, soup, and beer."
Take a dip
The sulfur hot springs in Taipei are popular with tourists, but for locals, they are a way of life. "Some of my friends like to go every day, in the morning or evening," says Tony Chang, past governor of District 3500 (which has since split into districts 3501 and 3502). "It's a social activity."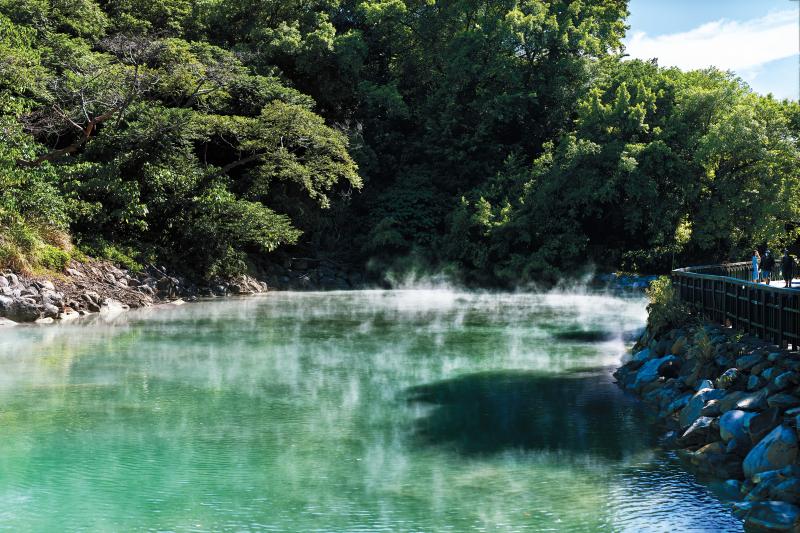 The hot springs range from around 95 to 115 degrees Fahrenheit. Chang explains that there are springs for every preference and budget, from public bathhouses that are inexpensive or free to luxury spa resorts. Some facilities have open-air bathing, while others offer indoor pools. You can go all in with a swimsuit or merely dangle your feet in the warm water.
In Taipei, among the best known are the Beitou Hot Springs and the springs within and around Yangmingshan, which is home to dormant and active volcanoes. Chang's favorites are about an hour from Taipei in Jiaoxi: "It's a small town close to the eastern coast," he says. "You can go to the open-air hot springs at the resorts and hotels there, where you will be surrounded by mountains and forests and can see the ocean. It's very beautiful."
Take in 7,000 years of Chinese culture
"We have so many places to go in Taipei," says Catherine Hsieh, the wife of Yen-Shen Hsieh, past governor of District 3480 (which has since split into districts 3481 and 3482). "There's the beach, the mountains — but the National Palace Museum is a treasure."
"You've got all these modern buildings, with beautiful, ancient temples interspersed among them." – Kenneth Schuppert, convention chair and member of the Rotary Club of Decatur, Alabama
The museum contains nearly 700,000 Chinese artifacts dating as far back as 5000 B.C.E. With so many things to see, Hsieh — a member and former president of the museum's docents association — recommends starting with the jade collection, which includes delicate carvings of animals, figurines, vases, and jewelry. Its most famous piece, and arguably the most valued item in the museum, is a priceless depiction of a head of bok choy carved from a single piece of green and white jade and known as the Jadeite Cabbage. (In a city celebrated for its food, it's no surprise that another popular piece in the museum's collection is a rendering of braised pork belly carved from jasper. That one is called the Meat-Shaped Stone.)
The museum's renowned bronzeware collection includes a set of bells from as early as the 13th century B.C.E. and ritual vessels inscribed to commemorate military actions, marriages, and land grants from as far back as the ninth century B.C.E. You can also see the Emperor's Treasure Chests, a collection of items for the exclusive use and entertainment of the imperial family and court; it includes an elaborately carved hollow ivory sphere with other carved spheres nestled within.
The museum also contains paintings, calligraphy, and clothing, and beautiful celadon and Ding ware pottery. Hsieh recommends planning on three hours to see the main attractions. There is an admission fee (about $12), but tours are free and offered in English.
Take time to act like a tourist
Though our Rotaractor and Rotarian tour guides highlighted unexpected destinations, they didn't overlook some of Taipei's better-known sites. Past District 3450 Governor Eric Chin, who lives in Hong Kong but visits Taiwan often, recommends a visit to Lungshan Temple. In a city dotted with temples, he says, "this one is special." Founded in 1738, it's one of Taipei's oldest temples, and it acknowledges various folk deities and three belief systems: Taoism, Buddhism, and Confucianism. In the courtyard, people toss red crescent-shaped pieces of wood as they seek to foretell their futures. ;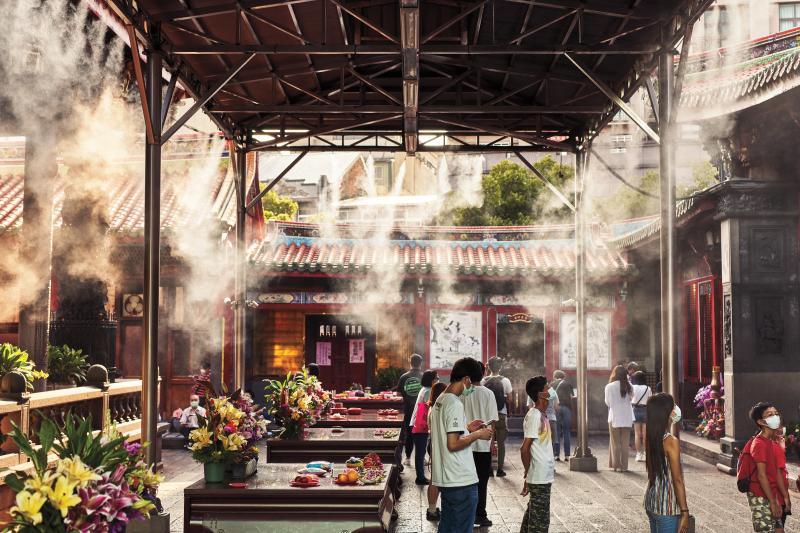 Paul Kuo, past governor of District 3522, says not to miss the Taipei Zoo, especially if you've brought your kids to the convention. His favorite spot is the Formosan animal area, which features animals indigenous to Taiwan. One of them, the Formosan black bear, is a symbol of pride for the Taiwanese. From the zoo, catch the gondola to Maokong, where you can enjoy scenic views and a respite from the city below.
Pauline Leung, secretary general of the Host Organization Committee for the 2021 convention, recommends taking a stroll down Dihua Street, a historic trading district filled with markets, teahouses, art galleries, and traditional architecture. The Xiahai Chenghuang (City God) Temple houses more than 600 statues of Chinese deities.
Vickie Tso recommends the bike paths along the Tamsui and Keelung rivers. Renting a bike is easy: You will find rental kiosks for the Taipei Bike Sharing System, informally known as YouBike, near MRT stations, tourist attractions, and elsewhere throughout the city. Credit cards are accepted — and renting a bike costs a mere 30 cents for 30 minutes.
In many ways, a bicycle is the ideal transport to explore Taipei and its environs. As you pedal around this vibrant city and the verdant countryside, you will see for yourself why those awestruck Portuguese sailors dubbed this unexpected apparition in the South China Sea Ilha Formosa. After five days — or more — in Taipei, feeling the energy of the Rotary Convention and the city, you may even come up with a new name for this island paradise: Isle Be Back.
Eat

Dumplings to doughnuts
A gastronomic tour of Taipei
Night markets: Raucous, energetic, and endless fun, Taipei's night markets are a feast for the eyes and ears as well as the stomach. While food is the main draw, the markets also sell clothing, shoes, souvenirs, and toys, as well as provide entertainment, such as carnival-style attractions, video games, and fortunetelling. The markets open as early as 4 p.m. — and stay open as late as 1 a.m. The destinations mentioned most often by our Rotary tour guides were the Shilin and Raohe night markets.
The food, mostly small dishes, is casual, but that doesn't mean it's not first-rate: Several dozen vendors in Taipei's night markets were recognized by the Michelin Guide in 2020. The lines can be long at the most popular stalls — but that's a sure way to find the best food. Some stands have tables and stools for diners, but most people eat while walking through the market (or take it to go and eat at home). The dumplings, noodles, and buns will be familiar to foreigners, as will other edibles, such as fried foods and foods on sticks — though often with a Taiwanese twist, like flattened fried chicken cutlets as big as your face and skewered fried milk balls. Try the soft, steamed white buns called gua bao, which are filled with braised pork belly; flaky savory scallion pancakes that can also be turned into sandwiches with egg or meat; and oven-baked buns filled with juicy pepper steak. There are fresh fruit juices; papaya milk and other creamy concoctions; and, of course, bubble teas of all flavors filled with chewy tapioca balls. For a sweet ending, look for mochi, a sweet, chewy rice cake that is served boiled or grilled and sometimes with shaved ice.
Paul Kuo's favorite night market food is an oyster omelet, a crispy egg pancake filled with oysters and topped with a sweet and sour sauce. Rotarian and Rotaractor Elyse (Yi-Chun) Lin recommends stinky tofu, a fermented bean curd with a strong smell that is beloved by Taiwanese people. Another unique night market dish favored by locals is called pig blood cake, made of, yes, pig blood and sticky rice that's formed into rectangular shapes, dipped in a pork soy broth, and rolled in peanut flour with cilantro and served on a stick. Lin describes it as a chewy, sticky, salty treat — and her absolute favorite night market delicacy.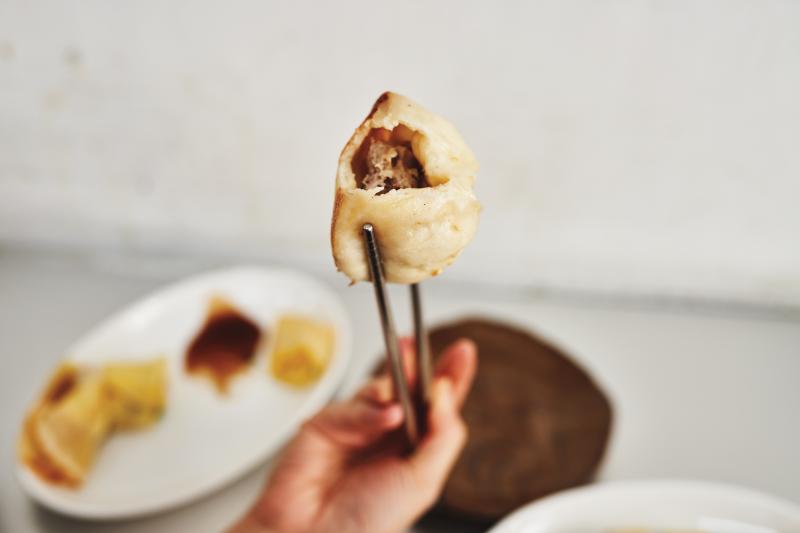 Dumplings: In Taipei, dumplings are everywhere. For the absolute best, Past District 3500 Governor Hong Shue Chen and his wife, Rita, who is also a Rotarian, recommend Din Tai Fung (Taipei has a number of locations, but expect a wait; check wait times at dintaifung.com.tw/eng). It's famous for its xiao long bao, or soup dumplings — when you bite into one, flavorful broth seeps out of the delicate skin. Pork is the most common xiao long bao filling, but Din Tai Fung offers other variations, such as pork and crab roe or green squash and shrimp. The menu features other types of dumplings, pot stickers, and wontons as well, along with steamed buns, noodles, soups, rice dishes, vegetables, and even dessert, such as xiao long bao filled with sweet red bean paste or chocolate. "If you come to Taipei and don't go to Din Tai Fung," says Pauline Leung, "then you haven't really been here."
Hot pot: Sharing food in Taiwan is a bonding experience, and one of the best ways to do this is hot pot — typically an all-you-can-eat affair with hundreds of choices. It starts with a kettle of broth that's kept simmering on burners at the table. Vegetables, thinly sliced meats, seafood, noodles, tofu, and dumplings arrive in separate dishes; diners make their selections and cook them in the broth, creating a flavorful soup. Diners eat straight from the pot, dipping the cooked ingredients into a variety of offerings and garnishes, such as soy sauce, sesame oil, hot sauce, peanut sauce, barbecue sauce, cilantro, and garlic. Many Taiwanese like to add a raw egg. Some restaurants offer individual pots, while others feature a big communal pot, often split in half, with one side for spicy broth and the other for a milder brew. There's a beauty to sharing hot pot. "Even if we did not know each other before, after we share hot pot we become friends," explains Paul Kuo's wife, Cecilia.
Breakfast: Taiwanese breakfasts can range from a sit-down meal with steamed rice and hot soup to coffee and a roll from a bakery. "Our food has so many influences from different Chinese regions, even at breakfast," says Julie Chu. "We have buns or doughnuts from the northern part of China, and rice and porridge from the south." Morning cuisine also shows the influence of the West: You may see pasta with black pepper sauce or even hamburgers on the menu at some breakfast joints. Chu's favorite breakfast is dan bing, a crepe with a thin layer of egg that's served rolled up. "You can get it anywhere, anytime; it's fast, and you can add toppings like tuna, ham, and veggies." Another of her favorites is a baked scallion bun, with the scallions incorporated into the dough or sprinkled on top. Finish breakfast with a cup of lightly sweetened milk tea, served hot or cold. Milk tea was the basis for the first bubble teas, which originated in Taiwan.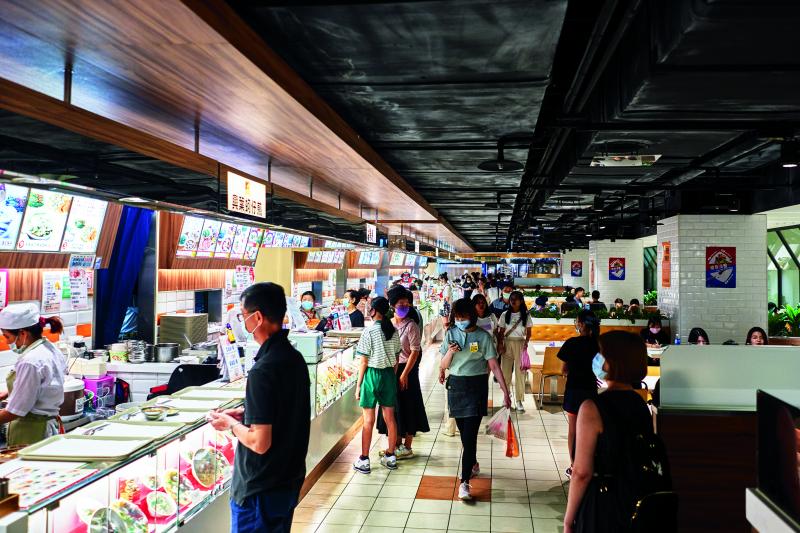 Food courts: That's right: Department store food courts in Taipei are legitimate food destinations, offering groceries, packaged specialty foods, hot meals, and desserts. Leung recommends heading to the Xinyi district, which has a number of high-end shopping malls with excellent food courts (including one in Taipei 101). She also says to check out Sogo, a department store chain popular in Taiwan (the food courts are on the lower level). At the Sogo location in Taipei's Daan district, you can slurp a bowl of ramen, eat your fill of Chinese dim sum, ruin your diet with fancy cakes, or simply stop at a bakery for a bun and coffee or tea.
Convenience store food: Rotaractor Vickie Tso, a French-trained pastry chef and a graduate of the International Culinary Center in New York City, is a big fan of Taiwan's convenience stores. She often pops into a 7-Eleven to buy postage stamps or concert tickets, send and receive packages, and pay her electricity bill. But, she says, it's also a great place to pick up breakfast, lunch, coffee, or a snack. Tso enjoys the savory tea eggs, which have been steeped in a soy sauce and tea mixture. One of her childhood favorites is dried ramen noodles that are broken into pieces, seasoned with a flavor packet, and eaten uncooked, like crunchy chips. For breakfast she often chooses fan tuan — a sticky rice roll traditionally filled with pickled radish and greens, egg, and pork — and mi jiang, a peanut-flavored rice milk.
• This story originally appeared in the November 2020 issue of Rotary magazine.
• A Boston-based writer, Susie L. Ma profiled the Rotary Club of Five Points RiNo in Colorado for the January 2020 issue of the magazine.