That sinking feeling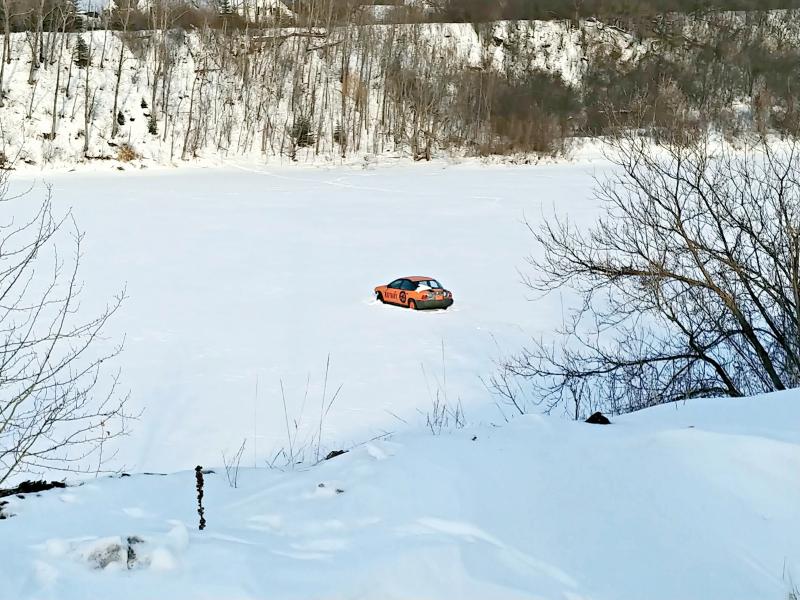 This spring, people in Iron Mountain, in Michigan's Upper Peninsula, were paying close attention to a beat-up 1998 Saturn sitting on the ice in the middle of a frozen lake.
For $10, anyone up for a friendly wager could buy three guesses on the exact date and time when spring would arrive — as determined by the moment that car fell through the melting ice on the East Chapin Pit, a lake created when an old iron mine collapsed.
"It is right on U.S. Highway 2, the main highway in the Upper Peninsula," says Benjamin Wood of the Rotary Club of Iron Mountain-Kingsford. "Everybody who drove through Iron Mountain saw that vehicle." Painted bright orange, the car was hard to miss.
This was the fifth year of the contest, a reboot of one held by local civic groups in the 1940s and '50s. This year, the person with the closest guess received $1,500, while the club netted over $7,000, which will go toward projects including scholarships and the Rotary Youth Exchange program.
The contest got a boost this year when the story was picked up by Michigan news website mlive.com and car aficionado website jalopnik.com.
The same car has been used for five years. Flotation barrels keep the vehicle from sinking completely, and it is attached to a steel cable connected to an anchor on land to make retrieval easy.
"Everybody who drove through Iron Mountain saw that vehicle."
To avoid contaminating the water, the car has been carefully stripped of possible pollutants. Auto tech students at the Dickinson-Iron Career & Technical Education Center in Kingsford made the car safe for a dunk in the water, removing most of its guts — including the transmission, master cylinder, battery, engine, hoses, grease, oils, and even road grime.
All of this is approved and monitored each year by the Michigan Department of Environmental Quality as well as the city of Iron Mountain, which owns the East Chapin Pit.
"We've tried to make sure that we have a fun event that is going to do no harm," Wood says.
The car was donated in 2015 by club member John Koski. "His girlfriend gave him grief about hanging on to this beater after buying a new car," says contest chair Jayna Huotari.
In the old days, the car was attached by a cable to the electric cord of a clock so that the time of the drop could be recorded when the plug was pulled out of the socket. Now, a webcam aimed at the car records the exact date and time of the plunge. This year, that was 8 April, 8:51 a.m.
—Nikki Kallio
This story originally appeared in the July 2019 issue of The Rotarian magazine.