The 2024 Rotary Convention city dazzles with its constant reinvention
By Wen Huang
Rediscover Singapore
In June 1999, a year after I joined the staff of Rotary International, I attended my first convention. It was then that I first witnessed the global power of Rotary and made my first batch of Rotary friends. And it was then that I was introduced to Singapore for a second time.
Join us in Singapore to connect with other Rotary members and discover new opportunities through Rotary.
My first trip to Singapore occurred five years earlier when, as a journalist, I covered the third Europe-East Asia Economic Summit. At that time, Western financial media were referring to Singapore as the 20th century's most successful development story, which meant that the summit lured scores of policymakers, economists, and businesspeople from across Europe and Asia.
Once a British Crown colony which subsequently merged with Malaysia, Singapore broke away and was founded as an independent sovereign nation in 1965. Despite predictions that a string of small islands that lack natural resources to survive, Lee Kwan Yew, who was referred to as the founding father of modern Singapore, turned the tattered outpost of the faded empire into a thriving modern nation. The archipelago of 64 islands that was once plagued by malaria and rife with ethnic conflicts among its Chinese, Malay, and Indian populations, now stands as a gleaming city state, known in the 1990s throughout the world as one of the four Asian Tigers for its robust economic transformation along with Hong Kong, South Korea, and Taiwan.
Having grown up in China, where decades of Mao's draconian rule had impoverished the country, I, along with millions of other Chinese, became enamored of the Singapore model of economic success. My first impression of Singapore in 1994, which will forever be associated with the brightly illuminated skyscrapers that dotted the banks of the Singapore River, confirmed my belief that this was a place of modernity and prosperity.
My return in 1999 for the Rotary International Convention only reinforced that impression. Singapore, like many of its neighbors, was still reeling from the Asian financial crisis of the previous two years. So the arrival of nearly 18,000 business and professional leaders from around the world helped reinvigorate the tourism industry while also signaling the resurging presence of Singapore and eastern Asia.
For me, that feeling of prosperous modernity still prevailed, but in other ways, I had arrived at an entirely different destination. As I explored multicultural Singapore, my senses — especially my tastebuds — exploded with new impressions. I shopped for spices in Little India, visited the majestic Sultan Mosque in Kampong Gelam, savored the famed Hainanese chicken rice in Chinatown. The experience was like a slice of mille crêpe cake, a locally popular dessert whose nine layers of treats and colors blend toward something inscrutably delicious. Finally, I thought, I knew Singapore.
That is until recently, when I watched the 2018 movie Crazy Rich Asians. Partially filmed in Singapore, the romantic comedy displayed breathtaking shots of the country's architectural landmarks, lush gardens, and mouthwatering food. Much to my surprise, many of those scenes were almost unrecognizable to me. I realized that my perceptions of Singapore were frayed and outdated.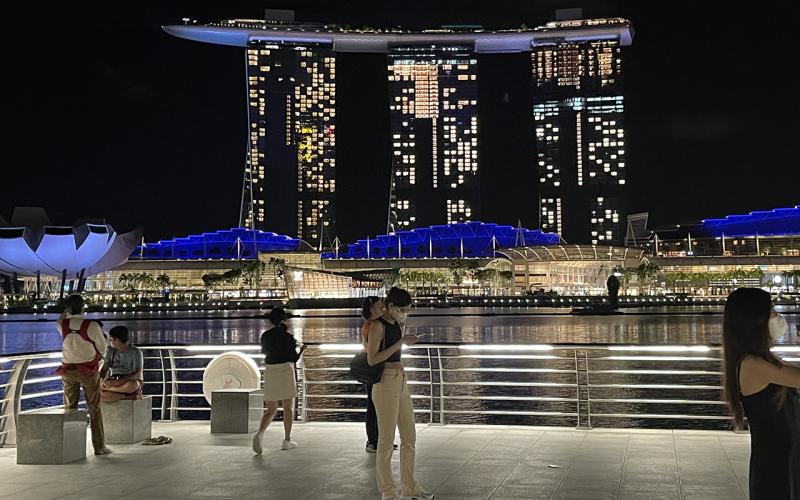 But that is just another aspect of the place, no matter how recently or how often you've traveled there. "One of the secrets of Singapore's success is our ability to keep reinventing what we need to survive and grow," says Joanne Kam, a vice chair of the 2024 Host Organization Committee who served as the 2022-23 governor of District 3310 (Brunei, parts of Malaysia, and Singapore). "Each year and each decade brings new changes. So, the Singapore you see in May 2024 will be very different from what you and others remember."
That message was reiterated at this year's convention in Melbourne when I saw a promotional video at the Singapore booth. "You think you know Singapore?" intoned a deep voice. "Think again."
It was as if the voice were summoning me back — and this July I complied, re-revisiting Singapore in anticipation of the 2024 convention. Next May, thousands of Rotary members will follow in my footsteps, some of whom will be visiting Singapore for the first time. Until then, sit back and imagine that same deep voice enticing you to make that trip as I describe just a few of the delights of this vibrant and dazzlingly modern nation.
A city in nature
Even in July, the sun rises late here — after 7 a.m. I'm newly arrived in Singapore, cruising in a taxi along Orchard Road, an upscale shopping strip. That's when I see it: a 23-story tropical forest sprouting from an ascending stack of open terraces, each one supported by mammoth concrete columns that are themselves festooned in lush green creepers. It's as if sentinels of the equatorial jungle have overcome gravity. I squint my eyes and, from this distance, it's as if I'm looking at a giant block of Chinese script wreathed by nature.
This is the newly opened Pan Pacific Orchard Hotel, recommended to me by the Host Organization Committee. As a smiling front desk agent processes my papers in an open-air lobby, I ask a bellhop to show me the second-floor terrace, which is essentially a mini-tropical forest populated by exotic trees that I couldn't begin to name. Sitting on a stone step, I close my eyes. The sound of a cascading waterfall soothes my tired mind.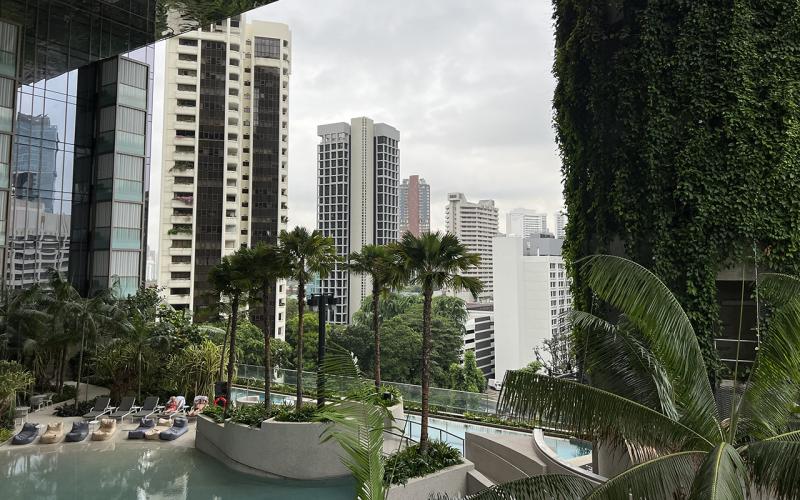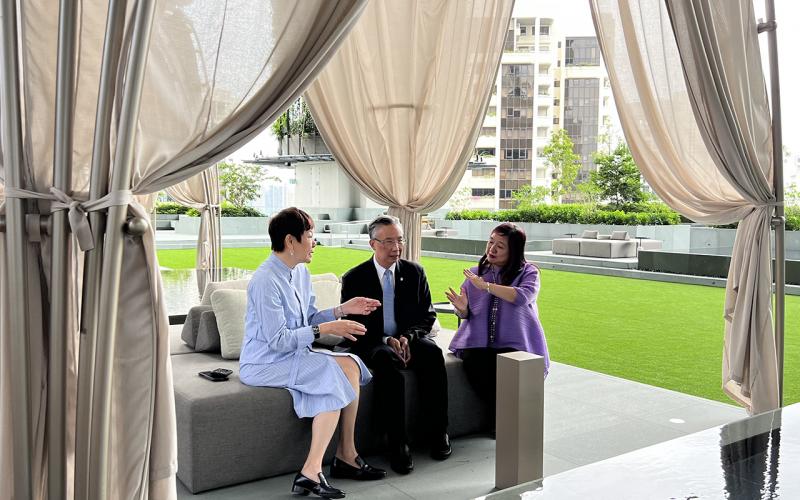 A man's voice startles me awake. "If you go up to the fifth-floor terrace, you will find tropical palm trees encircling a languid lagoon," says the receptionist. "You could relax on a lounge chair beneath a woven canopy of palm fronds."
My reverie on the hotel's Forest Terrace was an appropriate introduction to Singapore, which is rightly known as the Garden City — though Singaporeans prefer to call their metropolis "a city in nature" as they strive to be the world's greenest urban center. More than 40 percent of the country is covered in greenery, be it in the form of nature reserves, parks, gardens — or a rain forest clinging to a skyscraper. The city-state has mandated that all new commercial and residential developments use landscaping such as green roofs, leaf-lined walls, or luxuriant gardens to help curtail the heat island effect found in almost all major cities.
Over breakfast the next day, Peng Sum Choe, a past president of the Rotary Club of Pandan Valley and CEO of Pan Pacific Hotels Group, introduces me to the concept of "biophilia," a term defined by the late naturalist E.O. Wilson as humankind's irresistible urge to affiliate with other forms of life. Choe says biophilic design now permeates Singapore, where nature — greenery — has been artfully integrated into the cityscape.
The pioneering concept of a garden city was the vision of Singapore's first prime minister, Lee Kuan Yew, who became known as the "Chief Gardener." In 1971, his government inaugurated an annual Tree Planting Day on the first Sunday in November, and Choe says that tree planting and other environmental projects have been a priority for Singaporean Rotary members over the past two decades.
And the city is slated to become even greener: The Singapore Green Plan 2030 calls for more than 200 acres of new parks and doubling the annual tree planting rate.
"Each time I return from an overseas trip, I'm grateful to the lush greenery in Singapore," says Choe. "It puts me at ease, bringing me close to nature."
If you want to see this abundant verdancy concentrated in one colorful and futuristic spot, visit the 250-acre Gardens by the Bay, home to a series of natural attractions. Flower Dome, declared the largest glass greenhouse by Guinness World Records, gathers orchids, magnolias, and a multitude of other plants from around the world. Cloud Forest is a tranquil dreamland of unusual flora and breathtaking panoramas, while towering overhead, the forested slopes of Cloud Mountain soar to a height of 115 feet. Is it any wonder that Choe calls Singapore a "beacon" for sustainable tourism?
Where cultures meet
In May, when Rotary leaders gathered at the convention in Melbourne to appear in a Welcome to Singapore video, Ghim Bok Chew presented them with silk scarves adorned with a radiant, multihued orchid called the Vanda Miss Joaquim. Chew, an RI director and the chair of the Host Organization Committee for the 2024 convention, later explained to me that the orchid is named after the woman of Armenian descent who first cultivated the hybrid flower in Singapore more than a century ago. "This orchid is Singapore's national flower and a symbol of our history and national identity," he said, and this particular orchid is an apt symbol of the island country's multicultural heritage.
I get a glimpse of that heritage on my first day in Singapore when Joanne Kam, my Rotary guide and adviser, leads me to Chinatown, a sprawling enclave tucked alongside the city's glittering skyscrapers. Here we see a five-story pavilion-style temple — where a holy relic, one of Buddha's teeth, is on display — a Chinese heritage center, and dozens of Chinese restaurants, including Hawker Chan, a funky diner famous for its soy-sauce chicken rice dish that was once known as the least expensive Michelin-starred meal. Shops along the narrow streets display a colorful array of teas, silk dresses and robes, gold and jade jewelry, medicinal herbs, and porcupine-shaped durians, a sweet-tasting tropical fruit with a notoriously pungent smell.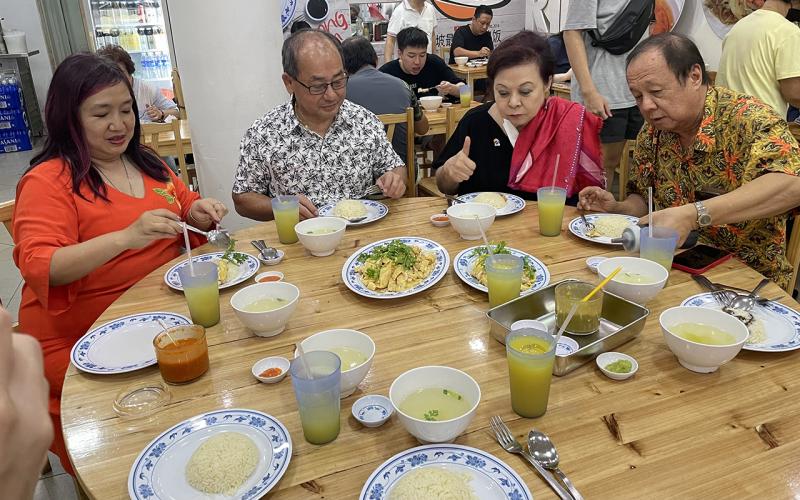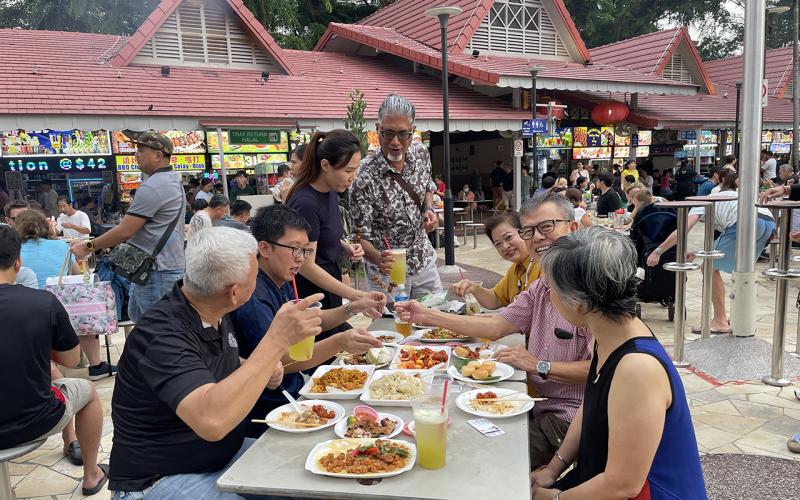 Chew joins us for dim sum at the bustling, Rotarian-owned Yum Cha restaurant and tells me how his grandparents left their ancestral villages in China's southern province of Fujian and journeyed to Singapore for better economic opportunities. While his cousins attended Chinese schools, his parents broke with tradition and sent him to study in English; after graduating from the University of Liverpool, he returned home and, with a degree in computer science, launched a career in information technology and finance.
After our meal, as we make our way through the Saturday throng, Chew points out an imposing green structure, the Jamae (Chulia) Mosque. "There is a Hindu temple down the road," he says. "Different religions coexist peacefully here."
On my third day, Kam accompanies me to Kampong Gelam, a Malay district, where I meet Tengku Indra, a business consultant who has his own family history to share. He is a direct descendant of Hussein Shah, recognized by the British in the early 19th century as the sultan of Singapore. The family eventually lost the title, but its royal heritage lives on in Tengku Indra's name: tengku means "prince" in Malay.
Dressed in a traditional baju melayu outfit, Tengku Indra, the charter president of the Rotary Club of Kampong Gelam, shows me around one of Singapore's oldest urban quarters. As we walk and talk, Tengku Indra gestures toward the golden dome of the Sultan Mosque, which his ancestor had built for his subjects. Streets and bustling byways lined with halal restaurants and specialty stores surround the mosque. Here visitors can find handcrafted jewelry, perfumes, and accessories for the annual Islamic pilgrimage to Mecca. And, as Tengku Indra emphasizes, the neighborhood is also home to Indian and Chinese people, who have set up businesses there.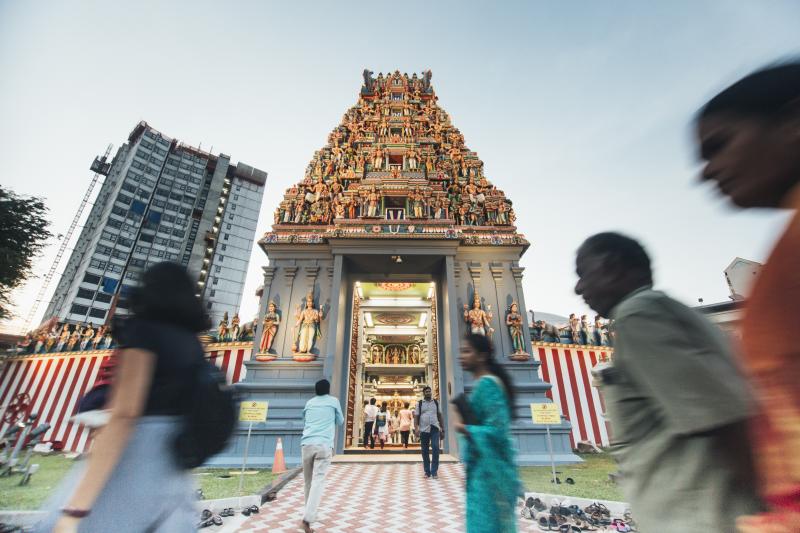 My next stop is Little India, where two other Rotary members, Rajamohan Munisamy and Anil Changaroth, both of Indian descent, await me. Changaroth treats us to a sumptuous meal at Madras New Woodlands, a south Indian restaurant in the center of Little India, where you will find the Corinthian pillars of the Abdul Gafoor Mosque, a 50-foot tall statue of Buddha in the Sakya Muni Buddha Gaya Temple (known as the Temple of a Thousand Lights), and colorful shophouses on Serangoon Road that sell traditional Indian dresses, dried herbs and spices.
Over paratha, an Indian flatbread, and dosa, a thin pancake, Changaroth, the charter president of the Rotary Club of Peace Builders Singapore, informs me of the different types of South Indian food in his flawless Mandarin and English. I sit next to Munisamy, a past district governor and vice chair of the Host Organization Committee. A practicing Hindu, he is married to a Catholic woman of Filipina descent. Their three daughters follow their mother's religion.
"Diversity is very important to us," says Munisamy. "Singapore does not have many natural resources. But we're rich in human resources. We want people of all races, both established immigrants and new arrivals, to live and work together peacefully. That's our valuable asset."
When I characterize Singapore's multicultural model as a melting pot, Kam corrects me. "A melting pot is a society where people blend together to form one basic cultural norm based on the dominant culture," she says. In Singapore, each ethnicity is encouraged to preserve its unique culture and traditions, and appreciate that of others.
And, as Chew told me earlier, "Rotary in Singapore embodies our multicultural society," adding that at a time when racial and ethnic conflicts are roiling many societies, it is his hope that the 2024 convention will enable Singapore — and Rotary — to showcase their unique approach to ethnic and cultural harmony.
Hans Lee, Berlin

• Six conventions

Discover ideas

"The convention is a great opportunity to discover new ideas and meet different people and even partners that you can develop future projects with. It's exciting, inspiring, and full of energy. At the convention, we're also building our future together, Rotary's future. So if you're not coming, you're missing out."

Mamta Jaiswal, Nagpur, India

• Two conventions

See the world

"My husband always says to me, 'Mamta, you want to travel, you want to see the world. Why don't you use the conventions to go around the world?' So, that's what I'm doing. I'm going to Singapore next year. I'm going to Calgary the year after that. And before returning home from Melbourne this year, I went to New Zealand, then Sydney, then back to India."

Maria Vittoria "Mavi" Gargiulo, Salerno, Italy

• Four conventions

Get energized

"I could talk for days about why you should come to the convention, how amazing it is, how energizing it is. And even if you're feeling a bit low about your membership — maybe there is something that you're not liking — coming to a Rotary convention is the best medicine ever. There is so much positivity and you'll make amazing friendships. It's hard to identify just one special moment for me; it's more the emotions that will forever be with you."

Jerald Coughter, Belmont, North Carolina

• Three conventions

Hear life-changing stories

"For work I've been to a million conventions. Rarely do I leave and go, 'Wow. That was amazing.' But my experience at Rotary conventions has always been so uplifting. You're surrounded by thousands of like-minded people. And then there's the learning that happens: You hear from experts. You meet people from all over the world you wouldn't otherwise meet. It has the power to change your life. And the conventions are fun and in interesting places! There's so much going on."