Rotary's network enables rapid humanitarian relief for Ukrainian refugees
By Rotary International
The war in Ukraine is having devastating consequences on civilians as families flee their homes. According to the United Nations, more than 5 million people, most of them women and children, have sought refuge in neighboring countries and across Europe, while about 7 million more people have been displaced within Ukraine.
Rotary and Rotaract clubs in Europe and around the world have taken swift action and are working with members nearby to provide food, water, medical equipment, and shelter for refugees.
Because of our generous donors, The Rotary Foundation has received more than $15 million in contributions that will be prioritized for disaster response grants.
Below are some of the latest projects as of 20 April
Ukrainian Rotary clubs take action
The Rotary Club of Cherkasy purchased and delivered medical supplies and medicine to multiple local hospitals. The club has also organized daily meals for 250 evacuated families from Sumy, Herson, Kharkiv, and Chernihiv.
Some members of the Rotary Club of Kharkiv International have traveled to border countries to help refugees adapt to their new situations. Members are also working, through their project Yellow Help, to evacuate families near war zones.
Club members of the Rotary Club of Kyiv Synergy collected 350 boxes of medical supplies from Italy and distributed them to areas in Kyiv and Sumy.
The Rotary Club of Kyiv-Sophia are preparing and delivering hot meals to residents of Kyiv and Irpen-Bucha. Members have purchased and delivered hygiene products and medicine to young mothers and the elderly.
Members of the Rotary Club of Lviv are unloading and organizing relief aid from European countries, then facilitating delivery to several humanitarian hubs across the country.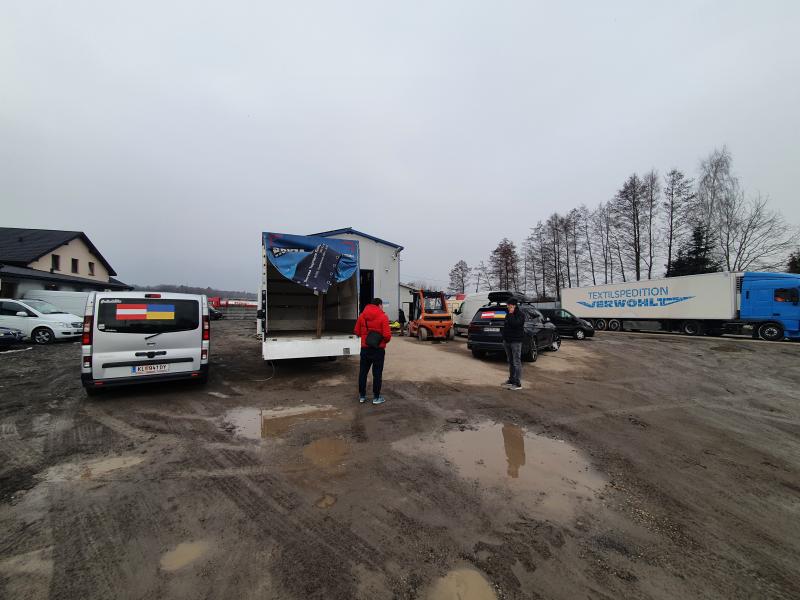 Clubs in Rotary District 2231 (Poland) are using a $50,000 disaster response grant to provide transportation, accommodations, food, and medical assistance for refugees who crossed the border from Ukraine.
Rotary District 2240 in the Czech Republic is purchasing $50,000 worth of sleeping bags, medicine, food, and defibrillators, EKGs, and oxygen concentrators to victims.
District governors in Germany created a national task force to coordinate member initiatives and relief efforts on an online platform. A liaison office for government agencies and nongovernmental organizations has been established in Berlin.
Rotary clubs throughout France have mobilized to collect and distribute necessities to refugees. District governors are coordinating donations from French clubs to help Rotary clubs in Ukraine as well as to assist refugees traveling through Poland and Romania or taking refuge in those countries. The needs are determined by the France-Ukraine, France-Poland, and France-Romania-Moldova intercountry committees.
District 1910 in Austria is using a $25,000 disaster response grant to provide accommodations, baby supplies, medicine, hygiene materials, psychological care, food, and appliances to Ukrainian refugees in Austria.
Rotaract Europe
The European Rotaract Information Centre, a multidistrict information organization that serves Rotaractors all over Europe, created a United for Peace site that compiles information for refugees and volunteers.
The site offers information about free rail, bus, and air transportation available to refugees and lists details about what's needed and how to help at specific national borders.
It also has fundraising details for hospitals in the western Ukraine city of Lviv, as well as for clubs that are helping in various places and for other organizations in the region.
The site lets Rotaractors coordinate shelter for refugees stranded at the border. Volunteer hosts can sign up through an online form and specify how many people they can house and for how long. Begun as an initiative to help fellow Rotary members leaving Ukraine, it's now being used by Rotaract and Rotary members all over Europe to offer help.
A tool on the site links a demand for goods with available supplies. It was created within 48 hours after a team of 60 members from 10 countries met by videoconference about how to meet the most urgent needs.
Ukraine
Ukraine has 62 Rotary clubs and six satellite clubs with about 1,100 members, and 24 Rotaract clubs with more than 300 members.
District 2232 (Ukraine and Belarus) formed a committee to help people affected by the crisis. It has launched an appeal to Rotary members worldwide for funds to provide basic necessities.
The city of Lviv has had an influx of people displaced from other cities around Ukraine. The Rotary Club of Lviv International, working with local authorities and major hospitals, created an online spreadsheet of relief items that can be accessed by people who want to help. Members arrange for the donated items to be delivered to hospitals and coordinate storage with local warehouses.
Poland
Poland has taken in more than a million refugees, and Rotary clubs all over the country created a central account for contributions.
The Rotary Club of Olsztyn is collecting and managing donations for more than 150 Ukrainians who are staying at Ostróda Camp, a conference and recreation center. Most of the occupants are unaccompanied children whose parents stayed in Ukraine. Four cars full of supplies including food, clothes, toiletries, and toys were donated hours after the center began accepting refugees.
Members of the Rotary Club of Zamosc worked with a member of the Rotary Club of Wolsztyn, who owns a medical supply distribution company, to coordinate a partnership with other organizations to collect supplies and equipment.
The Rotary Club of Gdansk Centrum is providing accommodations for four refugee families, and members who own businesses are offering them work.
Other countries that border Ukraine
The Rotary Club of Kisvárda, Hungary, is coordinating contributions and mobilizing members to donate necessities and deliver the items to where they're needed.
Rotary members in Romania and Moldova have created a central fund for contributions and set up WhatsApp groups that organize food donations and coordinate shelter for refugees.
In Slovakia and the Czech Republic, clubs have partnered with a railway and cargo company to offer transportation to nearly 2,300 refugees.
Kim Widlicki and Claudia Brunner contributed to this article.
Follow updates on how Rotary members are providing humanitarian relief on Twitter, Facebook, Instagram, and LinkedIn. Check back for updates on Rotary.org and My Rotary.