Combating polio around the globe
Rotary members use creative approaches in the fight to end polio
As the fight against polio unites communities around the world, Rotary members are using time-tested methods and attention-grabbing new ideas to raise awareness, funds, and support. From Europe to Africa, Asia to the Americas, Rotary members remain committed to eradicating the disease forever.
Germany to Turkey and back again: A trip to end polio
Bashar Asfour, a member of the Rotary Club of Tbilisi Ambassador, Georgia, embarked on a European tour in a Volkswagen bus, starting in Berlin on 31 August. He aims to raise awareness, gather donations, and inspire new volunteers to fight polio. With a route spanning 16 countries and meetings in 38 cities, his journey culminates in Chemnitz, Germany, on 20 and 21 October to coincide with the main Rotary event for World Polio Day in the region. Learn more about his journey.
Brazil: Together Against Polio campaign
The Rotary clubs of Brazil are using the Together Against Polio campaign to combat the disease and raise awareness about vaccination. The campaign includes billboards, leaflets, social media graphics, and a website featuring verified information from sources like the World Health Organization, the Pan American Health Organization, and the Global Polio Eradication Initiative. Through their extensive network, clubs are distributing free campaign materials, spreading accurate information, and encouraging polio vaccination across the nation.
Madagascar: An urban run for polio awareness
The Rotary Club of Antananarivo-Mahamasina organized the sixth running of the Urban Trail, uniting clubs in Madagascar's capital. With more than 4,000 participants on 7-km and 14-km (4.3-mile and 8.7-mile) routes, this event coincided with African Vaccination Week. The initiative, in partnership with UNICEF, WHO, and others, aimed to raise awareness about the PolioPlus program and the importance of vaccination.
France: T-Rex Race with fun and purpose
At the T-Rex Race in Fréjus, France, participants wear tyrannosaurus rex costumes and race to raise awareness and funds for polio eradication. Organized by District 1730, this event on 21-22 October takes place alongside the Fréjus International Air Festival. It's a creative way to get people's attention for a noble cause, embodying Rotary's dedication to a polio-free world. Learn more about the race.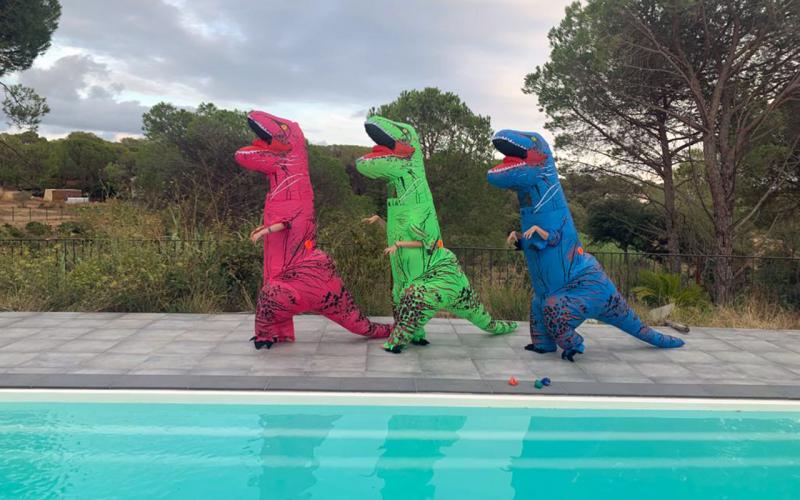 Colombia: El Zoo del Amor brings comfort to terminally ill children
Rotarians Sonia Uribe and Alberto Londoño launched El Zoo del Amor to provide comfort to terminally ill children. Stuffed animals like Ana the giraffe and Lucas the tiger offer solace, each wearing a shirt adorned with the Rotary logo. Rotarians also carry these animals on their global travels, capturing photos against iconic backdrops, which sparks smiles and more support. The project has raised about US$260,000 that will be spent on polio eradication efforts and vaccinations for more than 76,000 children, nurturing children's lives and a polio-free world.
Philippines: Culinary collaboration for a cause
Rotary clubs in the Philippines united for a dinner event to raise funds for the End Polio Now campaign. Over two days, renowned chefs prepared Dabawenyo and Ilonggo dishes, supporting polio eradication while celebrating fine dining. The clubs plan to repeat the event and are exploring other collaborative efforts to support polio eradication .
Korea: Gugak concert raises US$12,000
On the Korean island of Jeju, Rotary members in District 3662 and the Sehyang Orchestra organized a concert of traditional gugak music. This concert was a rare treat for Jeju residents, who have limited access to such events. It was attended by 400 people and raised 16 million won (about US$12,000) for the PolioPlus Fund.
Japan: Chiba's parade of unity
Rotary members in Japan's Chiba prefecture organized a vibrant parade featuring a mikoshi, a portable shrine. It coincided with the Oyako Sandai Festival, fusing festivity and purpose to raise awareness and hope for a polio-free world. Draped in End Polio Now shirts and festival costumes, the Rotary members made a dramatic impression.
India: Italian Rotarians take part in polio vaccination
Italian Rotarians and their friends from District 2080 worked on a crucial vaccination campaign in Uttar Pradesh, India. During the campaign, part of the National Immunization Day initiative, the team collaborated with local frontline health workers. The effort included significant participation from women in the region. The Rotary members have consistently supported global polio vaccination efforts and are enthusiastic about sharing their stories to generate more support.
- 24 October 2023
Rotary clubs and members around the globe are amplifying their efforts to create a polio-free world, one initiative at a time. Tell us how your club is helping by registering your World Polio Day action.