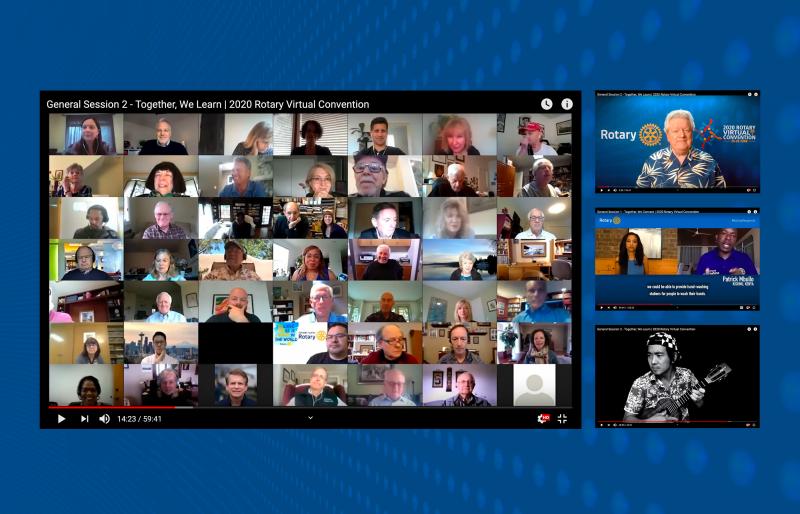 Rotary's first virtual convention inspires members to innovate and stay connected
Rotary's first-ever virtual convention attracted more than 60,000 registrants and 175,000 viewers during its weeklong program. The robust participation shows that Rotary members are finding ways to experience fellowship and fun, key parts of Rotary's annual international convention, despite the COVID-19 pandemic that forced the cancellation of the in-person convention planned for Honolulu, Hawaii, USA, this year.
The first general session was 20 June. Virtual attendees made nearly 19,000 chat comments during the 75-minute session, showing that members used the opportunity to engage and stay connected with each other.
RI President Mark Daniel Maloney acknowledged that canceling the convention in Honolulu was a difficult decision but said he was inspired by how members worldwide have stayed connected, adapted to their changing circumstances, and helped those in need during the crisis.
Maloney said that unusual times have forced Rotary to adapt and look for different ways to grow Rotary.
"Now we are experiencing in real time how important it is to create new club experiences," he said.
Maloney also said, "We had hoped to hold the most environmentally friendly convention in Rotary history [in Honolulu]. Guess what? We succeeded. We are holding a Rotary Convention like no other, with no air travel, no hotel rooms, leaving a remarkably small carbon footprint."
We all have a better understanding of growing Rotary by extending our reach beyond regular meetings.

— RI President Mark Maloney

In a reflection of that fact that the environment is increasingly important cause to Rotary's members, just after the convention, Rotary announced that it had adopted supporting the environment as one of its areas of focus.
He added that, at the beginning of his term a year ago, Rotary was promoting the importance of increasing our ability to adapt, one of the goals of Rotary's strategic plan, known as the Action Plan. "We are putting that plan into action out of necessity," Maloney said. "We all have a better understanding of growing Rotary by extending our reach beyond regular meetings."
In addition to Maloney, a number of world leaders and partner organizations spoke about how we are all coming together to help each other through the pandemic. In a video address, United Nations Secretary-General António Guterres said we need to work together to find solutions to the problems that are weakening our societies.
"Your [Rotary's] efforts have made a significant difference — in eradicating polio, in strengthening communities around the globe, in alleviating the suffering of vulnerable populations, and in building a safer, healthier, and more peaceful world," Guterres said.
A panel of global health experts also discussed how the infrastructure that Rotary and its partners use for polio eradication has helped communities tackle the needs that have emerged from the COVID-19 pandemic.
Dr. Christopher Elias, president of the Global Development Division of the Bill & Melinda Gates Foundation, said the polio eradication effort has incredible assets, including laboratory testing capabilities, surveillance, and hundreds of thousands of health workers.
"In pretty much every country where the polio eradication initiative is active, which is over 50 countries, those assets have been dedicated to the COVID-19 response," Elias said. "The world is benefiting, particularly in the poorest countries where we've been chasing down the last cases of polio; we're greatly benefitting from the infrastructure that the polio initiative has built over the last three decades."
Panelists included Henrietta H. Fore, executive director of UNICEF; Rebecca Martin, director of the Center for Global Health at the U.S. Centers for Disease Control and Prevention; and Dr. Bruce Aylward, senior adviser to the director-general at the World Health Organization.
Emmy Award-winning television journalist Alisha Davis introduced a video collage of Rotary members around the world taking action against COVID-19 in their communities. She also interviewed members on how they're adapting to meeting online.
RI President-elect Holger Knaack, who became Rotary's president on 1 July, said that clubs must continue to respond and innovate during these uncertain times.
"[Responding and adapting] brings many new opportunities for us, to innovate and to learn from our experiences," Knaack said. "Let us seize this moment and value it for what it is, the opportunity for Rotary to build on what we've learned, to embrace this new reality, to embrace new faces, to find new and better ways to shine and to have a continuing impact on the world."
---
Watch the convention
Virtual breakout sessions covered topics like how to engage members online, how to plan events that are better for the environment, growing Rotary with new club types, using digital trends to engage with millennials, and others.
Entertainment included special performances from Australian pop-opera quartet, ARIA, and Hawaiian ukulele virtuoso, Jake Shimabukuro.
More than 5,000 people participated in Rotary's Walking Challenge, with over 800 walkers reaching the 50,000 steps. The top three participants won a pair of complimentary registrations for the 2021 Rotary International Convention in Taipei, Taiwan, and tickets to the House of Friendship there. They are:
Tsegamlak Tsigie, of the Rotaract Club of Mella, Ethiopia
Mary Zongolowicz, of the Rotary Club of Sun City, Arizona, USA
Wendy Kissel, of the Rotary Club of Middletown, Ohio, USA
Online donations to The Rotary Foundation increased by 63 percent during the convention. The increase is also due to Rotary's annual year-end appeal and a boost in giving that is typical in June, as we approach the end of the fiscal year.
Breakout sessions will continue into July to help members start the Rotary year strong.
You can experience the entire virtual convention online whenever you want to.
Watch:
Explore all of the informative breakout sessions that have already taken place. Visit our Learning Center to download the slide presentations and handouts.
Participate in more breakout sessions still to come in July.
Learn about the latest in Rotaract and Rotary Youth Exchange by watching their postconvention events.
Visit our Virtual House of Friendship, open 24 hours a day through 31 July.
Register now and save for the 2021 Rotary International Convention in Taipei, 12-16 June.
Speeches and reports