Rotary projects around the globe
April 2023
By Brad Webber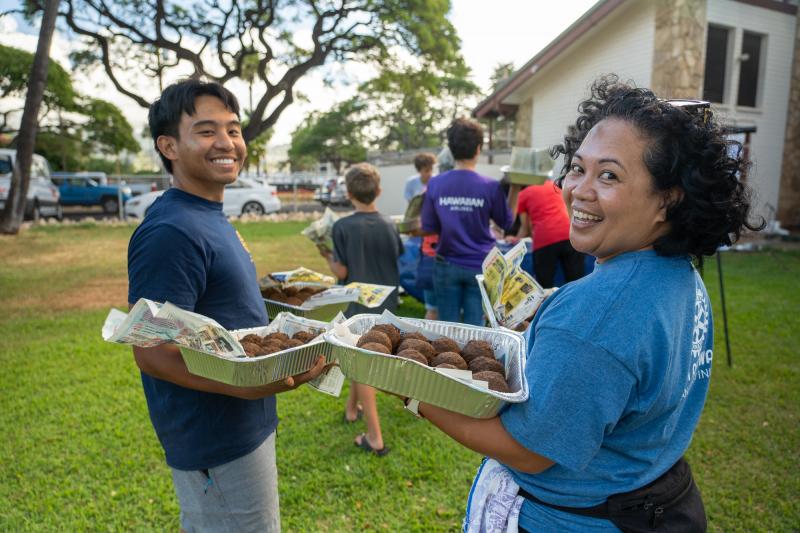 United States
Members of the Rotary Club of Kaka'ako Eco, Hawaii, tossed 5,000 mud balls filled with beneficial organisms into the Ala Wai Canal in Waikiki as part of a rehabilitation effort to make the waterway fishable and swimmable. The healthy bacteria in the genki balls — made with soil, molasses, rice bran, and water — digest and oxygenate sludge at the bottom of the canal (genki means healthy in Japanese). In March 2022, more than 200 volunteers, including club members and friends, made the balls, advised by the Genki Ala Wai Project. Three weeks later, they threw the fermented genki balls into the waterway. Donors paid $5 per ball to defray some of the cost. "A lot of kids came out and we had canoes come through the canal to help throw the balls," says Club President Jenny Do. "We blew the air horn and then hundreds of balls just went into the Ala Wai Canal."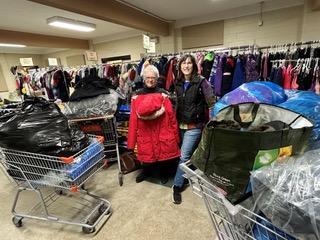 Canada
Guelph, Ontario, is one of 25 Canadian municipalities to sign a pledge with the United Nations refugee agency, UNHCR, to welcome people who have fled countries such as Afghanistan, Syria, and Ukraine. In December, the Rotary Club of Guelph Trillium launched a drive to collect winter clothing donations for refugees. "People were so generous," says Club President Anne Day. The club placed a bin at a mall, and donors loaded it up with more than 70 coats, 109 hats, and 52 scarves — many of them with the price tags still attached. The club also teamed up with appliance company Danby to collect furniture and household equipment for the newcomers.
15.00

-20 tons

Trash washing up every year on a stretch of shoreline on Hawaii's Big Island
Over

1.00

million

Refugees welcomed by Canada since 1980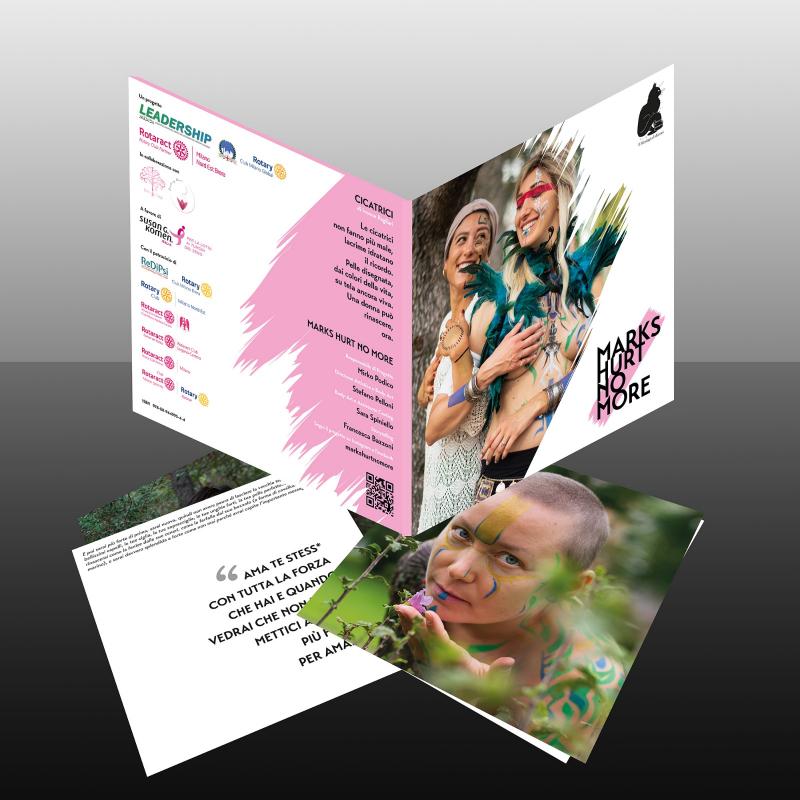 Italy
The Rotaract Club of Milano Nord Est Brera collaborated with an art publisher to produce a book of photography featuring women who have had breast cancer surgery to put a face to the fight against the disease. "With body painting they show that the scars have been overcome while remaining part of their history," says club member Stefano Mercuri. "The project was aimed at them rediscovering the beauty that comes from art, even starting from a scar." The club worked with the artist Stefano Pelloni, whose style is based on tribal body painting, and Il Randagio Edizioni, a book company that uses environmentally friendly materials. The club printed a limited-edition run of 500 books and is selling them to raise funds for the Italian branch of the Susan G. Komen Breast Cancer Foundation.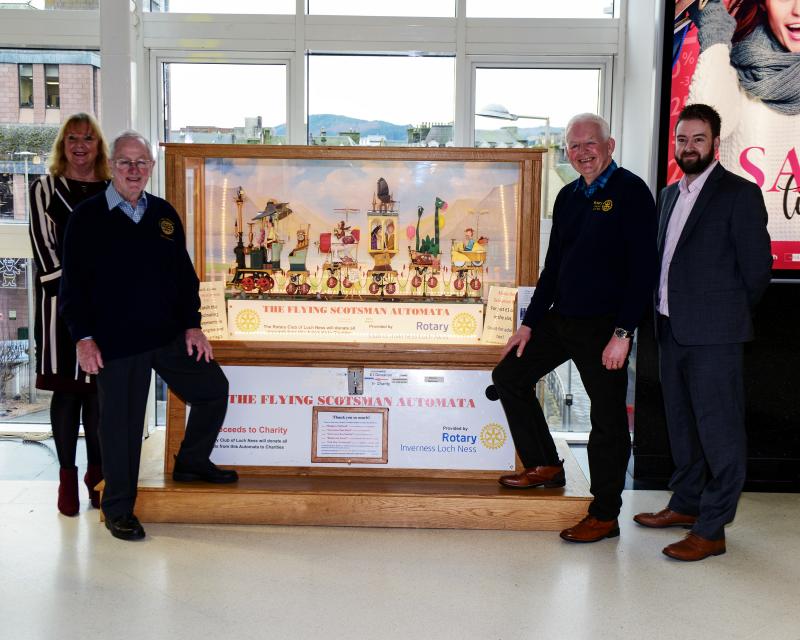 United Kingdom
One coin at a time, a whimsical contraption celebrates a legendary Scottish locomotive while raising thousands of dollars for charity. Ken Wilson, a past president of the Rotary Club of Inverness Loch Ness, led the effort to commission and install the Flying Scotsman Automata in a local shopping center in 2016. A contribution of about $1 activates the complex mechanism, which depicts a kilted train conductor in an engine on a track trailed by bobbing carriages. Inside are characters that include a couple knitting and drinking tea, a pilot flying a plane, and Nessie, of course, whose tail spins to the musical accompaniment. The club has maintained the device and collected about $27,000, allowing it to disburse more than $350 in grants each month. "It has enabled Rotary Loch Ness to help nearly 60 local charities," says the mall's former manager, Jackie Cuddy, "which is amazing."
55.00

,700

Italians diagnosed with breast cancer in 2022
565.00

AD

First recorded sighting of a purported monster in Loch Ness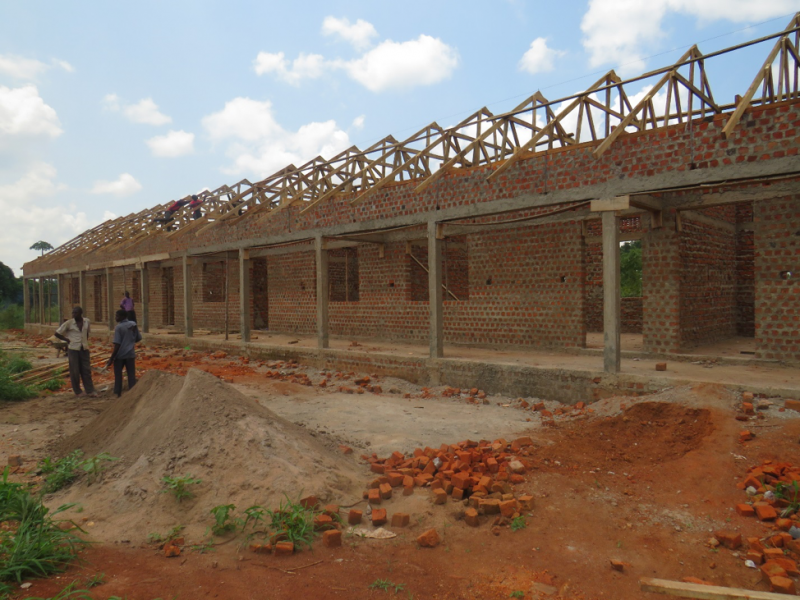 Uganda
When the Rotary Club of Malta constructed its second primary school in Uganda, it made sure to consider the needs of menstruating girls in the design of washroom facilities. "Very often, girls are embarrassed to attend school due to the lack of these facilities, and their attendance, and therefore education, suffers," says John de Giorgio, club member and past governor of District 2110. The construction of the school in Luwero District was carried out in partnership with the Rotary Club of Bwebajja, which "played an active part in the supervision of the project during construction, carrying out many on-site visits," de Giorgio says. The Malta club spent about $60,000 on the project, and the Maltese government covered more than half the cost of the $140,000 school. In 2014, the club built another school on the Lake Victoria island of Nkose.
This story originally appeared in the April 2023 issue of Rotary magazine.