Rotary helps fuel a brigade of mobile clinics that deliver free health care to rural Mexico
By Daniela Garcia Produced by Kate Benzschawel
As Eustasio Rodríguez Rosales's vision started to fade, so did his job prospects.
If he couldn't see, he couldn't work. Eyeglasses would easily solve the problem, but in the mountainous region of northeastern Mexico where Rosales lives, the nearest clinic is about 150 miles away.
"Here we lack many services, and the underprivileged and humble lack the means or economic resources to go where the service is provided," Rosales says. "You have Seguro Popular, which is the (health insurance) they give poor people. But you ask for a consultation, and they give you an appointment for a month from now. The disease does not wait."
Enter the health brigade: five mobile health clinics that bring free medical, vision, and dental care to isolated communities in the Sierra Madre Oriental mountain range.
On a hot day in April, Rosales joined patients from 15 surrounding communities who traveled to General Zaragoza, Nuevo Leon, to receive treatment, including specialized services such as pediatric and gynecological care.
The health brigade is a program of Cáritas de Monterrey, a branch of the Catholic humanitarian organization Cáritas International. The brigade has delivered free health care to underserved areas since 1985 and today it serves 58 suburban and 22 rural communities in Nuevo León, Coahuila, and Tamaulipas, as well as five prisons in Monterrey.
Besides examining and caring for patients, the traveling clinics distribute medicine, conduct preventive screenings, and give nutritional advice. When the brigade encounters patients it can't treat, it refers them to hospitals or clinics at low or no cost to the patients, through an agreement with the Ministry of Health, Seguro Popular, and Cáritas de Monterrey's health network. In 2016, the health brigade benefited 20,000 people.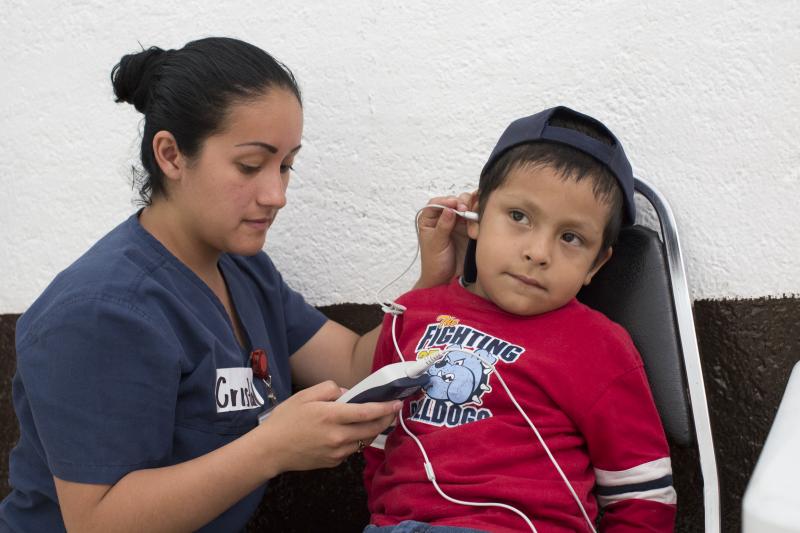 Rotary extends clinics' reach
Gerardo Molina, a member of the Rotary Club of San Nicolás de Los Garza, Nuevo León, says his club was looking for sustainable projects and opportunities to partner with organizations to make a greater impact as part of its strategic plan.
After assessing rural communities throughout Nuevo León and the neighboring states of Coahuila and Tamaulipas, the club determined that health care was a critical issue. While Mexico has made significant strides in providing equal access to health insurance through Seguro Popular, its health care system struggles to provide equal and consistent access to services, particularly for the poor.
Working with the Rotary Club of Austin, Texas, USA, the club received a global grant for $50,000 from The Rotary Foundation. The money was used to add more units to the Cáritas fleet and equip them with hearing, vision, and dental supplies.
"Thanks to The Rotary Foundation, we are able to provide a significant amount of resources that will benefit the overall health of the community," says Molina. The Rotary Foundation has funded 41 mobile clinic projects in more than 20 countries since 2013.
Raquel Zapata Garza, the health brigade coordinator at Cáritas, says its partnership with Rotary has extended its reach.
"The support we've received from Rotary has been extraordinary," she says. "They've equipped us with two medical teams: one for blindness detection and prevention, and one for deafness prevention. This will help us better approach these health issues and help more people."
Club members regularly volunteer to train medical interns for mobile clinic trips, as well as volunteer for the trips themselves. As an otologist, Molina performs hearing tests and screenings while traveling with the brigade. The club regularly conducts community assessments to make sure the program treats the most vulnerable and delivers necessary health care and services.
"When we develop and implement a medical brigade," Molina says, "or serve the community by providing for maternal and child health, economic development, or to promote peace and understanding in the communities, this enriches us and opens our eyes to the potential that Rotarians around the world have."
As Rosales finishes his screening and is given an eyeglass prescription, he shares his appreciation for the mobile clinic: "It is very good that there are still humanitarian people who worry about the rest of us."
Caritas mobile health clinics have served
21571.00

people

22.00

rural communities

58.00

suburban communities