Our world
Constructive engagement
When contractor Douglas Gardner, a member of the Rotary Club of Chandler-Horizon in Arizona, heard about the flooding in Texas caused by Hurricane Harvey in August 2017, he wanted to help people rebuild. He contacted Amy Hinchman of the Rotary Club of The Woodlands, Texas, and they developed a plan.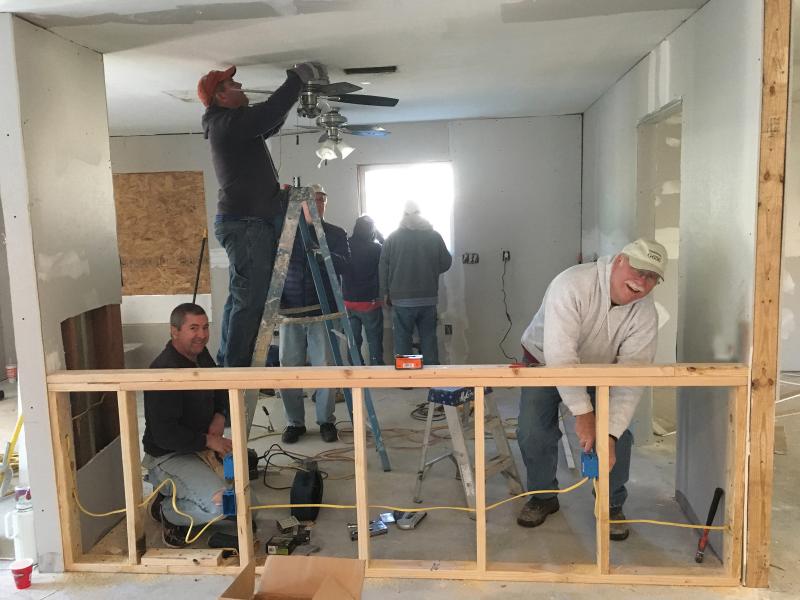 They put together a furniture drive for people whose homes had been flooded. Then, through Woodlands connections, they learned about Terrie Stelter, a veteran who had volunteered after Hurricane Katrina. Stelter — who is a full-time caregiver to her mother; to her sister, who has multiple sclerosis; and to a five-year-old daughter — had seen water rise to waist level in her house, rendering it uninhabitable.
Gardner and Hinchman decided to rebuild Stelter's home and raised $43,000 from their clubs as well as the Rotary clubs of Tempe South, Arizona, and Lakeway/Lake Travis, Texas.
The two met for the first time in November 2017, when Gardner flew to Houston to survey Stelter's house and figure out what materials would be needed. He came up with a big shopping list: 2,100 square feet of flooring; 800 feet of baseboard and door trim; two new toilets; two bathroom sinks; kitchen cabinets; a stove and microwave; dozens of sheets of wallboard; exterior siding; and new furniture.
In January, Gardner and four fellow Rotarians from Arizona traveled to Texas, where they were joined by Woodlands Rotarians and their friends. For 11 days, the building site hummed with activity. "The only time I took off was for church on Sunday morning," says Gardner. "There were volunteers on site every day, and we just had a great time. The camaraderie of the two clubs was so terrific."
The volunteers worked through temperatures ranging from the teens to the 80s — "we went from gloves and earmuffs to sweating through our T-shirts," Hinchman says — and though some lacked experience, none lacked enthusiasm.
"Our club president came to help," Hinchman says. "He said, 'I'm not good at anything.' So we had him paint closets, where mistakes don't count. And for those who didn't have the time or the skills to volunteer, we set up a registry at Bed Bath & Beyond so they could give that way. Things like this make me proud to be part of Rotary.
— Hank Sartin
• Read more stories from The Rotarian