Hunted for body parts and isolated by fear, Tanzanians with albinism find safe futures with help of Rotary, Sister Martha
By Jonathan W. Rosen Produced by Miriam Doan
It's the peak of the afternoon in Nyamizeze, Tanzania, and Martha Mganga is in her element.
Better known as Sister Martha, the 54-year-old Rotary community advocate is one of her country's most prolific campaigners for the rights of people with albinism, the often-misunderstood, inherited condition characterized by abnormally light skin, eyes, and hair, limited vision, and extreme sensitivity to the sun.
Mganga, an albino herself, has spent three decades helping those with the condition get an education, protect themselves from harmful ultraviolet rays, and fight pervasive myths and stigmas, including false beliefs, propagated by rogue witch doctors, that albino body parts can bring good luck or fortune.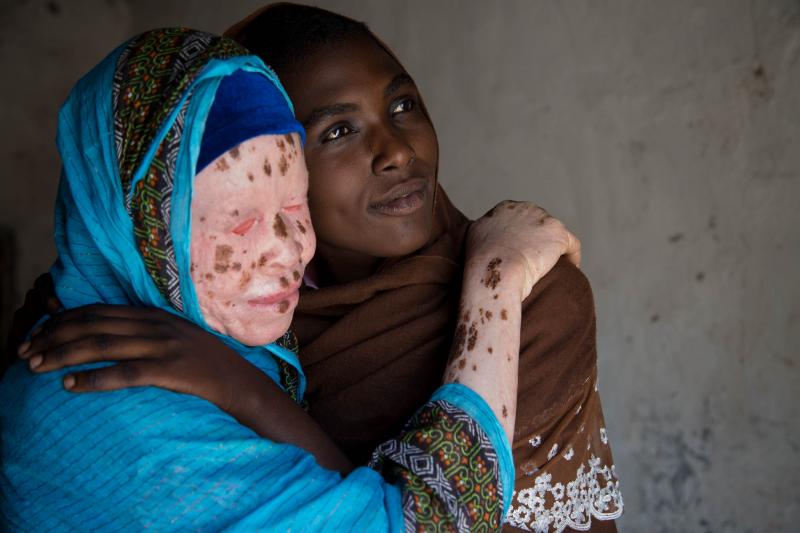 Over the last decade, these superstitions have led to a wave of grisly albino killings, dismemberments, and even grave robberies. At least 76 Tanzanian albinos have been murdered; 72 others have survived attacks, often with severe mutilations.
On this day, Mganga is part of a team of facilitators taking part in a Rotary-supported community workshop, convened under a plastic tarp with a small group of elders from this village of about 10,000.
Already, multiple colleagues have addressed those in attendance: mostly male civic and religious leaders, dressed in fraying button-down shirts, who are joined by Nyamizeze's two albino residents, Happiness Sebastian, 24, and her infant daughter, Keflin.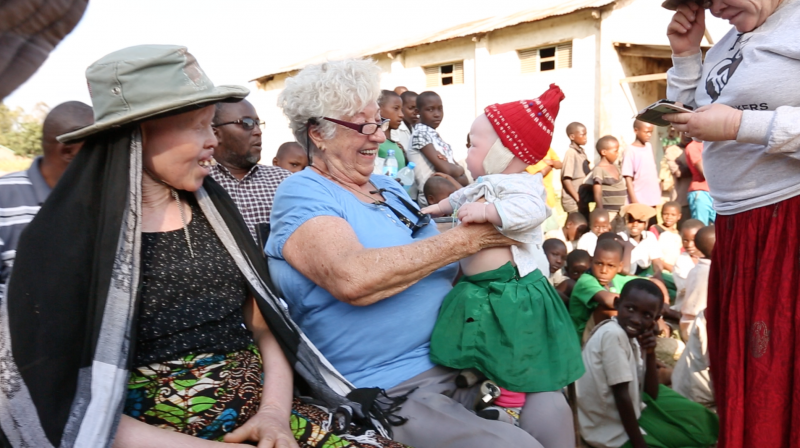 The discussion, meant to educate locals on albinism's causes, debunk its many stigmas, and promote the well-being of the albino community, has already touched on the condition's genetics, the recent attacks, and the many dehumanizing myths.
Albinism is a curse brought on by evil spirits, one villager says he was taught as a child. It's the result of an African woman sleeping with a white man, says another. "Albinos do not die," says a third. "They simply disappear."
Mganga, speaking toward the end of the session, saves her words for what she believes is the day's most critical message.
For all the horrors of the killings, she tells the group, albinos face an even greater danger from the sun. Because albinos have low levels of melanin, the pigment that gives skin, hair, and eyes their color, they lack adequate protection from the sun's ultraviolet rays, a reality that is often deadly in an equatorial country like Tanzania.
With many people unaware of proper protection measures, skin cancer rates are alarmingly high. According to Under the Same Sun, a Canadian group that promotes the well-being of albinos around the world, nearly all albinos in Tanzania develop dangerous precancerous lesions by age 20 and many die before age 40. Although life expectancy is on the rise because of increased cancer awareness and better access to treatment, albinos living in remote areas often know little of the sun's dangers.
Mganga, therefore, lectures the group on the need for those with the condition to continually seek out shade, particularly when the sun's rays are brightest, and cover up as well as possible — advice that is news to Sebastian, who sits with her legs and arms bare. Leading by example, Mganga shows off her own outfit: a long-sleeved shirt that covers her neck and shoulders, an ankle-length skirt, and a Rotary-emblazoned bucket hat protecting her face and head.
"The sun is our biggest enemy," she says before the discussion gives way to a performance by local dancers and an educational video that is screened for the entire village. "But there's no reason so many of us should be dying."
Superstitions vs. science
For all the myths, the science of albinism is actually simple. People with the condition are born with a mutation to one of several genes involved in the production of melanin.
33000.00

+

people with albinism in Tanzania

76.00

Tanzanians with albinism have been murdered since 2000

72.00

Tanzanians with albinism have survived attacks since 2000
Oculocutaneous albinism, which affects the skin, eyes, and hair (as opposed to ocular albinism, which affects only the eyes), is inherited in an autosomal recessive pattern, which means both copies of the gene must have mutations and both parents of an albino must be carriers. If a non-albino mother and father both have one mutated copy, the likelihood of albinism in a given child will be 25 percent.
Globally, oculocutaneous albinism affects roughly 1 in 20,000 people. In many parts of Africa, though, the prevalence is higher.
Wisconsin-based geneticist Murray Brilliant, one of the world's leading albinism experts, estimates that 1 in 1,400 people in Tanzania have the condition and that 1 in 19 are carriers. Most albinos in the country, his research has found, can trace their mutation back 2,500 years to a common ancestor.
Despite their numbers, Tanzania's albinos have long faced an onslaught of stigma.
For generations, parents would routinely kill albino babies at birth, opting for a quick act of brutality over a lifetime of shame and misfortune they believed an albino child would bring upon their family.
As Christianity gradually spread to the country's interior, these practices began to dissipate, but the myths and discrimination remained.
Mganga, who is the first albino child in a family of non-albino parents, recalls a childhood of isolation.
What causes albinism?
Albinism is passed from parents to children through genes. There are two types:
Oculocutaneous albinism: Decreased pigment in the eyes, hair, and skin.
Ocular albinism: Decreased pigment in the eyes.
Neighbors would call her family "cursed," and fellow students kept their distance. One teacher, though aware of her limited vision — the result of reduced pigmentation in the retina and iris — made her sit at the back of the class, which resulted in her failing out of primary school.
At 17, after fleeing an arranged marriage to a polygamist, Mganga jumped into a river in an attempt at suicide. Somehow, the current carried her to shore and eventually to a new purpose in life: a degree from a Bible college, work as an Anglican missionary, and, ultimately, her own nongovernmental organization, Albino Peacemakers. The Rotary partner, based in her hometown of Arusha, works to educate communities and families about albinism, support albino children in their studies, and facilitate vital skin cancer screenings.
A wave of violence
As Mganga found her path, however, the plight of Tanzania's albino community took a dramatic turn for the worse.
Beginning in 2007, reports began to surface that albinos, mainly children, were being hunted for their body parts, particularly in the northwestern part of the country in the vicinity of Africa's two largest lakes: Victoria and Tanganyika.
Although the myth that albino flesh can bring good luck was nothing new, the emergence of significant gold and diamond mining in the region brought an influx of money that upped the stakes, says Fred Otieno, a community engagement officer at the Africa Inland Church of Tanzania and a Nyamizeze meeting facilitator.
Outside investors, flush with cash, were willing to try anything to strike it big. Local witch doctors, sensing their own windfall, began recruiting gangs to bring them albino "charms." "Business and politics here is highly superstitious," Otieno says. "If someone insists, 'If you have that (albino limb), you'll get this gold,' many are going to do it."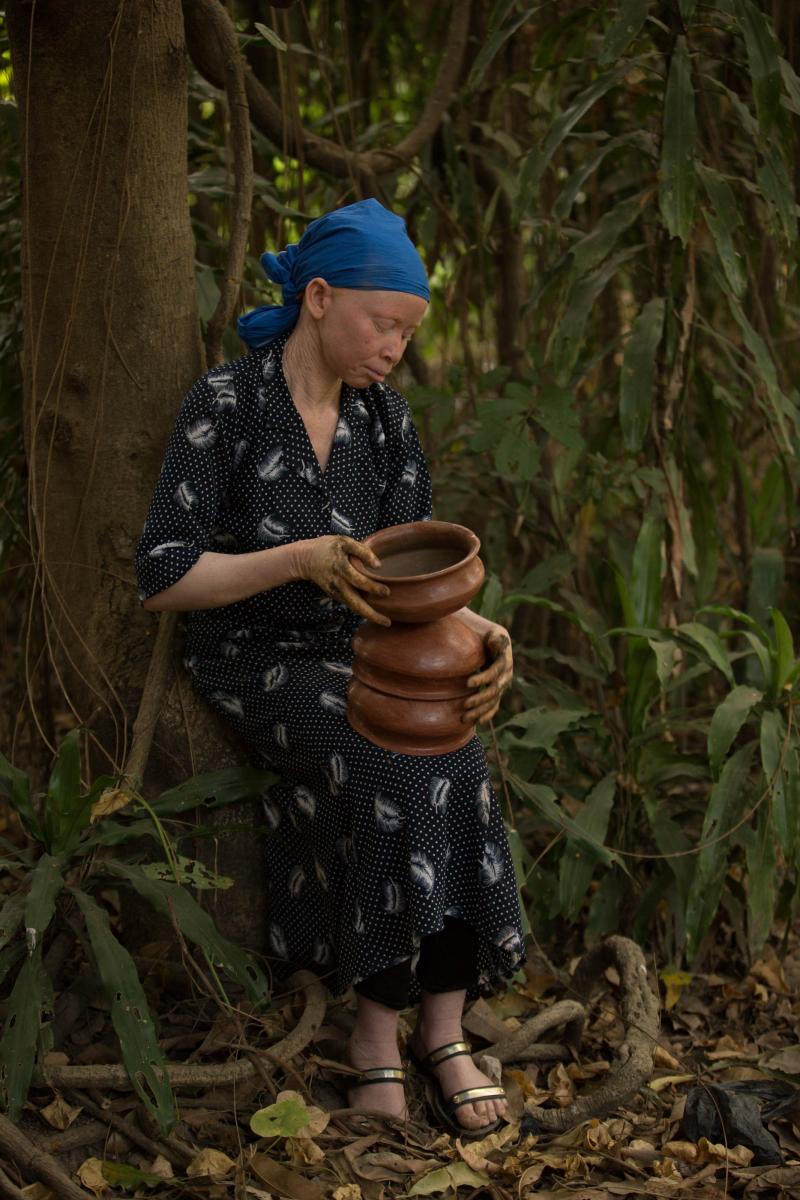 Courageous investigative journalism, initially by local reporters, soon revealed that these grisly rumors were indeed a full-scale crisis.
Going undercover, at great risk to her safety, Tanzanian BBC reporter Vicky Ntetema filmed a witch doctor offering to sell her albino body parts — part of a larger investigation that established the existence of an organized trade.
A report in 2009 by the International Federation of Red Cross and Red Crescent Societies found a complete set of albino body parts, including four limbs, genitals, ears, eyes, and nose, was selling for $75,000 in the city of Dar es Salaam — an immense sum in a country with a per capita GDP of less than $1,000 per year.
Its report found as many as 300 albino children "abandoned or stranded" in schools for the disabled, where they were encouraged by authorities to flee for protection, and an undetermined number clustered near police stations or churches and living in constant fear.
In recent years, the killings have decreased, in part because of stepped-up government vigilance.
Since 2008, Tanzania's high court has sentenced at least 15 individuals to death for their role in albino murders. Police crackdowns have led to arrests of more than 200 unlicensed traditional healers, including many with suspected links to the violence. Authorities at regional, district, ward, division, and village levels, acting on the orders of the prime minister, have established security and defense committees, which are trained to keep a lookout for potential attackers and body-part traffickers.
Projectus Rubanzibwa, an administrator in the Mwanza Regional Commissioner's Office, says authorities have become "more than serious," noting that ordinary citizens, too, play an important role in identifying trafficking suspects.
Under the Same Sun, which maintains a database of reported albino killings, attacks, and grave robberies across Africa, has not documented a killing in Tanzania since February 2015, when a 1-year-old boy was attacked and dismembered in Geita region, not far from Nyamizeze. (Its list, however, may not be complete, as incidents often go unreported.)
Elsewhere, though, the crisis has intensified.
In neighboring Malawi, at least 18 albinos have been murdered since 2014, an epidemic the Malawian government has blamed on the influence of Tanzanian traffickers. Stakeholders in Tanzania, including Otieno, are still concerned about the hundreds of albino children who remain in protectorate camps or schools for the disabled, where they are presumably safe for now, but will eventually have to depart.
Aside from representing a "time bomb," he argues, these institutions reinforce long-standing albino discrimination. "The stigma is even more strengthened," he says, "that these people are not normal, not one of us."
Enter Rotary
Several hundred miles from Nyamizeze, across the great Serengeti plains and in the shadow of the volcanic Mount Meru, Faye Cran sits on her veranda and recalls how she and Rotary began to assist the albino community.
Born in England during World War II, Cran, now 76, moved to East Africa with her family as a child and has lived in the region ever since, growing a small business selling chicks over several decades into a Tanzanian poultry empire. Widely known as "Maka Kuku" — "mother of chickens" in the national language, Swahili — she is also one of Tanzania's most dedicated Rotarians. A member of the Rotary Club of Moshi, she has served as country chair, district Foundation chair, and the primary contact for nine global grants and more than two dozen matching grants and club-to-club projects.
She was also a driving force behind the establishment in 1996 of the Upendo Leprosy Victims Rehabilitation and Self Reliance Centre, which provides housing and support to children and adults who have been cast away from their communities because of leprosy — another highly stigmatized condition.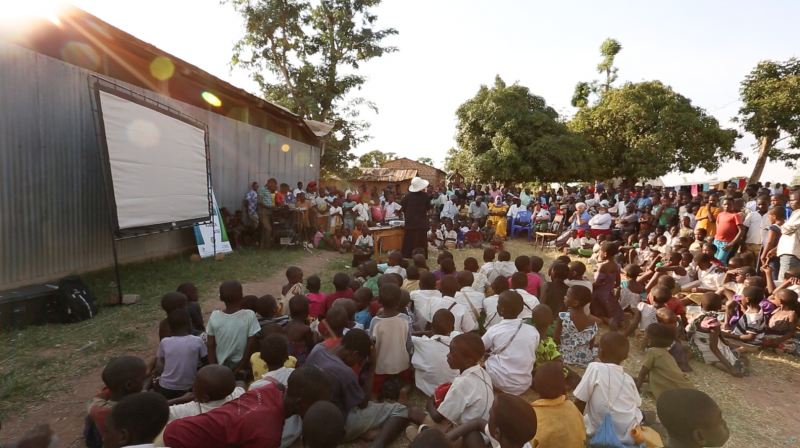 Cran's work with Tanzania's albinos took root when she experienced the impact of the violence. In 2011, while traveling with Alan Suttie, a member of the Rotary Club of Kirkcaldy, Scotland, she met a young albino boy who had survived a brutal attack in which his assailants hacked off his left arm and right hand, leaving him disfigured and deeply traumatized.
Suttie, the CEO of a society for the blind in Scotland, who died in 2014, was already involved in work supporting visually impaired Tanzanian students, including many albinos, and returned home determined to do more.
In partnership with Cran and other Tanzania-based Rotarians, his club commissioned an illustrated children's book that tells the story of a young girl whose albino sister is murdered. The book was distributed in primary schools across the country.
This eventually led to a host of other Rotary activities, including two global grants: "Vision Aids and Albinism Awareness to Children in Tanzania," active in 2013 and 2014 with Cran and Suttie as primary contacts, and the current grant, "Changing Lives of People with Albinism in Tanzania," led by Cran and John Philip of Mirfield, England.
The work that followed has touched on nearly every aspect of the condition.
Club-to-club projects in several districts have supported albino students with mattresses, mosquito nets, vision aids, hats, and sunscreen, and financed livelihood-building projects in remote communities.
Under the vision aid grant, optometrists from Scotland traveled to Arusha to train local optometry students.
Their institution, Patande Teachers Training College, has since offered screenings, magnifying glasses, and, in some cases, referrals for telescopic lenses to more than 300 visually impaired albino youths.
The current grant, active since late 2015, has focused on education, by supporting more than 70 community outreach meetings like the one held in Nyamizeze, as well as an alliance between albinos and traditional healers that works to dispel myths that have led to so many murders.
Rotary also focuses on cancer prevention and treatment through training health workers and providing medical equipment.
In five Tanzanian hospitals, Rotary provided cryotherapy instruments and flasks of liquid nitrogen, which are highly effective in removing precancerous lesions before they become deadly.
Any patients showing signs of cancer from a biopsy are referred to Ocean Road Cancer Institute in Dar es Salaam. The Tanzanian Albinism Society, a national advocacy group, and Standing Voice, a British NGO that supports marginalized communities, help defer the cost of treatment.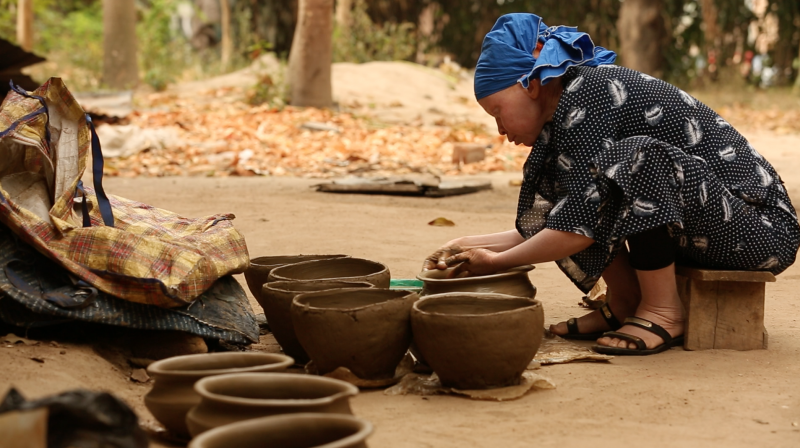 Working despite the sun
Fighting cancer, though, is not only about access to health care.
As Mganga stresses in her talk at Nyamizeze, covering up is also critical. So, too, is finding a livelihood that takes place indoors or in the shade — not an easy task in a predominantly rural, tropical country like Tanzania, where most people spend hours each day planting, weeding, and hoeing in the sun.
At the Nyamizeze meeting, one participant asks how a person could possibly survive without tending to their fields in the heat of day. Since many albinos, burdened by poor eyesight, do not finish school, he adds, the chance of them accessing a job indoors is even more remote.
This problem is also acute on Ukerewe, an island of 300,000 people at the southeastern edge of Lake Victoria. Because it can be accessed only by ferry, making it easy to identify strangers who come and go, the island gained a reputation as an albino safe haven during the height of the killings, and some even moved here from the mainland.
There's still this feeling that many people don't want to be mixed with albinos. So our thinking was, if we could do projects where there's two of one and three of the other, (non-albinos) would be more involved.

Faye Cran
Rotary Club of Moshi
Still, the albino community has its challenges, including earning an income safely. "Eighty percent of the people here are farmers or fishermen," says Ramadhan Alfani, a local mechanic and the district chairman of the Tanzania Albinism Society. "But for us those jobs are difficult. When I stay under the sun for too long, my skin changes."
Alfani's business, which he conducts in the shade of a giant linga linga tree, is the type of venture he believes can help the albino community achieve greater longevity and financial independence. As he speaks, he's on the job in a red, grease-stained autoworker's smock, installing spark plugs in the engine of an aging gray Toyota minivan.
With the help of tools donated from Rotary, including a compressor used for painting, he has grown the business over several years, drawing enough clients to hire three employees and support his wife and their young son.
Alfani is one of several dozen albino businesspeople across northern Tanzania who have benefited from Rotary grants, loans, or donations.
In Arusha region, Rotary financed sewing machines for a collective of female albino tailors as part of a collaborative project with Mganga's NGO, Albino Peacemakers. In the city of Musoma, individual Rotarians provided capital for microloans to five small associations, each consisting of at least one albino resident, who've since opened shops selling household items and textiles and a beauty salon. With funding from the global grant, participants also were trained in entrepreneurship, banking, and the basics of financial literacy.
Aside from boosting incomes, the project seeks to undercut stigmas by compelling people to embrace albinos as their business partners. "There's still this feeling that many people don't want to be mixed with albinos," Cran says. "So our thinking was, if we could do projects where there's two of one and three of the other, [non-albinos] would be more involved."
The March of Progress
Like any initiative that involves the changing of mindsets, these livelihood-boosting activities have not gone off without a hitch.
In contrast to Alfani, Neema Kajanja, an Ukerewe potter who also received tools from Rotary, says she has recently seen her income fall because of a general economic downturn and the closing of the nearest market, which means she must walk farther in the sun to sell her wares. On her property, a Rotary-financed kiln sits unused, for reasons unknown, as she continues to harden her newly sculpted pots in a rudimentary brushfire.
In Musoma, one year into the microcredit program, three of the five small businesses were making progress and repaying their loans on schedule. One group failed when a member ran off with all the money. Another ceased operating when its leader, the regional Tanzania Albinism Society chairman, died of skin cancer.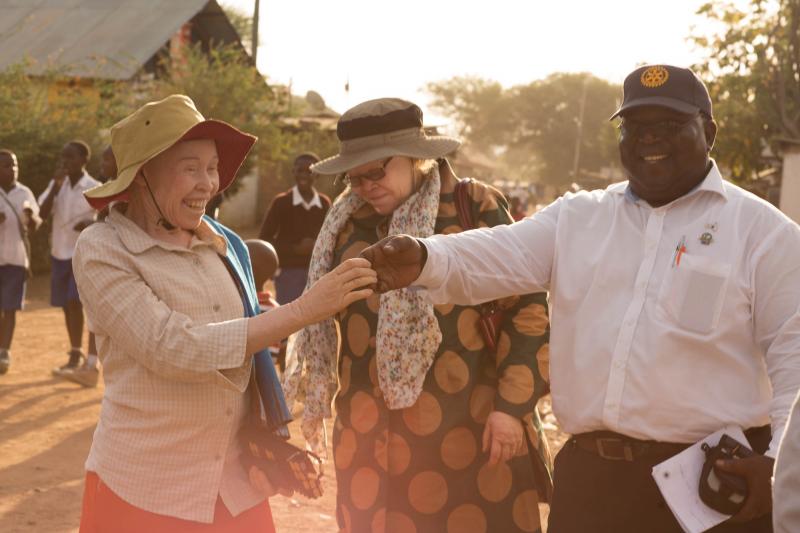 Critically, though, entrepreneurs in Musoma and Ukerewe say their businesses have played a role in combating stigma, which most stakeholders believe is in decline across the country.
According to Cran, attitudes of fear and rejection toward albinos are increasingly less common — a grassroots shift in thinking that has been aided, since 2008, by the election or appointment of three albinos to the Tanzanian Parliament.
Alfani and Helen Paul, a co-owner of the Musoma hair salon, say they don't believe their status as albinos has cost them clients.
Saada Kaema, a Musoma loan recipient who trades in wicker baskets, says less informed customers from rural areas used to avoid her shop, but over time have started buying. Like most albinos in the area, she is still on guard against attacks and avoids walking late at night, though generally she feels much safer than in the past.
Back in Nyamizeze, a similar sense of progress is apparent. As hundreds gather in an open field, waiting for the video, "People Like Us," to screen from a projector, a pair of elders reflect on what they've learned from the just-concluded workshop.
Peter Misungui, the village head of security, insists his community has never embraced the superstitions that led to the killings. His nightly five-man security patrol, he adds, has always kept albinos here safe. Known as Sungu Sungu, the force gets its name from an army of ants.
"Individually, each one is small," he says. "But when they work together they will bite you."
Yet when it comes to other matters of albino safety, Misungui and his friend Daudi Matagane, a Seventh-day Adventist pastor, admit there was much they didn't know before the session.
Misungui, in particular, says he was surprised to learn how the condition is inherited from both parents. He and Matagane also say they were never aware of the great danger posed to albinos by the sun.
That revelation could prove critical for Sebastian and her daughter, the village's two albino residents.
"We'll now make sure that she doesn't overwork, that she covers up and stays in the shade whenever possible," Matagane says, referring to the young mother. "As her elders, we'll do whatever it takes to protect her."