A Rotary Community Corps eases transition for Afghan refugees
By Frank Bures
In 2015, Shah knew he had to get out of Afghanistan. His family had lived in a village near the city of Jalalabad for generations. But his work for the U.S. government as a translator and guide during the war that began in 2001 made him and his family targets for the Islamic State group's Afghanistan affiliate that was growing in parts of the country at the time.
Securing expedited American visas, he fled with his wife, six sons, and a daughter. Years later, thousands of interpreters and others who aided the U.S. in the war would do the same during a frantic evacuation set off by the Afghan government's fall.
The family settled in Minnesota, where Shah (we're not using his full name out of concern for the safety of relatives in Afghanistan) found work as a security guard. They were safe, but did not have an easy landing.
"We had a lot of difficult times," Shah recalls. "The government resettlement agency found us a three-bedroom apartment for nine people, with one bathroom and no laundry. There was a broken window, and every night the house was full of mosquitoes. It was also very old, and my wife and children got lead in their blood. Life was very tough in that time."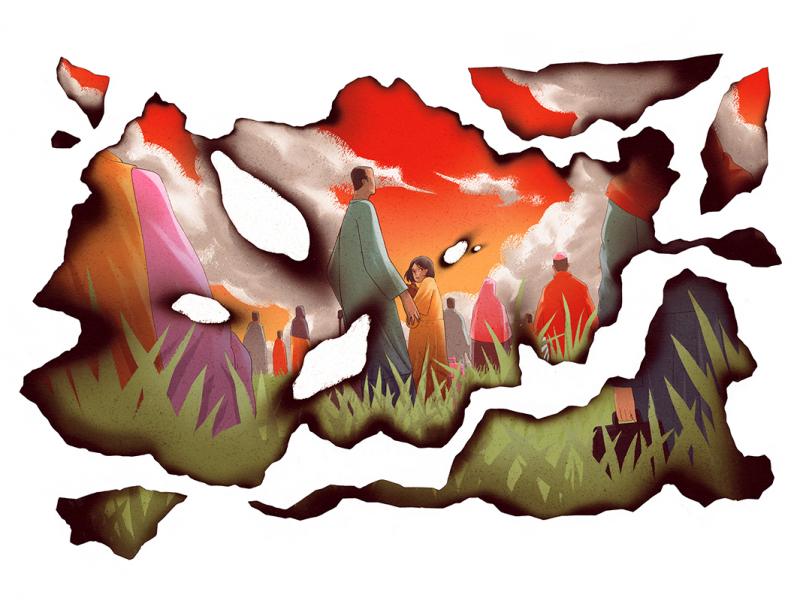 Shah and his family struggled to navigate the new country. For two years he did not have a car, for instance, because he had not learned how to take the test at the Department of Motor Vehicles. Occasionally, neighbors would drive them to the grocery store.
"My wife said our life was better in Afghanistan," he says. "There we had a house, we had land and personal property and everything. And I said, 'Yes we had everything over there, but our lives were in danger.' Not just myself, but my children's lives were also in danger. I said, 'Life is tough, but one day we will set up, and we will support ourselves.'"
Gradually, as Shah stabilized his life, he decided he wanted to assist other Afghans facing similar problems. "Now I want to help people," he says. "I don't want anyone to have a tough time like I did."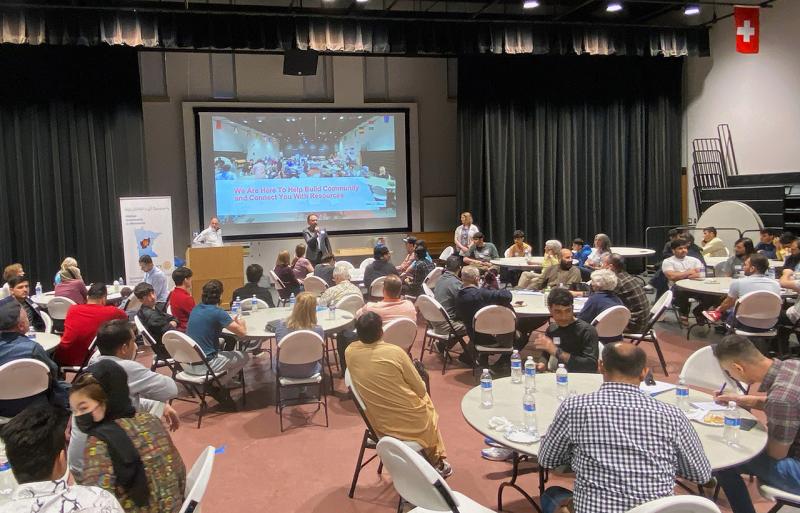 One day, Shah was at the airport greeting new Afghan arrivals when he met Rotarian Bob Keller, who was doing the same. The two got to talking and became friends. In 2019, they helped charter the Rotary Club of Minnesota Veterans (District 5950), the first club formed for military veterans helping other veterans. (Non-vets who want to help can join too.) And when the Taliban toppled Afghanistan's government in 2021, Shah got his chance to help other new arrivals. U.S. emergency airlifts would bring more than 85,000 Afghans to America over the year that followed.
In September 2021, Keller picked up Shah and another Afghan friend, Sayed. The three packed a car with shoes, clothes, diapers, baby formula, and other necessities they'd collected from church groups and Rotary clubs and drove from the Twin Cities area to the Fort McCoy Army base in Wisconsin, which temporarily housed airlifted Afghan refugees. After repeating the trip, Keller realized they needed to do something more substantial, more sustainable than just donating food and other items. He approached Past District Governor Tom Gump for advice.
Gump suggested establishing a Rotary Community Corps. RCCs are groups of non-Rotary community volunteers who work alongside a sponsor Rotary club or clubs to address the most pressing needs in their communities. "A Rotary Community Corps is established to serve a particular community," says Gump. "Rotarians do the service with — and at the same time as — the community that's being served. So we and the Afghans work together, whether it be getting clothes or teaching English or translating driver's test manuals."
The concept was introduced by 1986-87 Rotary President M.A.T. Caparas under the name Rotary Village Corps. Today there are some 12,000 RCCs worldwide, about half of them in India.
"We're trying to develop a model where Rotary is connecting individuals with resources and not necessarily just putting money in. We don't have enough money to put in, but we do have connections."
In January 2022, the Rotary Community Corps for the Afghan Community in Minnesota was chartered. At the group's first meeting, over 60 people turned up. "It was just incredible," says Steve May, immediate past president of the Rotary Club of Edina/Morningside, one of five clubs that helped start the RCC. "At our club's meeting, I said, 'We need to figure out how to translate the Minnesota Driver's Manual into Pashto and Dari. And a new member, at his first meeting, said, 'I think I have the software to do that.' So he ran the DMV manuals through the software." Right away, one person took the test and passed, he says.
Being able to drive was key to making many parts of life simpler — you can get to work, get your kids to the doctor, and get to meetings like those of the Rotary Community Corps. Meetings are held every two weeks over lunch: One week the Afghans bring chicken and rice; the next week the Americans bring pizza. Tables are set up with information and volunteers to help people with employment, transportation, education, legal issues, and other needs.
By the numbers
12,000+

Rotary Community Corps worldwide

105

Countries where RCCs are active

88,500

Afghans airlifted to the U.S. after the Taliban takeover
Liisa Schmitt, who owns a landscape design firm, volunteered to work at the employment table. "The first person who came was Obaidullah," she says. "We were talking, and he had a degree that covered horticulture, floriculture, and urban forestry. So I said, 'I can hire you if you want work.' He couldn't believe it."
This kind of support is not limited to the Upper Midwest. Rotary members across the country are helping Afghans who came in the airlifts. In Salt Lake City, for example, Rotary members established a committee to work with the more than 40 Utah Rotary clubs to raise money and help hundreds of Afghans arriving there. In Southern California, District 5340 helped raise more than $80,000 for organizations that assist refugees in San Diego. And in Missouri, the Rotary Club of Fulton formed a team of more than 40 community members to help the new arrivals.
One of the biggest needs for the newcomers is to connect with the agencies and organizations that can help. Government resettlement agencies provide assistance in the months after refugees arrive, but their capacity for long-term support is limited. Many new arrivals do not speak English, and most need help navigating government resources.
"We're trying to develop a model where Rotary is connecting individuals with resources and not necessarily just putting money in," says May. "We don't have enough money to put in, but we do have connections across other civic organizations, churches, and businesses. So we're starting to connect the dots and to show people, for example, here are the services they can get."
So far, the RCC has had speakers from the Minnesota Department of Employment and Economic Development, transit agencies, human rights organizations, libraries, and school districts. The group also hosted representatives from companies looking to hire workers. Several people have found jobs at Emerson Automation Solutions, Toro outdoor equipment company, and other businesses.
"This is redemptive work," says Keller. "It gives us purpose to help these people get up on their feet. We can't solve the problems of bringing these families back together. But in terms of giving them a lift while they're here, this is what a service organization like Rotary is all about."
This story originally appeared in the January 2023 issue of Rotary magazine.