Rotary clubs throw axes to raise funds
Aprille Weron grew up in the suburbs of Philadelphia; it was, she recalls, "a very privileged life." That's why, when she heard about Philadelphia's New Day Center – a Salvation Army-sponsored drop-in center that helps women and girls being trafficked for sex – she was shocked to learn that many of the people who come to the center are from that same area.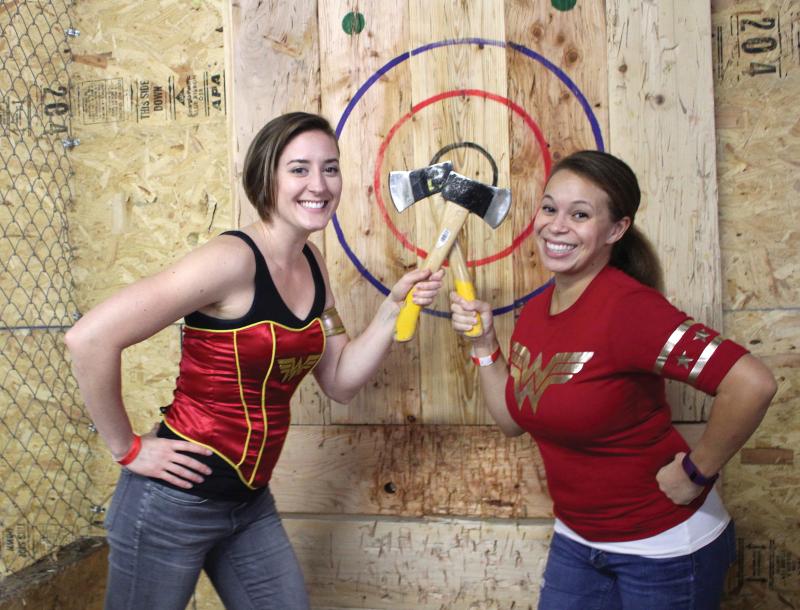 "We think that trafficking is something that's far away," says Weron, a member of the Rotary Club of King of Prussia, Pa. "But some of these girls went to the same schools that you and your friends went to."
Weron and her friend Brooke Williams, a member of the Rotary Club of Philadelphia Happy Hour, decided to help raise funds for the center through an unusual activity: axe throwing. Held on 14 October, the Salvation Army's Axe of Kindness 2017 Axe Throwing Tournament saw more than 40 community members – including Weron and Williams, who competed as The Rotaraxers – hurling 1.5-pound hatchets at a target.
"We threw a lot of axes that day," Weron says. As with darts, the goal in axe throwing is to get as close as possible to the bull's-eye. But the real goal, of course, was to raise funds for the New Day Center – which the event did, to the tune of $6,800.
Not only that, but the "Did you say axe throwing?" factor got others interested in the cause, Williams says: "Doing events like this is a fun way to raise money, but it also is a great way to advertise what we're doing. It's a little more attention-getting."
The proof? When the Philadelphia Happy Hour club heard about the event, members decided to organize a second axe-throwing fundraiser for the New Day Center in December, with the aid of the Rotary clubs of Conshohocken-Plymouth-Whitemarsh and Philadelphia.
–Anne Ford
• Read more stories from The Rotarian