Our clubs
Snowbirds' roost
Rotary Club of Bonita Springs, Florida
It's 7 a.m., and the dew is still sparkling on the golf course that fills the view from the floor-to-ceiling windows of the Bonita Bay Club. The scene is the backdrop for meetings of the Rotary Club of Bonita Springs, whose 84 members start their Wednesdays here with a breakfast buffet and coffee. Lots of coffee.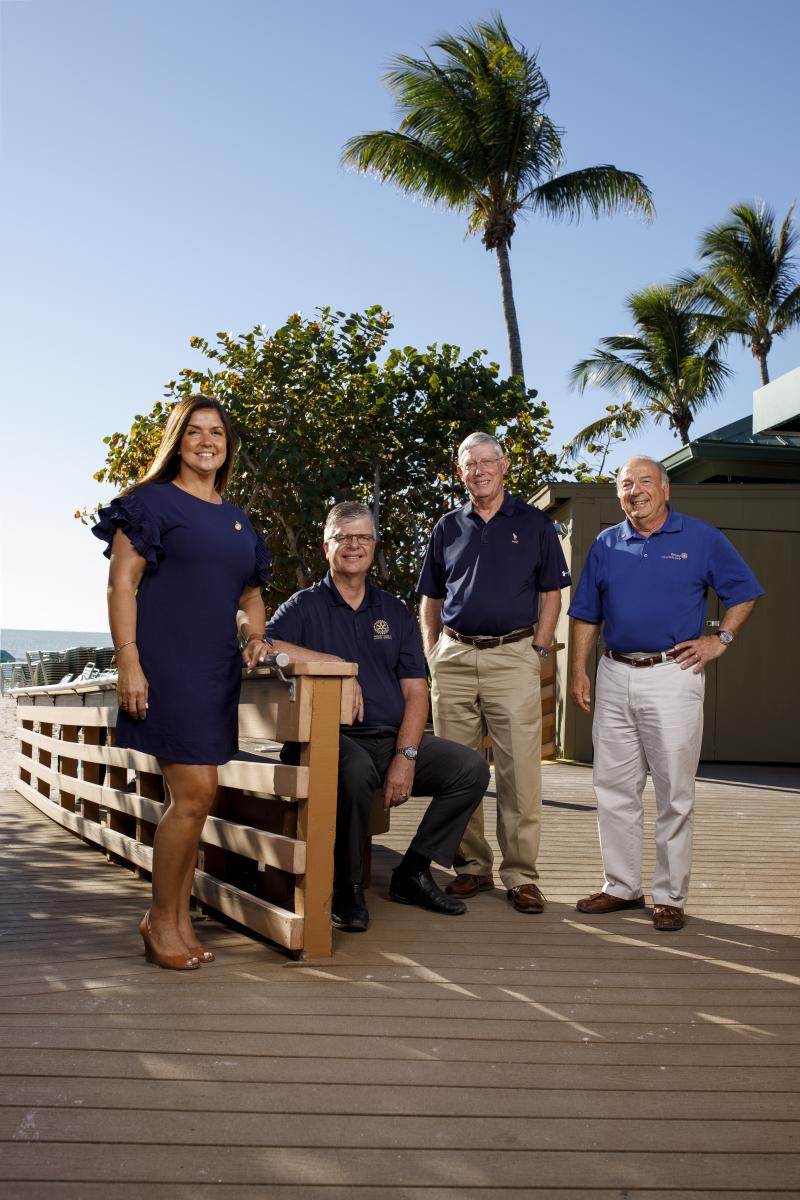 Bonita Bay — a gated residential community that is separated from the Gulf of Mexico by Estero Bay and a stretch of slender barrier islands, including one called Lovers Key — is part of the city of Bonita Springs, which was once a sleepy fishing village but now has a year-round population of about 50,000 that surges by a third or more in the winter. The seasonal residents, mostly retirees from up North, are drawn by the boating, the beaches, and the golf.
Most of the club's members are originally from somewhere else, often having left family and friends in search of warmer weather and their piece of paradise. President-elect Chris Riesen, a designer with a custom closet company, relocated to Bonita Springs from Indiana in 2010, not knowing anyone. "When I first came to this club," he says, "it was like meeting brothers and sisters."
The club's South Florida setting shapes its projects and events. Together with the Friends of Lovers Key State Park, the club has organized the Lovers Key Nautical Market and Boat Show since 2016; it raises about $20,000 annually. Half of the proceeds go to the Friends group to fund educational programs and a new welcome center for the barrier island state park where the event is held. The rest supports local charities.
This year, 63 vendors sold boats, beachwear, marine supplies, orchids, nautical-themed furniture, and seafood. Rotary volunteers collected the entry fee, parked cars, and sold beer. The show provides a chance for residents and visitors to dream of life on the water by touring deck and fishing boats.
But the warm climate, while a draw, can also fuel fierce storms: Since the National Weather Service began keeping records in 1851, more than 70 tropical storms have passed within 75 nautical miles of nearby Naples, 33 of them hurricanes with winds that exceeded 74 mph. Many people who were affected by Hurricane Irma in 2017, which caused historic flooding in some areas of Bonita Springs as well as wind damage to homes, are still rebuilding. The club raised $50,000 to match a district grant to provide $100,000 to Habitat for Humanity, which continues to receive daily calls for relief from damage inflicted by Irma.
"The climate here created the demographics for our club," says Bob Lombardo, the club's secretary and membership chair. "We have people who come for half the year, and they are part of our club when they are here. They impact our club very positively with fellowship, ideas from their home clubs, and volunteering for our fundraisers. They are not just visitors."
The club makes its part-time residents feel at home through "Rotary Regulars," a program it created for Rotarians whose home clubs are elsewhere. At the Bonita Springs club, about a dozen of these "regulars" keep their northern club membership but attend meetings here when they're in town, paying a $20 annual fee plus the cost of breakfast.
The club also encourages spouses to join with a family membership dues structure. "Two is better than one," says Lombardo. Club member Donna Flammang, an attorney, has been in Florida since 2006, with her husband, John, a firefighter and paramedic who retired in 2011, coming down regularly until the couple sold their home near Cleveland in 2015. After Donna had foot surgery, John started chauffeuring her to Rotary meetings and soon joined the club too, taking advantage of the family membership. "It's an opportunity for us to do things together," he says. "In retirement, I wanted to do things with organizations that do good."
"What drives our club is that we attract the best of the best in our community who want fellowship and to work with Rotary to give back," Lombardo says.
President Claudie Delgado, a dentist and one of the club's younger members, says she joined to set an example for her four children. "It's a great thing to show my kids the importance of giving back," she says. "They love coming to our events."
In addition to the weekly meetings, the group has monthly social gatherings without dues or an agenda. "There is a lot of fellowship and love," Riesen says. "Business-to-business is an afterthought. It's about mind and soul."
Rotary Regular Ann Angle is a member of the Rotary Club of Evansville Morning, Indiana; her late husband, Richard, was 2003-04 governor of District 6540 (Indiana). Her commute to the Bonita Springs club meetings from her winter home on Fort Myers Beach rewards her with views of the Gulf of Mexico — and sometimes frustrates her with challenging traffic on the two-lane causeway that links the barrier islands. She had visited another club in a more convenient location before deciding the Bonita Springs club was a better fit for her lifestyle. "This is a much more easygoing club," she says. "The other club I called 'the suits.' They were very buttoned up."
While the club's vibe may be laid back, Delgado keeps the meeting schedule tight, wrapping up at 8:30 a.m. precisely. Paradise awaits, after all.
— Kathy Becker