Our clubs
'Small but feisty'
Rotary Club of Chicagoland Lithuanians (Westmont), Illinois
When Tony Merfeld became an American citizen in 2007, the judge congratulated him and said, "You're a citizen now, but you don't need to forget where you came from."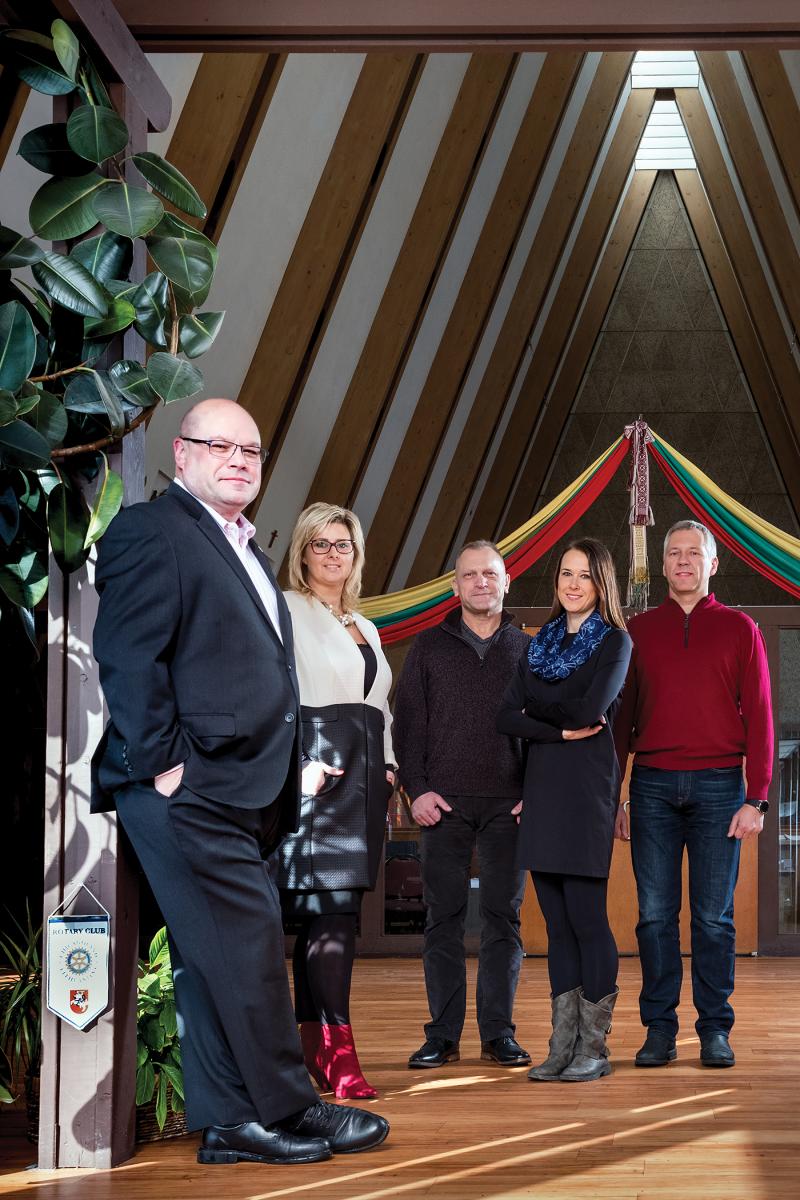 Those words stayed with him, and a few years later Merfeld found a way to expand his network in his adopted country while staying connected to his native Lithuania — by joining the Rotary Club of Chicagoland Lithuanians (Westmont). "This club is something I cherish," he says.
Chartered in 2008, the 26-member club is the only Lithuanian-speaking Rotary club outside that small country on the Baltic Sea. Saulius Janusonis Beckler founded the club after arriving in Chicago in 2004 from the town of Panevėžys, where he had been a Rotarian. He missed the social and community service aspects of Rotary, so he started a club for Lithuanian-Americans. "I wanted to bring more Lithuanians into Rotary," he says. "This club is a way for us to both preserve our identity and be valuable members of society."
Its Thursday night meetings usually happen at Parkers', an upscale American-fare restaurant in the western suburbs of Chicago. Parts of the meeting will feel familiar to any visiting Rotarian — members recite The Four-Way Test (in Lithuanian), and the club president calls on committee chairs to give updates. But the rest is more like a lively brainstorming session, with members preferring to work collectively to determine the club's direction. "Sometimes we have to stop and remind ourselves that we have committees for a reason," says club member Linas Klimavicius. Occasionally, the Rotarians switch to English for the benefit of an invited speaker or guest, but they conduct most of the meeting in Lithuanian. After the week's business is complete, the rest of the gathering is social.
"Our club is small but feisty," says Klimavicius, an international trade consultant who joined seven years ago. The members' can-do spirit helped them bring in more than $100,000 in one day through their annual September golf outing and dinner, which raises money to help critically ill children in Lithuania.
It all started when Janusonis Beckler encouraged club members to take up golf, a game that was foreign to those who'd lived under Soviet rule. "When I came here, it was my dream to learn how to play," he says. "I'm an insurance broker, and other companies' reps would invite me to golf. Once we started the Rotary club, I said, 'Let's start golfing. We'll spread the game in the Lithuanian community. Then we can do a golf outing, which is a good way to raise money.' My club accepted that idea. We took several lessons, and now a lot of people play golf. Some are playing better than me!"
The club also raises money for a local shelter for victims of domestic violence, partnering with a club in a neighboring suburb. "Our goal is not just to do projects to support Lithuania; we want to support the communities where we live too," says club member Silvija Basijokaite.
Klimavicius attributes the club's fund-raising success to a willingness to "just go for it." But the Rotarians also enjoy the benefit of location: Chicago is home to the highest concentration of Lithuanians outside Lithuania itself, so when the club holds an event, it can tap into a large network. Club members also have ties to the Lithuanian consulate in Chicago and often play host when Lithuanian dignitaries and celebrities visit the city. This has given the club an impressive contact list that includes European basketball player Rimantas Kaukėnas and Dainius Zubrus, who spent 10 years playing in the National Hockey League.
Members range in age from their 30s to their 50s, and the club has almost the same number of men and women. All but three members were born in Lithuania — and those three are the children of immigrants who arrived in the United States as refugees after World War II.
Lithuanians immigrated to the United States in three waves, explains Janusonis Beckler. The first wave came in the early 1900s, when people arrived in search of work and a better life. The second consisted mostly of refugees who left when the Soviet Union annexed the three Baltic countries of Estonia, Latvia, and Lithuania after World War II. The Soviet regime targeted scholars, artists, engineers, and people connected with government in an effort to impose communist rule and culture; many were sent to their deaths in Siberia. The third wave came after Lithuania regained its independence in 1991.
Fear of losing their language and culture shaped a generation of Americans born to Lithuanian refugees. "I was raised to preserve the culture in case Lithuania never became free," says Rima Ziuraitis, a new club member. Ziuraitis, who is in her 30s and was born in the United States, carries on this tradition by serving as president of the U.S. Lithuanian Youth Association. In her spare time, she interviews World War II refugees for an educational film she's producing on Lithuania's history.
Though its members are proud of their heritage, Janusonis Beckler says he thinks of the club as an American Rotary club. "This club unites us in culture, in language, and in values," he says. It also has paralleled many members' lives: "We are and will stay Lithuanians, but the longer we live here, we become Americans and want to support our communities here too."
— Vanessa Glavinskas
• Read more stories from The Rotarian