Building in partnership with Habitat for Humanity
At the 2017 Rotary International Convention in Atlanta, more than 120 Rotarians spent an afternoon building 75 wall frames in partnership with Habitat for Humanity – enough for almost three houses. Working alongside them was Jonis Walton.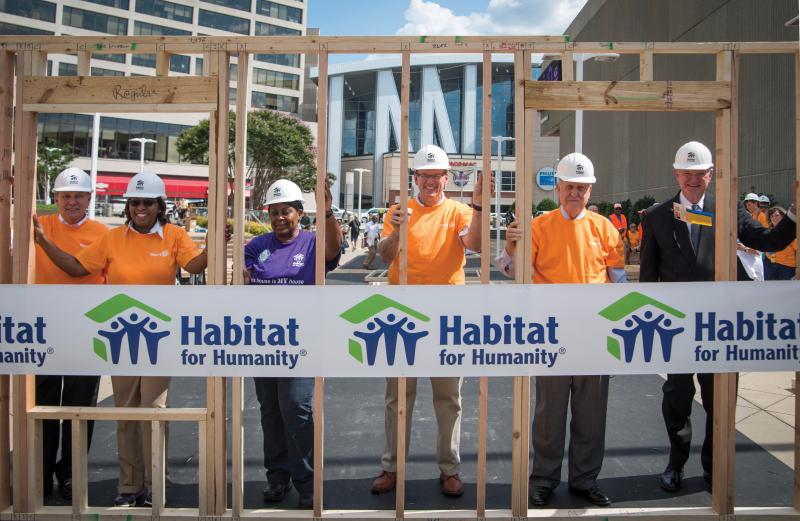 "It was very, very challenging," says Walton, a Habitat program participant. "But what inspired me the most were the volunteers and the sponsors. Everyone was so dedicated and so loyal. We all acted like part of a big family." She helped Rotarians build walls at the convention and later worked on her own building site as part of Habitat's policy of having program participants contribute sweat equity to the building of their homes. Walton's house was completed in September 2017. "My fondest memory is of getting on a ladder and climbing onto the roof," she says. "I never thought I could do something like this."
Habitat for Humanity makes sure program participants are ready for homeownership, offering financial education as part of the process. Like all Habitat participants, Walton has an affordable mortgage through the organization, and those mortgage payments are cycled back into the community to help build more Habitat houses.
Rotary clubs and individual Rotarians have a long history of working with Habitat for Humanity, and in 2017 Rotary International entered into a formal partnership with the organization. "Habitat's aim to bring people together to build homes, communities, and hope aligns perfectly with Rotary's commitment to make positive, lasting change in communities around the world," says Rotary General Secretary John Hewko. "With Habitat's expertise and the power of Rotary's volunteer network, we will help build the foundation for stronger communities."
That blend of expertise and volunteer spirit was in evidence at the convention. "Atlanta Habitat has a mission to be a catalyst for change in the community we serve. We could not do it without our partners," says Lisa Gordon, CEO of Atlanta Habitat for Humanity.
The Rotary Convention drew more than 34,000 people to Atlanta, and the Host Organization Committee wanted to create something to commemorate the event. Walton's house, constructed with sponsorship by the Home Depot, became that something. "I hope this new home she owns makes a difference today and in the future for her and her family," says Atlanta HOC Chair Robert Hall.
– Diana Schoberg
• Read more stories from The Rotarian