In the suburbs of Atlanta, Rotarians are filling a gap in social services to help struggling families get back on their feet.
By Vanessa Glavinskas Photos and video by Alyce Henson
It's a sunny Friday afternoon in the quiet suburbs of Atlanta. Beatrice is at home with her 10-year-old daughter, who is practicing the trumpet. Her older daughter, age 12, is at her first school dance. It's a rare moment of relaxation for the family amid their usual activities – church, homework, chores.
It's hard to imagine now, but just seven years ago, Beatrice was homeless.
Social service programs, with the support of Rotary, helped her get back on her feet, and today she's a homeowner with a master's degree.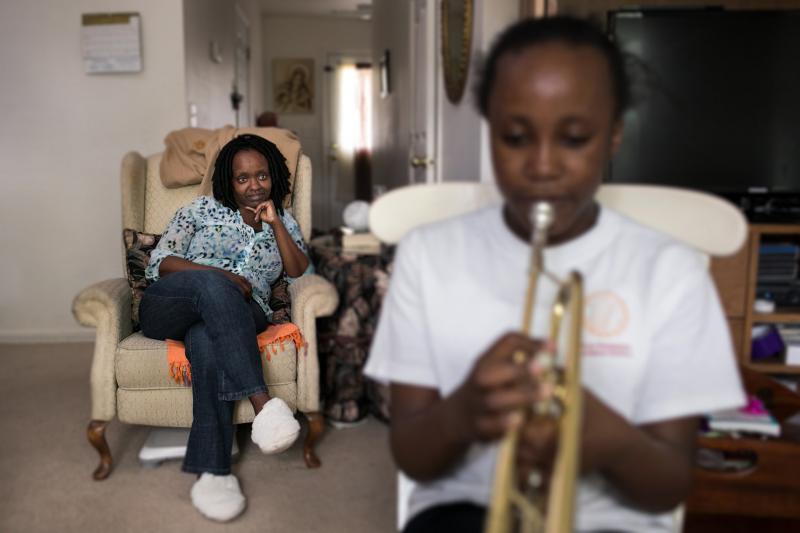 Beatrice's story
In early 2006, Beatrice arrived home to find her husband in a rage. With bills and the mortgage adding up, the family was in danger of losing their house, and he had reached some kind of breaking point. "I'm not going to do this anymore," he told her. "It's all going to end."
Editor's note: The names of Beatrice's children have been changed.
Beatrice, who was pregnant with their second daughter, scooped up Maya, who was then 18 months old, to shield her from his anger. She had felt her husband's fury before. Mostly he would yell, but sometimes he would punch a wall. Other times, he had pushed her or thrown something at her.
With her family an ocean away in her native Kenya and a small child to care for, Beatrice felt she had few options. She was in the United States on a student visa, studying accounting. "But that day, I knew something had to give," she says. "When you see that kind of rage in someone's eyes, it's very scary." She had applied for a green card, and although the couple were just a week away from their interview, she couldn't risk staying. "I thought, I may die waiting for that interview."
When he went to bed, she called a friend from church who knew about her situation. She whispered into the phone, "Pat, I'm scared for my life." The women made plans to meet the next day. Beatrice held her daughter and waited for morning to come.
Single and struggling
This was supposed to be a story about the working poor. But to write about the estimated 10 million Americans who work yet live below the poverty line, you encounter the same people again and again: single mothers like Beatrice.
Nearly 40 percent of single mothers in the United States live in poverty.
The cost of child care eats up much of their take-home pay, so some move in with relatives or a boyfriend. Others are forced to rent substandard apartments in dangerous neighborhoods. Many minimum-wage workers don't have health insurance through their employers and are one serious illness away from losing everything. In fact, that's how Beatrice became homeless: She got sick.
After three months in a shelter, Beatrice rented an apartment. She found an internship and was making $15 an hour. Life was difficult for the expectant mother with a toddler, a job, and night classes, but she made it work. Pat watched Maya while Beatrice was at school in the evenings. She continued to work on her degree so she wouldn't lose her student visa.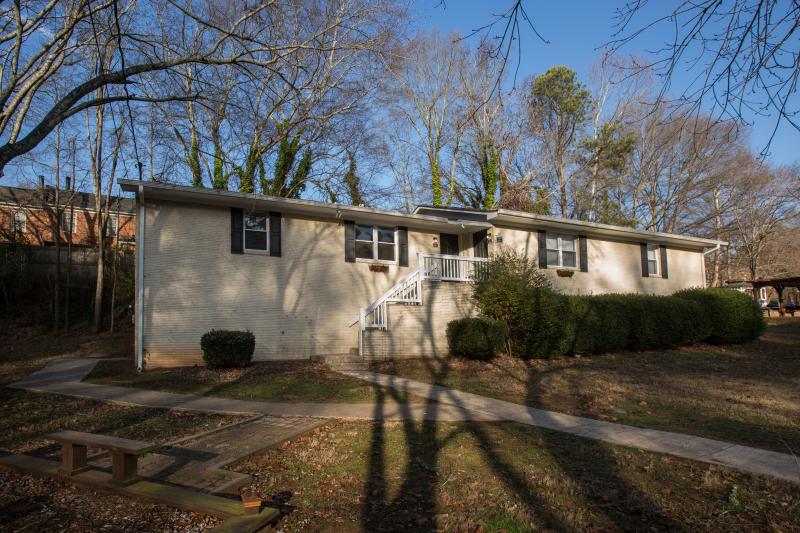 In December, she gave birth to a second daughter.
Ella suffered from severe sleep apnea and was in intensive care for a week. When she came home, she needed constant monitoring to make sure she didn't stop breathing. No day care facility would accept the risk of caring for her, and Beatrice's internship didn't offer paid leave.
"Now I'm in an apartment and I can't work. I couldn't pay for it," she says. "In the meantime, I lost my friend Pat. She died of complications from the flu."
Luckily, other friends helped her find another job, and, with her church's support, she was able to stay in her apartment. When Ella turned six months old, Beatrice started working again. But a month later, she felt a terrible pain in her side and passed out at the office. After emergency surgery for an ovarian cyst, Beatrice developed a blood clot that nearly killed her. Her new employer couldn't wait for her to recover and replaced her. Once again Beatrice had no income, no insurance – and this time she had $115,000 in hospital bills. She lost the apartment. "That's how I ended up at HomeStretch," she says.
A new start
HomeStretch offers temporary housing for homeless families in the suburbs north of Atlanta. The organization's units are situated on a quiet cul-de-sac in Roswell, a town with good schools and parks filled with children.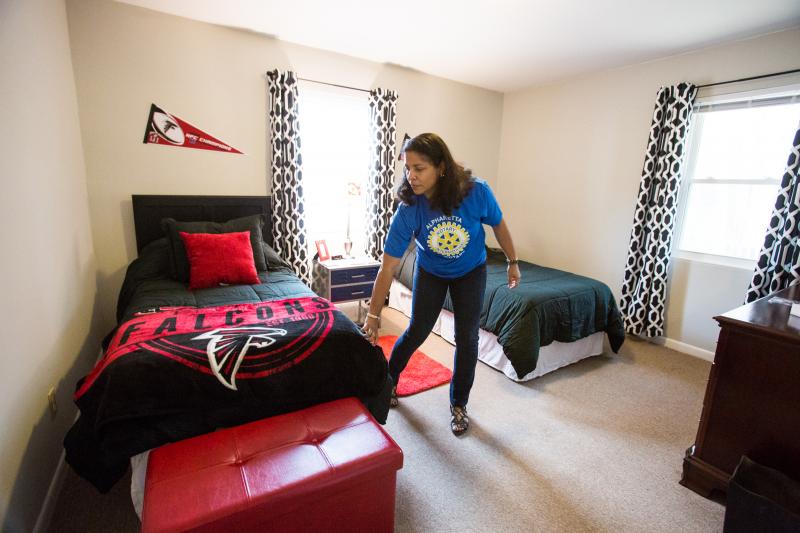 It's not where you would expect to find a growing homelessness problem, but, between 2000 and 2011, the number of suburban poor in the Atlanta area grew by 159 percent. Today, the majority of Atlanta's low-income families live outside the city. This has been happening across the United States as public housing reform and gentrification push low-income families to the suburbs, but it is particularly pronounced here. In fact, researchers at the Brookings Institution have called Atlanta the "epicenter of suburban poverty in America."
Atlanta's suburbs are a difficult place to live if you're poor. There's little public transportation, affordable housing is limited, and most social service organizations are still based in the city. That's where Rotary comes in.
Where the suburban social safety net has holes, the Rotary Club of Alpharetta fills the gaps. For years, the club has been forming partnerships to bolster the work of social service agencies across north Fulton County. In 2001, the club began supporting HomeStretch, where Beatrice lived for three years. Alpharetta Rotarians also support an emergency housing complex for single mothers called the Drake House. "We develop substantial relationships with our partners," explains club member Karen Nolan, noting that this makes it easier for the agencies to reach out to the club for help. Club members take on tasks large and small, from providing basics such as food and clothing to helping a family secure a car loan.
The club also supports a food pantry at North Fulton Community Charities (NFCC).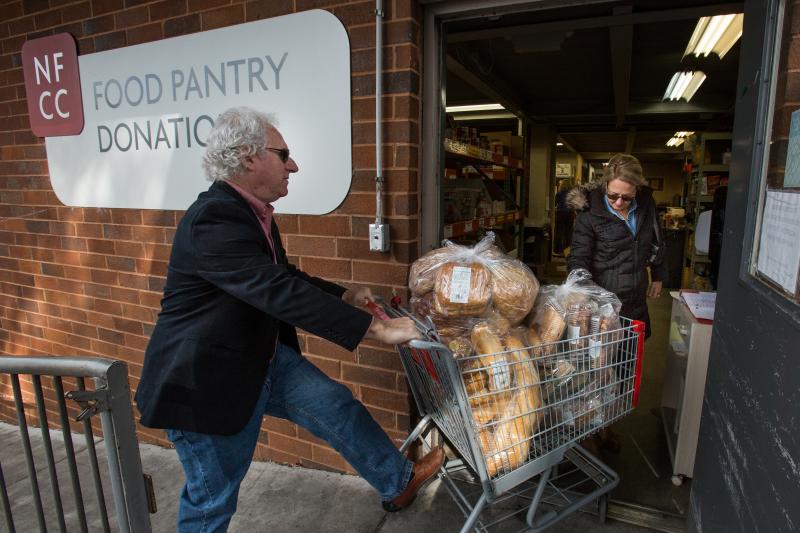 Every weekday for more than 20 years, a Rotarian has made the trip to Fresh Market grocery store, picked up two or three carts of donated food, and taken it to the pantry. Every member of the club has volunteered to make the delivery. It's the club's longest-running service project.
"I never have to worry they won't show up," says Melody Fortin, the pantry's manager.
Vonda Malbrough, a director at NFCC, says she can call on the club for just about anything: "This is a community of people who will go above and beyond," she says. NFCC helps families across the county with many aspects of daily living, including food, clothing vouchers, and utility assistance. In the fall, Rotarians pitch in to help stuff backpacks for the children of the families who rely on NFCC's assistance.
Rotary at HomeStretch
At HomeStretch, the Rotary Club of Alpharetta supports one unit – helping pay the rent, furnishing and decorating the space, and providing food and toiletries. When Beatrice lived at HomeStretch, she saw how Rotarians helped in other ways too. Club members fixed up a little garden near her unit. They watched her daughters and other children while she attended a weekly life skills class, a mandatory part of the HomeStretch program.
I built my whole company by finding diamonds in the rough. I find those employees to be fiercely loyal because they appreciate the opportunity.

Jim Coyle
Rotary Club of Roswell member and businessman who has hired people through HomeStretch
HomeStretch relies on a network of community volunteers, including Rotarians, to run its financial mentoring program. Sidney Browning, a financial planner and a member of the Rotary Club of Alpharetta, mentored Sophelia, a single mother with a teenage son. He taught her the basics of budgeting and how to pay down debt, but soon realized she would continue to struggle without stable employment.
Sophelia primarily found work through a temp agency but couldn't meet her monthly expenses when her hours fluctuated. Browning thought of all the business owners he knew through Rotary and realized the club's partnership with HomeStretch offered another opportunity: a source of screened candidates for Rotarian employers.
Jim Coyle, a member of the Rotary Club of Roswell, hired Sophelia to work in data entry at his firm, which automates revenue processing for the health care industry. "I built my whole company by finding diamonds in the rough," Coyle says. "I find those employees to be fiercely loyal because they appreciate the opportunity." For her part, Sophelia was thrilled to have health benefits. "I couldn't remember the last time I had insurance," she says.
Past Alpharetta Club President Jason Binder, a 37-year-old with three young children, hopes to take the club's partnerships a step further. "One thing we haven't tackled is transportation," says Binder, who also serves on the Alpharetta City Council. "Mass transit definitely needs to be improved around here. However, that takes years. I began to wonder what we could do as a Rotary club."
When he read about a successful microcredit program, Launch Detroit, in the September 2014 issue of The Rotarian, Binder solicited advice from its founder, Michigan Rotarian Larry Wright.
After talking with Wright and consulting other Rotarians with financial backgrounds, Binder came up with a proposal – a low-interest car loan program for families at HomeStretch and the Drake House. "Most of the residents are credit risks, so we're working to find a way that the Rotary club can buy off that risk," explains Binder. "We provide funds upfront and buy down the interest rate." The purchaser enjoys a lower interest rate and begins rebuilding her credit.
"Many of our families do not own vehicles," explains Kathy Swahn, executive director of the Drake House. "So we're delighted to work with Jason to pilot a car loan program for our moms."
The club has provided seed money for the new program, which will be managed by a local credit union. Access to a car is incredibly important, especially in the suburbs. "This will open new opportunities for employment, more flexible schedules, less travel time, and better accessibility to child care," adds Swahn.
Standing on her own
In 2010, Beatrice graduated from the HomeStretch program. In just three years, she had paid down most of her debt and restored her credit enough to qualify for a home through Habitat for Humanity. On her graduation day, Rotarians were there again – providing a meal after the ceremony and handing out bags full of items for her new home.
Today, Beatrice has a job as a senior accountant at an international school. She earned a master's degree in public administration last year by taking night classes. Money is still tight and there's little time for anything aside from work and raising her girls, but life is stable.
When they moved into their Habitat house, Maya, then six, was relieved. "Now I can learn my address," she said. "We don't have to move anymore. " While they were at HomeStretch, therapy funded by Medicaid helped Maya cope with constantly shifting living and day care arrangements.
"They carry those things with them," Beatrice says. "They are in a safe place now, but I think there are remnants of those experiences and memories that will be with them throughout their lives."
Beatrice now mentors another HomeStretch resident. "I hope she can learn from me," she says. "I think it's good to hear from someone who's been through the program. I'm speaking from my own experience."
When Beatrice tells her story, she attributes her success to her own hard work as well as the organizations and people who helped her. "There are very few social services in Alpharetta. They are almost a secret – no one even imagines there are Habitat homes here," she says. But supporting social services in suburban areas is a key part of addressing homelessness, and Rotary clubs are positioned to help fill the gaps.
"You have to let people have a chance, and one way you do that is by giving them a decent neighborhood," Beatrice says. "Being here gave me something to aspire to. It made me realize I can give this to my girls. I can give them a good school district and a safe neighborhood. It boosts morale, integrates you into society – into a good, functional society. You feel like you matter – like you belong."
• Read more stories from The Rotarian