Our world
Pedal power
Ralph Zuke
Rotary Club of Fairview Heights, Illinois
When Ralph Zuke learned how close the world was to eradicating polio, he decided to draw attention to the effort by riding a bike from St. Louis to Toronto for the 2018 Rotary International Convention.
When Brenda Wagner, his club's president at the time, suggested that a regular bike wouldn't attract much attention, Zuke decided to pull a rickshaw fashioned with a recliner. He already had the rickshaw, which he had built for a fundraising project several years ago.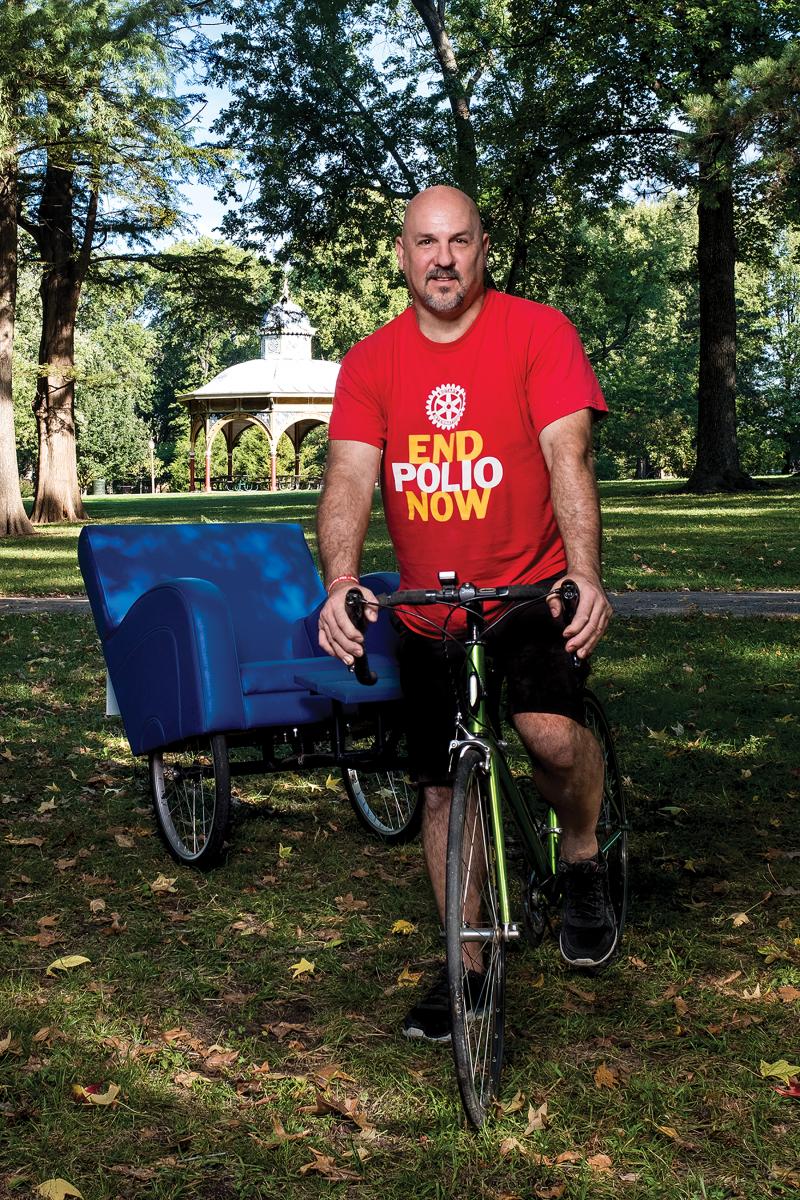 But first, Zuke, now 52, checked in with his doctor, who told him he needed to get in shape. "Round wasn't the right shape," he jokes. During the 10 months leading up to the ride, he trained by riding about 2,500 miles.
On the 22-day trip, he aimed to raise $22,000 — symbolizing the 22 cases of polio reported in 2017. With pledges from Rotarians and people he met along the route, Zuke raised just under $24,000. The 2-to-1 match from the Bill & Melinda Gates Foundation brought the total to nearly $72,000.
Along his 703-mile trek, Zuke offered his Rotarian host families and other people short rides in the rickshaw, sometimes pulling 50 or 60 passengers in a day.
"It was one of the most incredible experiences I've ever had," he says. "I met the most incredible people."
Those included a farmer in Ontario whose Rotary club had disbanded five years earlier. Zuke gave him a ride, and the next morning the farmer greeted him with breakfast. "He truly had the heart of a Rotarian," Zuke says.
Zuke's ride took him through urban neighborhoods and along cornfield-lined country roads. A large sign with a QR code on the back of the recliner led people to a website that provided information about what he was doing, allowed them to follow his journey online, and suggested they donate to End Polio Now.
"Twenty-two cases is a really low number," Zuke says. "But zero is the only acceptable number."
If any cases of polio remain by the time the Rotary Convention in Houston rolls around in 2022, Zuke says he'll do the ride again.
"I'm hoping we're down to zero for so many reasons," he says. "But one is, there are a lot of hills between here and Houston."
— Nikki Kallio
• Read more stories from The Rotarian