The doctor is in
Tyrone 'Doc' Bledsoe has a prescription to ensure that young black men attend and finish college: the Student African American Brotherhood
By Bryan Smith
They had been told to arrive by 8:15 a.m., but as is their habit, they've arrived early and taken their seats around tables arranged in the shape of a horseshoe. Dressed nearly identically – blazers with white pocket squares, crisp white shirts, pressed trousers, brightly polished shoes – the young African-American men sit up straight, eager and attentive, the day's agenda spread before them like battle plans.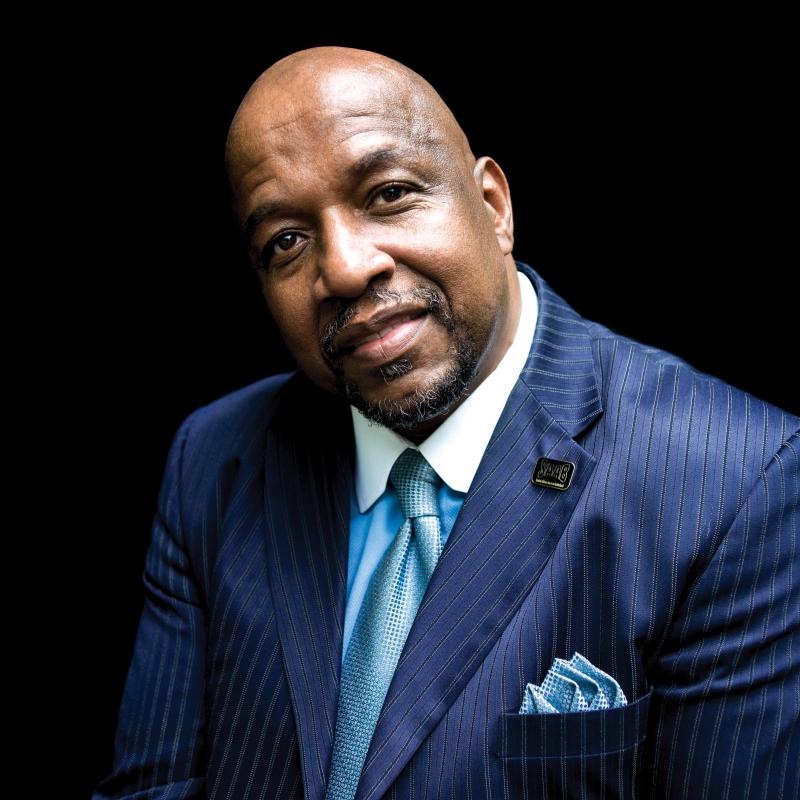 Dabbing a handkerchief at a patina of perspiration that glistens on his bald head, Tyrone Bledsoe steps before them like a preacher poised to deliver an old-school stemwinder. But this is a Dallas conference room, not a church, and even if it were, fire and brimstone is not Bledsoe's style. His broad, disarming smile – met with grins from the group – announces without a word what he's about: love, guidance, support.
So when Bledsoe leads a call and response, he is rewarded with a chorus of fierce sincerity.
I am my brother's keeper.
I AM MY BROTHER'S KEEPER!
Together we will rise.
TOGETHER WE WILL RISE!
Respect.
RESPECT!
Caring.
CARING!
Community.
COMMUNITY!
"Now I want y'all to stand up," he says, rising to the fullness of his 6-foot-3-inch, 240-pound frame. All eyes are on him as he prowls the room like a big cat. His commanding voice booms out:
"We're going to do a little exercise. Get y'all loosened up. Get you feeling the energy. Now rub your hands together. You feel that energy? If you can feel it say, 'Feel it!'"
I FEEL IT!
Say it again!
I FEEL IT!
"All right," he says, surveying the group. "Let's get started."
During the mid- to late 1960s, Martin Luther King Jr. paid several visits to Grenada, Mississippi. He traveled to that small town, about 100 miles south of Memphis, Tennessee, to promote African-American voter registration and to help desegregate Grenada's public schools. One of the people influenced by those visits was a young black boy: Tyrone Bledsoe.
There's a direct line leading from King's time in rural Grenada during the contentious civil rights era to the concrete and glass stretch of Dallas where, more than 50 years later, Bledsoe is meeting in a conference room with 30 young men holding leadership positions in the aspirational group he founded: the Student African American Brotherhood, or SAAB. It's an organization devoted to getting young black men into college, ensuring that they graduate, and encouraging them to extend a hand to the young men following them.
Like King, Bledsoe is a visionary. He believes that, with SAAB, he has made a breakthrough in solving the quandary that has bedeviled educators, sociologists, and politicians for decades: how to tear down the walls of institutionalized racism that have blocked the path of achievement for so many young men of color.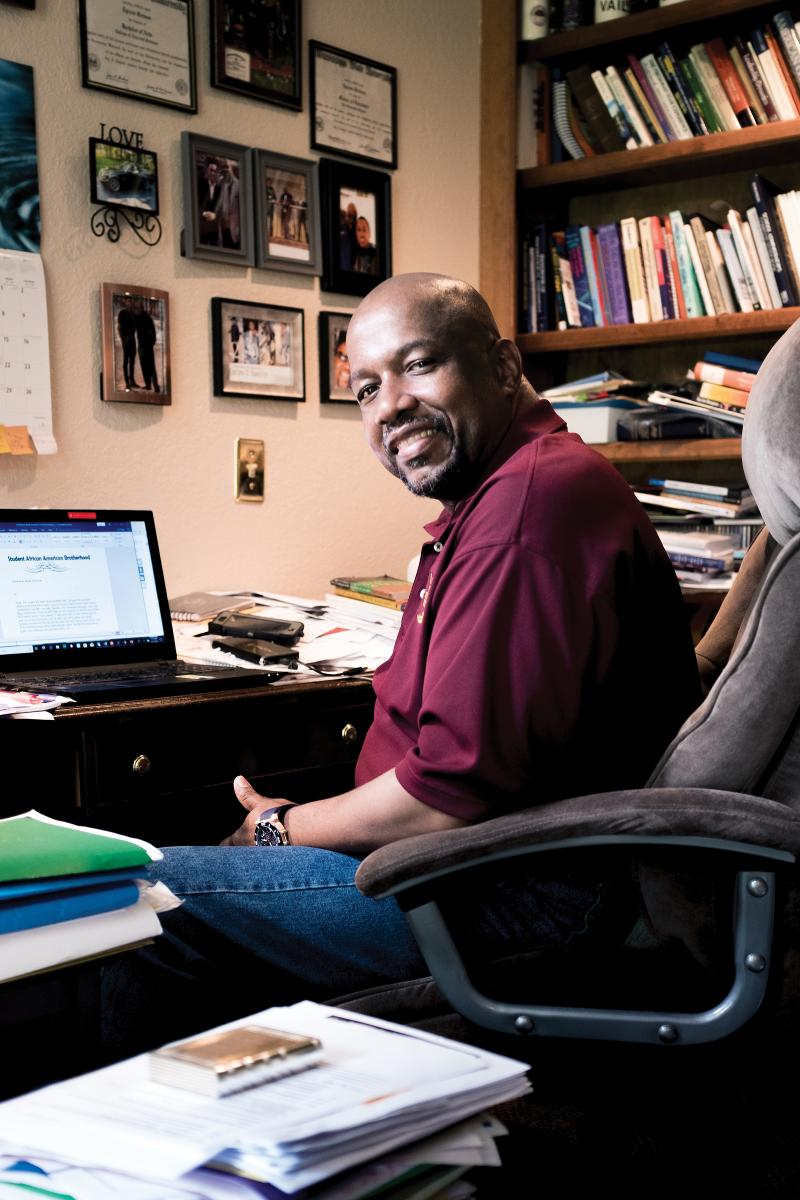 Bledsoe's belief is backed by some real-world results. From an initiative that began in 1990 with one group, SAAB now boasts an active membership of more than 12,000 students who belong to 350 chapters in 40 states. Many of those young men will likely remain involved with SAAB after they have gone on to earn advanced degrees and begun careers in business, science, technology, education, and the arts.
To solidify that engagement, the organization formally launched its SAAB Alumni Association in July. That robust network of past and present members ensures that SAAB will succeed at its mission: to create and foster a supportive brotherhood in which young men help one another to, as Bledsoe puts it, "achieve lives of purpose and success."
"SAAB's main objective is shaping young men to become contributing citizens who will be our leaders today and tomorrow," says Bledsoe. After a long career as a university administrator, most recently at the University of Toledo in Ohio, he is now SAAB's full-time CEO and president. "We encourage our members to embrace the ideal of service as the cornerstone of our organization, while at the same time embracing our four core values: accountability, self-discipline, proactive leadership, and intellectual development."
That the organization's ethos echoes the Rotary philosophy is no coincidence. Bledsoe – "Doc" to the young men in SAAB and most anyone else in his orbit – is a member and past president of the Rotary Club of Reynolds Corners in Toledo (where SAAB has its headquarters). He joined Rotary in 2002, he says, after accepting frequent invitations to speak at club meetings. "I saw Rotary as an opportunity to expand my personal mission of giving back through service," he explains.
"I've known Doc for over a decade, and one of the first things he told me is that he would be with me for life," says Terrance Range, a founding member of the SAAB chapter at Ohio's Wilberforce University who's studying for his PhD at Michigan State University. "In my opinion, SAAB is a game changer and Doc a world innovator. As a former member of a California-based Rotaract club, I'm convinced that he's the epitome of Rotary's motto: Service Above Self."
To succeed in college, African-American men need more than affirmative action and financial support, says Bledsoe. "SAAB provides the guidance, encouragement, and social support that young men of color need in order to define, pursue, and complete their higher education objectives and advance into promising careers," he says – which is no small challenge: Among students who enter college, only 33 percent of black men earn a bachelor's degree within six years, compared with 57 percent of white men.
Bledsoe says that he founded SAAB in response to similar disparities he encountered while he was associate vice president for student affairs at Georgia Southwestern State University in Americus, Georgia. The cumulative grade point average for the school's undergraduate students was 2.7; for black males it was 1.75.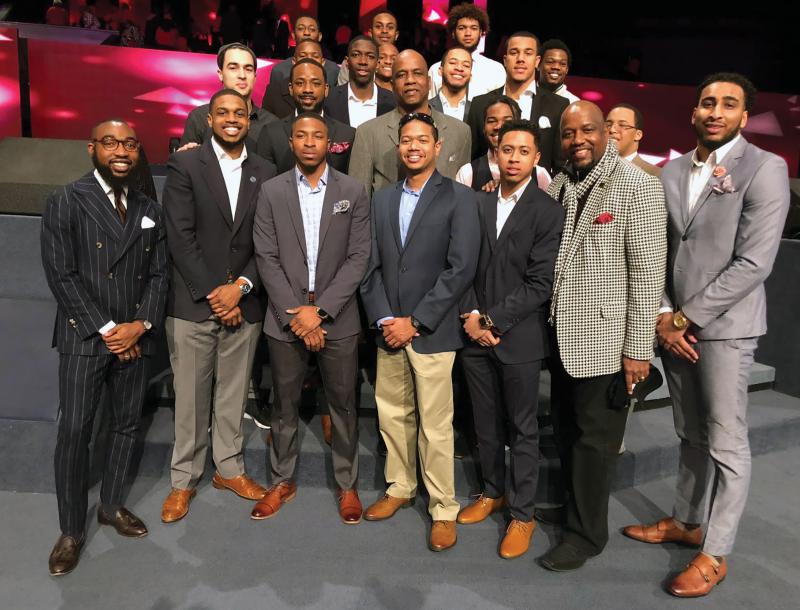 So Bledsoe called a meeting. He invited black undergraduate men to come discuss "what we needed to do differently. What I learned was that the guys loved getting together weekly. It was an outlet for them, a platform for sharing, to talk about the issues that were common among all of them and the problems that were unique to them."
Bledsoe soon saw the potential for more than just weekly bull sessions. He saw the outlines for a program that could have deep impact nationwide. "I felt we needed to give this some structure," he explains. "I'm a structure guy."
Eventually he began taking some of his undergrads with him to conferences, churches, and other destinations. Impressed by the young men accompanying Bledsoe, educators from other colleges expressed an interest in implementing a similar program on their campuses – and Doc stepped in to help them get started.
One of the crucial factors in the newly formed SAAB's success was service. It's a lesson Bledsoe learned from his 16-year membership in Rotary. "It very much aligns," he says, "with teaching the guys to be fair to others and honest, as well as with the biblical aspect: To whom much is given, much is required. The idea that we're not measured by what we get, but by what we've given."
At the SAAB retreat in Dallas in January – a prelude to the organization's larger annual national conference that would follow a few months later in Atlanta – the young men attend workshops that address an overall theme: Be Intentional: about how they look, how they speak, how they think, how they spend their time, how they choose the people who surround them, how they give back to their communities.
That intentionality extends to the organization's chapters. Under SAAB guidelines, they agree to be "polite, sincere, hardworking, and encouraging, knowing that these characteristics are counter to the popular but offensive negative images of young black and brown men in America."
"This is not about telling [each branch] what to do or how to run their chapters," Bledsoe explains. "We're saying, 'Hey, we want you to be a part of the solution. Take some responsibility. Hold each other accountable and be a solution to your own ills.'"
Despite the emphasis on discipline and high academic achievement, there is nothing nerdy, stiff, or meek about SAAB. There's plenty of latitude for how charters approach the organization's goals – and how individual members comport themselves. When Jacob Clayton, a SAAB alum from Northern Illinois University and a self-described "image ambassador," appears at the retreat in a perfectly tailored tweed jacket, he is the picture of urban sophistication.
"I dress like this six times a week, sometimes seven," he tells the group. "I knew I wanted to own my own business, so I dress like a business owner. You have to understand that this adds credibility. Everybody has a uniform regardless of what industry they're in."
When Clayton mentioned that he knew someone who wore ascots, he laughed along with his SAAB brothers. Then he made his point: The ascot wearer "makes it work. I think it's dope."
Andrew Jones, a former chancellor at Coast Community College District in Costa Mesa, California – and a regular speaker at SAAB conferences – highlights another of SAAB's distinguishing features: its sense of continuity. "I did a lot of programming with minority male programs around the country," he says. "There were so many unsuccessful models out there."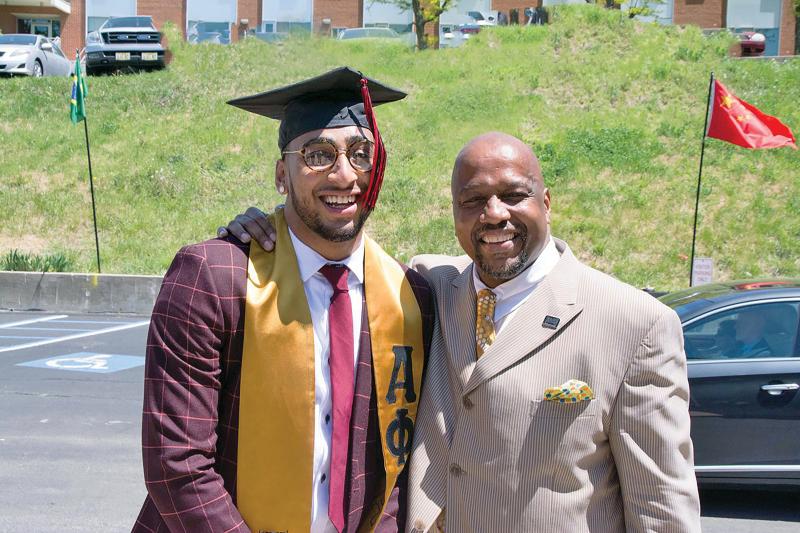 By the force of his personality, Jones says, Bledsoe steered SAAB in a more successful and surprisingly diverse direction. Today it also welcomes some white, Latino, Asian, Native American, and Pacific Islander members. To encourage that diversity, SAAB allows universities, colleges, and schools to use an alternative local name, such as Brother to Brother, though they remain part of the SAAB family.
"If you really believe in something, you're much more likely to continue it, regardless of the obstacles and challenges," Jones says. "I think unquestionably having Dr. Bledsoe in the lead role, with his passion and his energy, has made all the difference."
Bledsoe's passion springs from roots planted firmly in the soil of his humble upbringing. He was born in 1961 in Grenada, Mississippi, a town with links to slavery, the Confederacy, and the ugly racism that persisted even a century after the Civil War. "We grew up in a culture – you know, Deep South – where we witnessed a lot of the separation and 'white only' and 'black only,'" he recalls. "We couldn't sit with whites in the movie theater."
Bledsoe's first teachers were his family elders. His grandmother shared her memories of watching rows of black men, backs bent, picking cotton in the fields beneath a blazing sun. His mother, Dora Lee, grew up in the Mississippi Delta, not far from where Emmett Till was murdered in 1955. With only a seventh-grade education, his father, Tommie Sr., spent long hours on the line at a meat plant. "The powerful thing is that he never complained about one day of hard work," Bledsoe says. "He was proud of it."
And then there were those visits by King, as the battle for desegregation found its way to Grenada's all-white schools. A seminal moment captured in an iconic Bob Fitch photo shows King accompanying African-American children to school in Grenada in September 1966. Five-year-old Tyrone Bledsoe was just off camera. The moment stayed with him always.
"We were blessed," he says today. "Dr. King and other civil rights leaders and members of the Southern Christian Leadership Conference spent a lot of time at our church, the Belle Flower Missionary Baptist Church. At the time I didn't understand the magnitude of all that excitement and the extent of the racial unrest going on around me. But my early exposure to Dr. King had a tremendous impact on me."
Despite being a middle child – he has three brothers: Tommie Jr., Herbert, and his twin, Jerome – Bledsoe says he was always looked to as a family leader. His grandmother predicted he would become a doctor; his great-aunt insisted he would be a preacher. "I heard those conversations and it spoke to something in me," Bledsoe says. "I always wanted to do something to make them proud."
Bledsoe lived up to those lofty expectations. There were all the firsts: first Eagle Scout in his Boy Scout troop; first person in his family to graduate from college (he earned his BA and his master's in education at Mississippi State University). He was also the first in his family to earn a doctorate, a PhD in counseling and student affairs from the University of Georgia.
He remains the only member of his family with a PhD, though that will soon change, Bledsoe explains: One of his nieces is close to getting her doctorate.
During a lunch break at a burger joint near the Dallas retreat, Clayton, the image ambassador, extols SAAB's founder and leader. "He is, as you've probably guessed, a special guy," he says. "My development as a man – a black man – comes from the principles that I'm learning inside and the connections that I've made through SAAB."
He pauses and looks at the young men surrounding him. "I'm in a room full of brothers, striving for excellence. It's just a great thing."
Clayton is not alone in his effusive praise of Bledsoe. In an email, Ronald Briggs, the senior director of residential life at Arizona State University and chair of the SAAB board of directors, recalled how Bledsoe changed his life. "During my undergraduate years in Ohio, I felt I was a young man with a plan, but no real purpose," he wrote. "Doc and SAAB helped ignite my spirit, and I will be forever grateful."
Back at the retreat, as things wind down, the young men prepare to head out to a bowling alley. Given that the next morning they're scheduled to attend the Potter's House, a megachurch run by the Rev. T.D. Jakes, Bledsoe advises them not to stay out too late. "We're going to have some fun," he says with a laugh, "but not too much fun."
The service, he continues, begins at 9 a.m.; doors open at 8. The bus leaves at 7:30 sharp, so be there ready to go. The genial tone of Bledsoe's reminder carries nothing of the drill sergeant, and the men, almost to a person, smile in response. They know – as Doc does – that they would not only be on time, but be there early, ready and eager to roll.
• Bryan Smith is senior writer at Chicago magazine. Read more stories from The Rotarian.