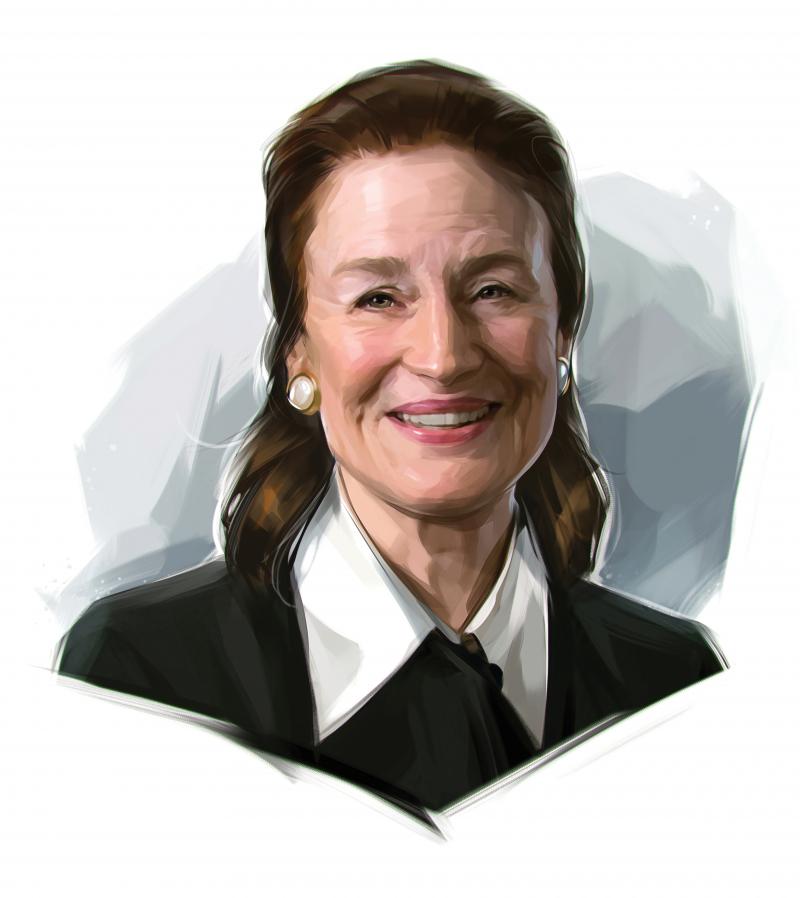 The Rotarian Conversation:
Henrietta Fore
Connecting 1.8 billion young people with education and jobs is a tall order. UNICEF's executive director is calling on Rotarians for ideas
Henrietta Fore is leading UNICEF at a historic time. There are 1.8 billion young people on the planet between the ages of 10 and 24 — the largest generation of youth the world has ever seen — and they are concentrated in the developing world, where many face poverty, violence, and a dearth of educational opportunities.
Fore outlines some statistics: 200 million adolescents around the world are not in school; 6 in 10 children do not meet the minimum proficiency levels in reading and math. "Some call this a ticking time bomb," she says. But she is optimistic, championing a new initiative that aims to turn that potential demographic crisis into an opportunity. It's called Generation Unlimited.
"Our goal is very straightforward," Fore said in a 2018 TED Talk. "We want every young person in school, learning, training, or age-appropriate employment by the year 2030." To meet this target, UNICEF partnered with other organizations to create Generation Unlimited to let the private sector, governments, nonprofits, and academia share ideas and solicit funding to expand ideas that work. The World Bank has pledged $1 billion toward the effort, and now Fore is calling on Rotarians, Rotaractors, and Interactors to share their own ideas.
Fore also brings bold thinking to UNICEF's effort to eradicate polio in partnership with Rotary, the World Health Organization, the U.S. Centers for Disease Control and Prevention, and the Bill & Melinda Gates Foundation. "We need to do that last mile; we need to finish the job," she says. Her approach in the hardest-to-reach areas involves a plan to invest $50 million to integrate more comprehensive health care into polio eradication efforts as an incentive for parents to bring their children to be vaccinated.
With a background at the helm of her family's manufacturing and investment firm, Holsman International, Fore became director of the U.S. Mint in 2001. There she modernized the manufacturing process, gaining the attention of then-U.S. Secretary of State Condoleezza Rice, who tapped her to serve as undersecretary of state for management, a notoriously difficult job that involved managing 267 embassies and consulates and 7,200 employees around the world. Later, she spent two years at USAID, where she was the first female director.
When asked what skills are needed to lead such complex institutions, Fore says: "Sometimes we think that organizations are remote creations. But they're not. They're filled with people, and I feel so strongly that people are our most important asset. So if you think of an organization as being a gathering of people who care passionately about a subject, then you'll probably connect with that organizational culture." Fore spoke with contributing editor Vanessa Glavinskas from her office in New York City.
---
THE ROTARIAN: Looking back on your career, what experiences helped prepare you to lead UNICEF?
FORE: Like many Rotarians, I have run a business, my family business. It teaches you to think about what value you are getting for your investments and whether you should invest in one area or another, a new product, a new service. There's never enough money or enough people to help, but you have to listen to your customers. Now that I have the chance to serve the United Nations, that experience helps me to realize that listening to people around the world is very important and to think about how public-private partnerships can improve the world.
TR: What has been a memorable experience for you at UNICEF?
FORE: One of my first trips in this role was to South Sudan in January 2018. We met with a number of mothers who had walked for hours to bring their children to a clinic. The children were malnourished, and the mothers were able to stay there with them for a week to get their children nourishment. But they did not have a way to change the problems they faced at home, which meant they would be back again in several months. It's a humanitarian need, but also a longer-term development need. In short-term crises, there are also longer-term development needs that we must address so that people can be self-sufficient.
TR: When you spoke at Rotary's International Assembly in January, what did you challenge Rotarians to do?
FORE: Well, first and most important, a very deep and heartfelt thank-you to all the Rotarians who have raised funds and raised awareness about polio. There would not be the enormous success of the polio programs without Rotary. But it's no time for complacency. We need to finish the job.
I'm looking at an integrative approach: In addition to getting the polio vaccine, parents also want to get their children looked at for other health problems and to get nourishment for their child. That's a big incentive. If we can get more health services integrated into polio eradication efforts, it will be a very important way for us to reach out in poor communities, particularly in Afghanistan, Nigeria, and Pakistan, where the virus is still endemic. [Read more about what Rotary is already doing to meet other health needs through PolioPlus in "The Plus in PolioPlus," in our October issue.]
TR: You recently proposed a $50 million initiative to do just that. Will you start by focusing on specific regions?
FORE: Yes, Afghanistan is the first place we will target, Pakistan is No. 2, and Nigeria No. 3. Within those countries, there are very specific geographic areas that need this help. They tend to be rural villages. They tend to be led by elders who are not part of the government or the general federal system. We do not have medical clinics in these villages; no one does. So if we can come in even with a mobile unit that could help give the vaccinations and do some of the basic health checks, word would spread, and parents would bring in children, and that's what we want. We want them voluntarily coming to us.
TR: What's your specific aim with this campaign? Have you seen this approach have a positive impact?
FORE: The initiative aims to help improve the overall health and well-being of children as well as increase polio vaccination coverage in these communities.
Aiming for polio eradication means every child must be vaccinated, and polio workers must reach every village no matter what. Many of the highest polio-risk areas visited by health workers often are also the most underserved, and the initiative seeks to ensure the delivery of a package of basic services that is more than just the "two drops." It is a bit early to provide examples of impact, as the integrated package of services began rolling out only a few months back. However, we strongly believe that it will contribute to wider vaccine acceptance. This initiative was born out of the experience, faced by polio workers, of angry and often desperate mothers and fathers in underserved areas demanding basic services for their children beyond the polio vaccine.
TR: Is the health infrastructure you're improving permanent, such as adding a hospital? Or is it more often bringing in short-term health services?
FORE: The package of services depends on the need in the community. For example, in some districts in Kandahar and Helmand provinces in Afghanistan, we are constructing water supply networks to deliver safe drinking water and a sewerage system. In other districts, we are expanding nutrition services to treat severe acute malnutrition among children and providing health services for mothers. In southern Pakistan, we are renovating and equipping a labor room at a community health center while also expanding maternal health and nutrition services in several districts. The initiative is also investing in opening informal education centers in certain areas in Pakistan with high numbers of out-of-school children.
TR: You also are a champion of a new initiative called Generation Unlimited. Can you describe that?
FORE: Right now, 10 million young people around the world turn 18 every month. That's how many need a job. We know that we are not creating 10 million new jobs each month.
In many African countries, the average age is 20. African heads of state are asking for help modernizing their secondary school systems. They want to link that with vocational skills. So UNICEF and our partners have outlined four areas that we know we will need help with. One is basic foundational education. Every child should be able to read, write, and be numerate. In the world today, 6 out of 10 young people do not meet the basic levels of literacy or numeracy. The second is that young people need to have some basic life skills: They need language skills, to be able to communicate, and they need financial skills in order to be entrepreneurs. The third area is occupational training. And fourth, they are all asking for digital skills. So we are hoping that the world can stand up for these young people, that there can be a movement to educate and connect them to future livelihoods.
TR: How can Rotarians help?
FORE: We need mentors. We need people who can offer apprenticeships, internships, and job shadowing. If there ever were absolutely a perfectly placed group for this, it would be Rotarians. Rotarians are community leaders and could lead initiatives that allow young people to job-shadow out of local high schools. If Rotarians could do mentoring remotely to young people in other countries, it would be a game-changer for them.
Young people are also asking for work-study programs, because many do not have the economic freedom to pay school fees and buy books and food. Giving them a way to earn a little money after school would be a powerful way to help them.
TR: Who is UNICEF working with on this initiative?
FORE: Generation Unlimited is hosted by UNICEF and has more than 60 partners, such as the World Bank, which will invest $1 billion to support young people's transition to work, and the government of Ireland, which contributed €1 million to help unlock the potential of young people.
TR: How do the challenges this generation faces differ from what previous generations have experienced?
FORE: Artificial intelligence and technology are changing the face of work. Klaus Schwab, of the World Economic Forum, talks about a fourth industrial revolution. A job that our parents had, or that we have, won't be there for many young people. We have not done a good job of modernizing school systems to teach the skills young people will need to adapt to a world that connects machines and technologies with humans. That's one piece. The second piece is the size of this generation. Ten million jobs a month is a great challenge for the world, so we are going to have to help young people move into mass entrepreneurship.
TR: Are there any other opportunities for Rotarians to work with UNICEF?
FORE: The UN's Sustainable Development Goals are ambitious, and to reach them by 2030, we are looking for innovations and accelerators. Those could be businesses that have products, services, or platforms that could help accelerate the way we reach those goals.
For example, I was just reading in the newspaper about a hand-held ultrasound device that has a cord attached to an ultrasound receptor. You can put it on the stomach of a woman who is pregnant to see how a baby is doing. You could put it on the knee of an injured young man. You could use it on the chest of a baby to see if there is pneumonia.
Are there innovations out there that Rotarians have seen or invented? We would like to hear from them to see if there's a way that we could use those ideas somewhere in the world. Reach out to my colleagues on our Global Cause Partnerships team at gcp@unicefusa.org.
TR: What do you hope to achieve during your tenure at UNICEF?
FORE: First, I would love to find more ways to interweave humanitarian assistance and development assistance. To plant the seeds of longer-term development when responding to a humanitarian crisis — that's what a water system or an education system gives you. You need it the first day of a crisis, and you need it years later. I was in Mozambique during the flooding from Cyclone Idai, and the first thing that went out was the water system. Without clean water, cholera takes hold, and children particularly begin to sicken, and you lose them. I would like to plant the seeds of a longer-term solution. Rather than just flying in bottled water, work on the municipal water system.
The second area I would like to see changed is primary health care. If we could give primary health care — community health care — to the families of the world, that would be very powerful. In Afghanistan, for example, many rural communities had no access to basic services such as vaccinations, sick child care, and antenatal screening. With the support of Japan and Korea, UNICEF supported the delivery of primary care services to almost 1 million women, children, and newborns last year, through 70 mobile health teams linked to and supplied by local community health services. It is a great example of how we can combine investment with the expertise and local reach of governments and partners — not only to provide temporary relief, but to begin building systems that can last.
The third area is this idea of new innovations. I know that if the private sector joins with the public sector, this world could be much improved. We often just don't know quite how to work with each other. But right now, during my tenure at UNICEF, I want Rotarians to know the doors are wide open. We need all of the ideas and technology and brains of the private world to meet our development goals.
The fourth is Generation Unlimited. It is absolutely the calling of our time to help young people, and if we get it right, our world will be a better place.
And, of course, I would love to eradicate polio on my watch. Rotary has been so magnificent, and I would love to do my share.
• Illustration by Viktor Miller Gausa
• This story originally appeared in the November 2019 issue of The Rotarian magazine.