Rotaractors pair up with Habitat for Humanity to help neighborhood
The New Town neighborhood of Jacksonville, Fla., has been struggling for a long time, and it shows. In this area, creeks lie choked with old tires, jobs are few, and roughly 10 percent of the housing stock consists of abandoned or blighted homes.
"It seems like a stereotypical bad neighborhood," says Tony Brazell, past president of Jacksonville's First Coast Rotaract Club. But get to know it and its residents – as he and other Rotaractors are doing in partnership with Habitat for Humanity Jacksonville (also known as HabiJax) – and the view changes.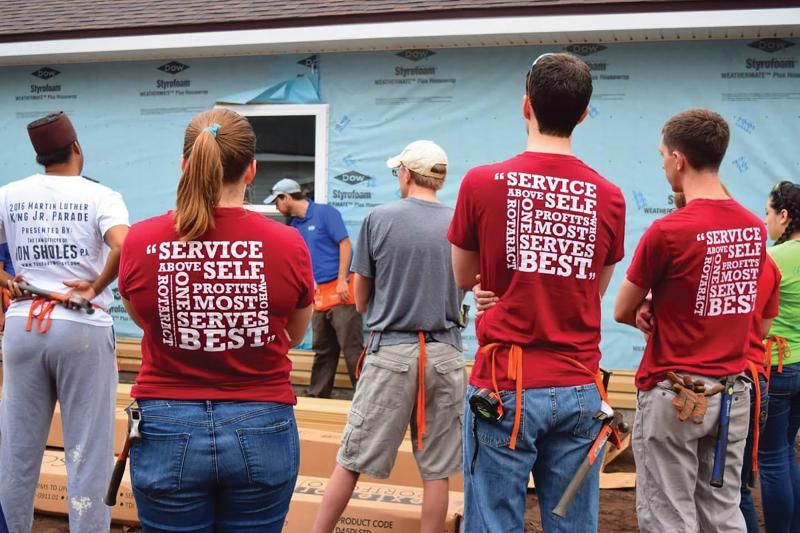 Each January for the past six years, the First Coast Rotaractors have spent a day volunteering their muscle, sweat, and time to help HabiJax build houses for New Town residents.
Because HabiJax requires the people receiving the homes to donate a certain amount of labor as well, Rotaractors often find themselves working alongside neighborhood residents. "You end the day thinking, 'I'm glad I was part of that – helping someone make their neighborhood a better place,'" Brazell says.
Club Past President Brett Bell, who has been part of the HabiJax event each year since its inception, has fond memories of learning to frame windows, as well as the year that he and two other Rotaractors got into a friendly siding-hanging competition. (No report as to who won.)
The best part, though? "Just hanging out with the other Rotaractors and getting to know some of them better," Bell says. "At HabiJax, it's such a long day that you really get to know one another."
And not just one another. "On our most recent one, a guy walked through the site with a little dachshund," says Brazell. "Everyone wanted to play with this dog. So we got to talking to this guy, and he says, 'Oh, I'm just supervising your work. I helped build the HabiJax house across the street, and I just wanted to make sure you were treating my neighbors right.' That says a lot."
– Anne Ford
• Read more stories from The Rotarian