Remembering 1987-88 RI President Charles C. Keller
By RI Director-elect Stephanie Urchick
I don't remember exactly when I met Chuck. He has just been a part of my life since I joined Rotary in 1991. He was my GPS, my guide. If I had a problem or a question about something in Rotary, I always knew he was there as a sounding board. That was what we did for each other. I describe him as my "godfather" in Rotary.
I joined the Rotary Club of California, Pennsylvania, the same club Chuck had joined in 1950, because I was looking for fellowship. I had gone through a divorce and wanted to use my time to give back. I knew that Chuck was a past Rotary International president, so I would chat with him about the Rotary topics I was interested in knowing more about. He became my mentor and encouraged me to take on a leadership role. He found the good in anybody and would nurture whatever skill or talent you had.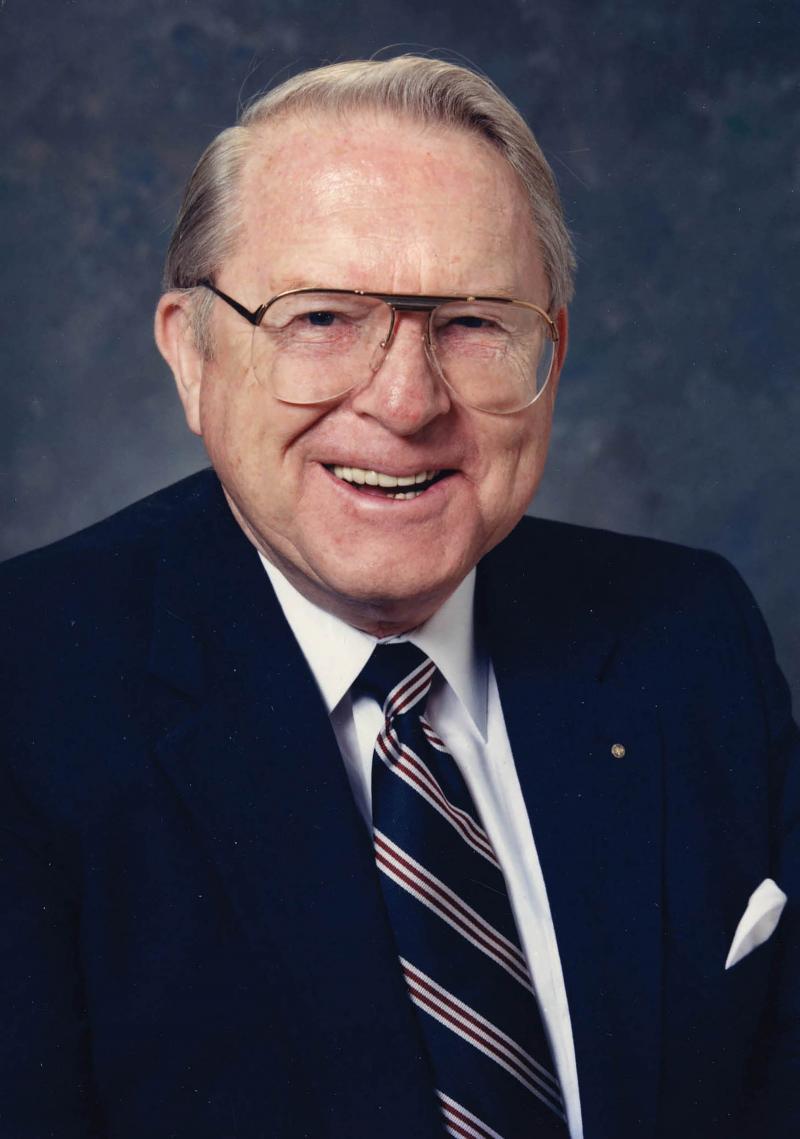 When I eventually became a district governor, Chuck attended my first Rotary institute. It was in Battle Creek, Michigan, and there was an event one evening at which they introduced all the incoming governors. I watched as the district governors and their spouses walked down the aisle together to be introduced. That's when Chuck jumped up and said, "I'm walking you down. I'm escorting you." I have a photo of the two of us somewhere. He's beaming, and I have a big smile on my face too.
Several years ago, Chuck started to write his memoirs. He wrote four of them, actually. He wrote one about his Rotary life; another about his service as a bomber pilot in World War II; a third about his law career; and a fourth about his family. Chuck and his wife, Carol, were an adorable couple. When they married, she had the words "you lucky guy" engraved on the inside of his wedding band.
Chuck was also very committed to the Rotary Peace Centers. I think his service in World War II may have had something to do with his interest in peace. One of the last conversations I had with him was about the peace center program. He was so proud of all 1,150 of our graduates. When he and Carol downsized their home, they auctioned off many of the items he had collected while circling the globe as RI president and donated the money to benefit the peace centers.
At that time, he also passed on a little model ship he had that was originally owned by Paul Harris. When Chuck was RI president, Will White, who was then the editor of The Rotarian magazine, had given it to him. Chuck passed it on to Ron Burton and asked him to carry on the tradition. He called it "the good ship Rotary."
Chuck continued to practice law at his firm, Peacock Keller, until about a year ago. It had become tough for him and Carol to get out except to go to the doctor or to church. That's when I started going to their house to visit. We would talk all things Rotary. I would bring crackers and make the dip he liked. Carol would put the coffee pot on. It was an informal but special time. He loved it; they both did. Carol is a nurse, so she was taking care of him, and I know that was hard on her.
One Sunday I came home from a district conference and received a text message that said Chuck was in the hospital. I went to see him, and I'm glad I did. His breathing was labored, but he was still quick-witted and kind. In fact, I never heard him say a bad word about anybody. He died four days after that visit.
I'll miss him. I know we feel this loss so deeply because of the kind of guy he was. When you look back on his year as RI president, so many amazing things happened. He saw the organization through a time of transition as women were first admitted. At the convention in Philadelphia, we learned that we had far surpassed our fundraising goal of $120 million for polio vaccination, which led to our commitment to eradicate the disease. He held the first Rotary Peace Forum.
Chuck had an amazing and profound impact on Rotary. But the thing I'll miss most is talking to him. I always knew that if there was something I couldn't figure out, I could bounce it off Chuck. It was nice to know he was there. He provided the signal for my personal GPS. Although I've lost that, I find comfort in knowing that Chuck left us a detailed road map drawn from his lessons, his wisdom, and his kindness.
• Read more stories from The Rotarian