Recipient of Rotary's new Sylvia Whitlock Leadership Award takes a global approach
By Etelka Lehoczky
The first recipient of Rotary International's Sylvia Whitlock Leadership Award, Chin Mei Lu of the Rotary Club of Taipei Taimei, Taiwan, has spent more than 30 years working for women, girls, and others around the world. She has helped educate girls in Nepal, immunized children in India, supported girls in Uganda who have learned to sew menstrual belts, and helped people in Taiwan who are blind.
"We as Rotarians are like lantern-carrying people in the dark corners of society, bringing light to others and helping make the world a brighter place," Lu says.
The Sylvia Whitlock Leadership Award honors one Rotary member each year who has actively worked to advance women in Rotary. It is named for the first female Rotary club president, who went on to lead change for women around the world through Rotary. The award was originally established by a group of Rotarians before the Board of Directors voted to make it an official RI award.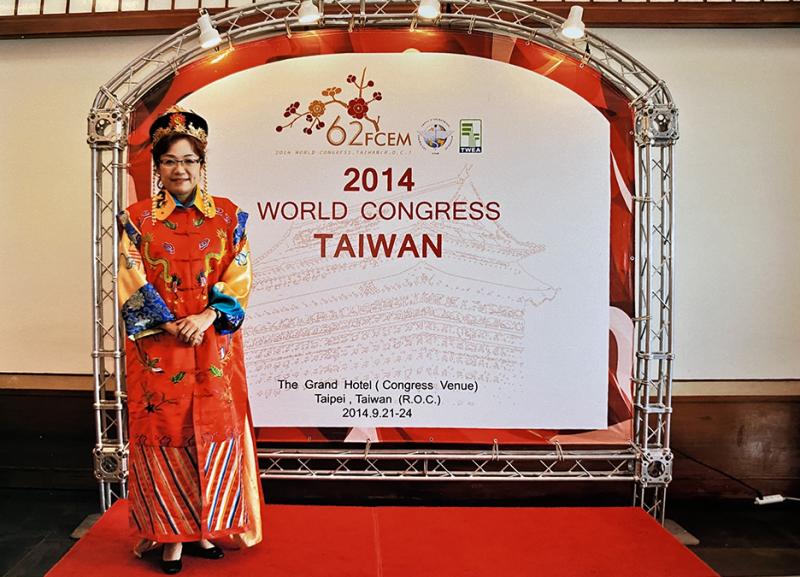 Lu, who has been a Rotary member for three decades, traveled to Nepal and India in 2006-07 to assist with a project that enabled girls who didn't have housing to attend school. She cooperated with local agencies to obtain supplies, food, uniforms, and sponsorship funds for the girls, many of whom were at risk of being trafficked into sex work or child labor.
"Three years later, there were girls who were once helped by Rotary going back to assist other girls in need," says 2014-15 RI President Gary C.K. Huang, who nominated Lu for the award.
Lu has also promoted a service project in Uganda begun by her son, Kelvin Wang, who is a member of the Rotary E-Club of Taipei Midtown. Rotary members in Taiwan sent fabric menstrual belts to Ugandan girls, many of whom couldn't attend school because they lacked these supplies. The project provided sewing machines, taught girls how to sew belts for themselves, and promoted menstrual health overall.
Lu has a particular interest in assisting people who are blind or have partial vision. A senior member of the Arts Promotion Association for the Disabled of Taiwan, she helped establish a rehabilitation center for the blind, which offers educational and employment assistance. She has set up rural medical centers and made it possible for musicians who are blind or have partial sight to buy instruments.
These musicians are often very sensitive to pitch, but many don't have the funds to buy new instruments for practice, she says. "I proposed a Rotary Foundation grant helping them to replace old musical instruments with new ones. Our action has had an enduring impact in the community."
Lu also collaborated with Rotary clubs in Nepal and India on clean water and sanitation projects. In 2011, she returned to India to join local volunteers in campaigns to immunize children against polio and other diseases that can be prevented by vaccines.
"Some kids would move back to the end of queue again after the drip," she says. "They tried to remove the mark from their little fingers very carefully, because if they got vaccinated again, they could get another small bowl of flour."
Outside Rotary, Lu's philanthropic efforts include working with World Vision International in Romania to provide school supplies and visit children she has helped. "There was no road for the car. I had to get down and walk — my feet were covered with mud," she recalls. "After visiting the children's home and school, I helped the school replace all the blackboards and classroom bulbs."
Lu has also served as world vice president of the women's business group Femmes Chefs d'Entreprises Mondiales, vice president of the National Council of Women of Taiwan, and president of two local business groups. She has received numerous national and international awards, including the International Alliance for Women's World of Difference Award and the Acquisition International magazine's Influential Businesswoman Award.
Nominations for the Sylvia Whitlock Leadership Award are open from 1 August to 30 September each year. Any member can nominate another member in good standing.