Princess Anne thanks Rotarians for polio fight
Princess lauds 'astonishing global reach' of Rotary members
By Geoff Johnson Photos by Alyce Henson
Rotary members received a regal thank you from Her Royal Highness The Princess Royal, Princess Anne, for their work in fighting polio.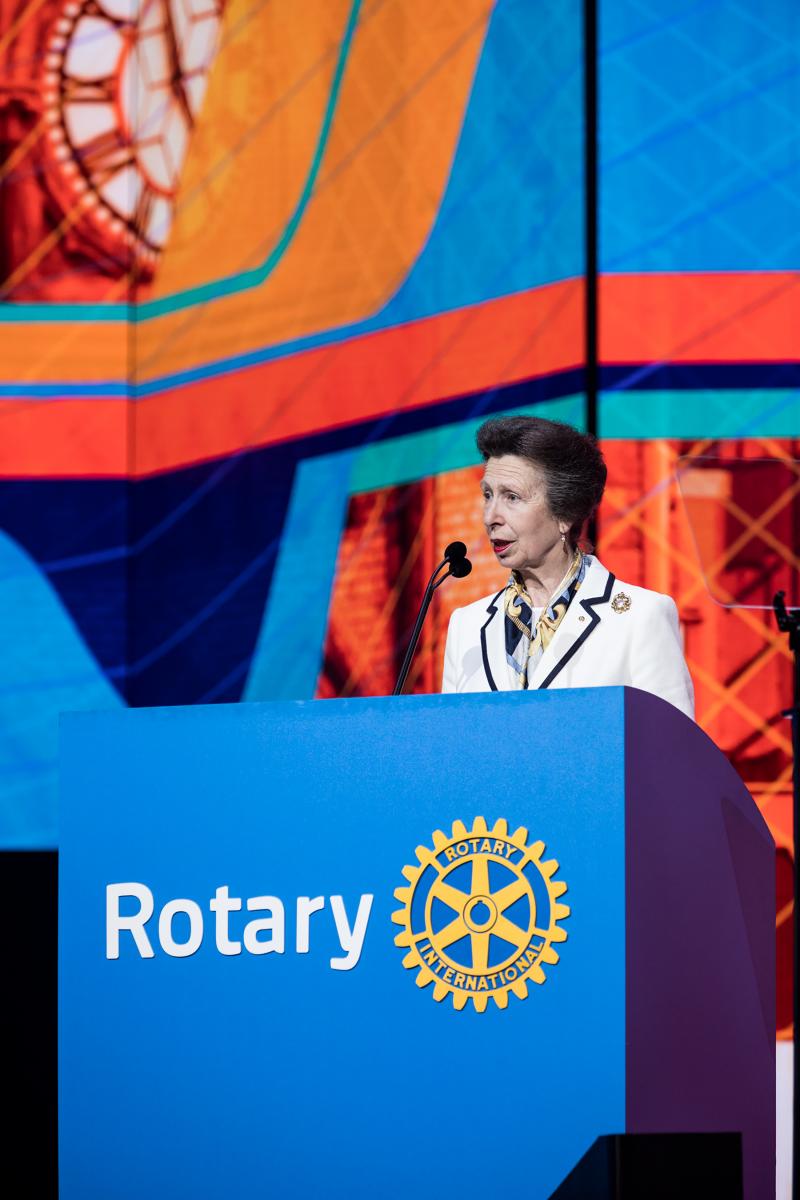 Speaking to an enthusiastic and welcoming crowd on 24 June at the Air Canada Centre in Toronto, Ontario, Canada, The Princess Royal addressed attendees of the 2018 Rotary International Convention.
Since 1970, The Princess Royal has served as president of Save the Children UK, an international nongovernmental organization that focuses on health, education, protection, and disaster relief for children.
Save the Children began pilot programs of its own to combat polio in Africa in the early 1980s. It discovered the difficulties of delivering the vaccine where it was most needed, she said.
Enter Rotary. With its "astonishing global reach," as The Princess Royal called it, its extensive understanding of cultures and languages, and its members' "endearing habit of leaving (their) egos at the door," the organization ingeniously overcame obstacles that baffled others. In doing so, Rotary, along with its partners, has brought polio nearly to full global eradication.
For this, The Princess Royal said, she was grateful.
Her Royal Highness noted that, because of the logistical difficulty of getting 1.2 million Rotarians together in one place, she thought it best to take advantage of the organization's annual convention to say, "Thank you for all the good work you do."
The Honourable Elizabeth Dowdeswell, the lieutenant governor of Ontario and the Crown's representative in that Canadian province, introduced The Princess Royal as someone who "personifies the Rotarian model of Service Above Self. Her whole life has been dedicated to shining a light on people and organizations who go above and beyond."
In addition to her work with Save the Children, Dowdeswell said, The Princess Royal serves as president or patron of more than 300 volunteer, nonprofit, and military organizations. She is chancellor at several universities, as well as a Knight of the Most Noble Order of the Garter and, in recognition of her charity work in Scotland, the Most Ancient and Most Noble Order of the Thistle.
The Princess Royal is the second child and the only daughter of Queen Elizabeth II and Prince Philip, The Duke of Edinburgh. Dowdeswell noted that she is a proud wife, mother, and grandmother.
With the end of polio in sight, The Princess Royal wondered if Rotary had set its sights on another monumental global challenge.
She advised Rotary members not to worry if it hasn't. Given Rotary's achievements and the respect it has earned at the highest levels of government around the world, she said, "You will not be short of suggestions of what to do next."