Pingpong in the park
When Dianne Moore read an article about how expensive hockey and swimming lessons were for kids in Toronto, she knew exactly what to do.
"I thought, 'Pingpong is not expensive,'" recalls Moore, a member of the Rotary Club of Toronto Bay-Bloor. "So I took my idea to Toronto Parks and Recreation, and I said, 'What about having outdoor pingpong tables in parks?' They said, 'That's a great idea. Go for it.'"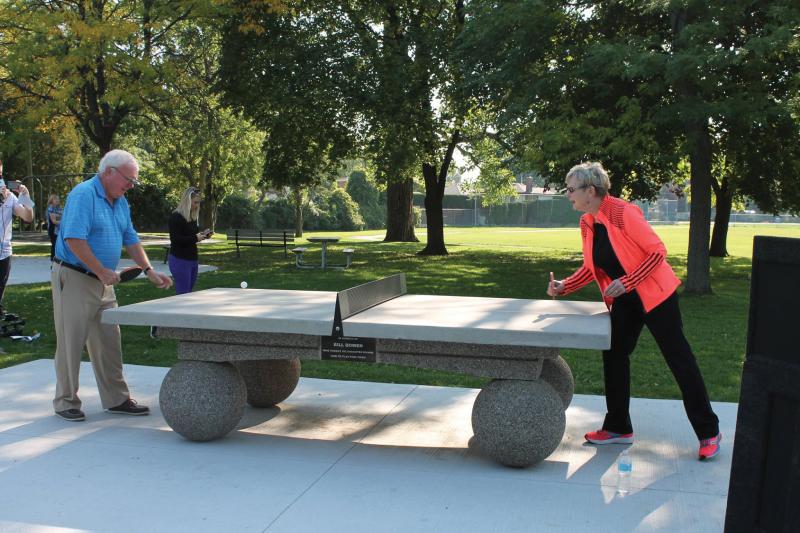 Having grown up playing the game with her dad nearly every day, she knew it was a fun, physical activity that didn't require a lot of costly equipment.
Moore, who was a member of the Rotary Club of Toronto-Forest Hill at the time, approached concrete company Alpha Precasts, which built a prototype at its plant.
The concrete tabletops are set on four large, ball-shaped legs, a clear invitation to play. Each 2-ton table is equipped with a permanent steel "net," so players need to bring only paddles and balls.
The first table was installed in 2013 in Toronto's Mel Lastman Square. Now they number more than 100 throughout Toronto, funded partly through donations and partly by the city. Each costs $3,700 to $4,500, Moore says.
The tables have caught on elsewhere too. For instance, in 2015, the Toronto-Forest Hill club donated two of them to the First Nations community in Cross Lake, Manitoba, a remote area that has been plagued by youth suicide and drug use. And in 2016, the club sent a table to France, where it was installed near a memorial to Canadian soldiers who fought in World War I.
Faiza Arshad Alavi, a member of the Rotary Club of Lahore Crescent, Pakistan, learned about the project and brought the idea to her club. She hoped to encourage children to engage in physical activity and thought the tables, designed to endure the extreme cold of Canadian winters, would also withstand Pakistan's heat. In Lahore, she says, summer temperatures can soar to 114 degrees Fahrenheit.
The first of four tables manufactured in Lahore was installed in February 2017 at Friends Public School. The club planned to identify more sites in the future.
Moore knew the pingpong tables would provide enjoyment for Torontonians. Now that vision has expanded around the world. "It's for people of all ages — children, adults, it doesn't matter," she says. "It's just to have fun."
— Nikki Kallio
• Read more stories from The Rotarian